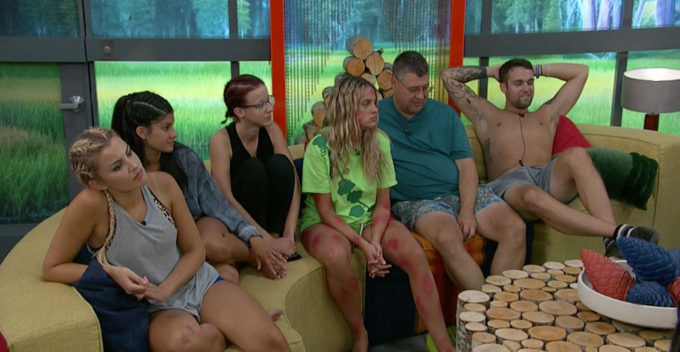 It's Week 5 in the Big Brother 21 house, and we basically know how the whole week has played out. So let's catch you up on everything, including some spoilers that haven't aired on the episodes yet.
Head of Household
As we saw on Sunday night, it was Holly who outlasted all the others in the endurance competition. It came down to her and Anaylse, but Holly held on just a bit longer.
Nominations
Also on Sunday we saw Holly go for the obvious nomination choices of Nick and Sam, witch Nick as the main target. The Six Shooters' plan was to send Nick right out the door after Bella, though they did consider Sam an equal threat.
Power Of Veto
What we haven't seen on an episode yet is what went down at the Power of Veto competition. After a veto draw that was definitely in Nick and Sam's favor, Nick won the competition, which leaves Sam in pretty solid danger this week.
Veto Meeting
Later today at the Veto meeting, Nick will definitely use the veto on himself. Holly's exact plan has been murky. She wanted to put Kathryn up as a pawn to ensure Sam goes home, but Christie was pushing so hard for Sam to go that made Holly and Jackson suspicious. So then talk turned to putting Nicole up and actually making her the target. Then Analyse ended up pushing so hard for Sam to stay that Holly decided Nicole going up would be a bad idea. So as of now, the plan should be back to putting Kathryn up as a pawn.
Update: As expected, Nick saved himself and Kat was the renom against Sam. Watch out, Sam!
The best thing happening this week is that the majority alliance is developing so major cracks. The way Jackson was with Holly in the HOH competition has really upset Analyse because it sounded like they weren't a team. And now Analyse pushing for Sam to stay has others thinking she wants him around because they have a final two (and to take out Jackson and Holly).