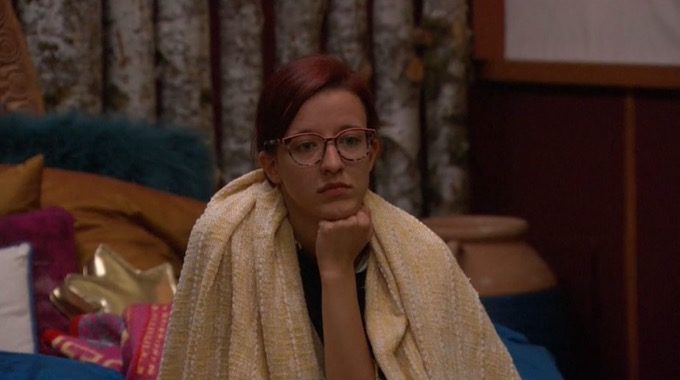 With all the remaining houseguests in the Big Brother 21 house competing in the Power of Veto comp for week 11, it really is still anyone's game. However, there are some plans put into place by some of the HGs that could cause for the HOH's plan to change. Read on to find out what some of the HGs are planning to do if they win this week's Power of Veto on Big Brother!
As we know, we get the fifth week of Jackson and Holly in power this week with Jackson winning the HOH for a third time this season. Jackson has nominated Cliff and Tommy for eviction this week with Tommy being his primary target, however, what would happen if Tommy wins today's Power of Veto? Obviously, if Tommy should win and take himself off the block, Jackson would then nominate Nicole because there is no way he would nominate Holly. Who might I add, is the only HG left that hasn't seen the block all season. Jackson told Cliff in a conversation on the Big Brother live feeds that no matter what happens, he doesn't want to see Cliff go this week. Implying that if Tommy won the POV, Jackson would rather see Nicole go over Cliff.
So what other scenarios are there this week? If Jackson wins, noms stay the same. If Holly wins, noms stay the same. If Cliff wins, Nicole goes up and Tommy still goes to Jury. What happens if Nicole wins? According to her camtalking while going over the days and events inside the house, the POV has been used six times and not used five times. She said that after Saturday's POV it will change to it being used seven times and not used five. She says that she wants to win the POV and take Cliff off the block. That would mean that Jackson would be forced to nominate Holly leaving Cliff and Nicole to determine who goes to Jury next.
If that scenario plays out, do you see Nicole and Cliff voting Holly out over Tommy in order to split up the showmance? Or, will they stick to their F4 deal with Jackson and Holly?
We'll have the spoilers as soon as things are revealed on the Feeds. Download our Big Brother App, join us on Facebook & Twitter, and get our Email Updates for lots more Big Brother coverage.
Did you know you can get a Free Trial to check out the Live Feed in-house cameras for Big Brother? Watch any moment from the season both live and in the past with the Flashback feature. If you haven't tried the Feeds yet then this is your week to do it! It's twenty cents a day and the cheapest entertainment you'll find all summer.