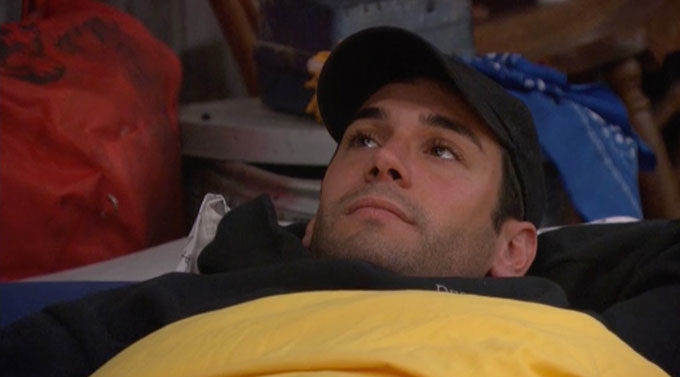 It was a very quiet night in the Big Brother 21 house as the nominees knew what was coming and this cast is too close to start any drama. The houseguests spent most of the night lounging and chit-chatting. There was some talk here and there of what would happen if Tommy wins the Veto this week, but we can't be sure what it all really means this early in the week.
If you've got the Live Feeds (Free Trial) then you can watch all of these moments with the Flashback feature to go back and watch those important conversations or funny scenes you may have missed.
Big Brother 21 Live Feed Highlights – Friday, September 6, 2019:
3:08 PM BBT – Cliff lets Jackson know that he doesn't care who he puts up next to Tommy. He knows it won't be Holly so he's basically saying he's OK with going up again.
3:12 PM BBT – Cliff is sucking up to Jackson, telling him how great he's been in the game and how happy he is that they lined up.
3:13 PM BBT – Jackson tells Cliff that whatever happens this week, he doesn't want Cliff to go anywhere. He says he has too much respect for Cliff and he thinks he deserves to be here (sounds like he's telling Cliff that if Tommy wins the veto, Nicole will go home over Cliff).
3:17 PM BBT – Jackson tells Cliff he was kind of scared Nicole was gonna target him and Holly during the double. Cliff says Nicole knew how he (Cliff) wanted it to go (Cliff further moving the target onto Nicole in case Tommy wins veto).
3:33 PM BBT – Tommy and Jackson have been discussing the past couple of weeks and why Jackson wanted Jessica out and then Christie. Tommy says he knew Cliff and Nicole were making plans with Holly and Jackson, but they were also making plans with him and Christie, he says.
3:35 PM BBT – Jackson basically tells Tommy that he's nominating him. Tommy says it doesn't really matter and he knows he just has to win veto.
3:40 PM BBT – Tommy admits to Jackson that he wanted to outlast Christie. He said he used two vetoes on her, but she was always running her mouth and he just really didn't want to go home before her.
4:15 PM BBT – Cliff talking about how crazy it is that he was on this season and is still in the game. He says he's 30 years older than most of the cast and still hanging on.
5:30 PM BBT – HGs just hanging out, talking, playing games.
6:05 PM BBT – Feeds cut for the nomination ceremony.
6:44 PM BBT – Feeds return. Jackson nominated Cliff and Tommy. Everyone commenting that this is the first time Tommy's picture has been on the nomination wall.
7:45 PM BBT – HGs hanging out around the kitchen table eating and playing games.
8:20 PM BBT – Cliff and Tommy wonder what kind of secrets they still aren't privy too. They say they can't want to find out after the season is over.
10:42 PM BBT – Tommy is laying in the Camp Comeback room by himself.
10:47 PM BBT – Holly is dancing to Nicole's HOH music.
10:50 PM BBT – Jackson tells Nicole she needs to take the HOH room at least one night since she didn't get a full week of HOH.
11:05 PM BBT – Nicole tells Jackson that she is sorry that she didn't talk to him before nominations. She said she doesn't want him to think she was just assuming she wasn't going up or that she deserved not to go up. He says he knows that. He thanks her for having his back and he tells her that she's like his sister.
11:07 PM BBT – Jackson tells Nicole that he would never put her up as long as there are other options. He says if something happens with the veto and she has to go up, then that's out of his control. He says if the veto is used and Nicole or Holly has to go up, it's out of his control. He says they'll worry about that when they have to. He says they have 80 percent chance to win veto, so hopefully, they won't have to worry about it.
11:10 PM BBT – Jackson says if Tommy wins the veto and he has to break a tie to decide who goes home between Cliff and Nicole/Holly (it would be Nicole) that will suck, but they'll cross that bridge when they need to.
11:35 PM BBT – Nicole, Cliff, and Jackson are discussing optimal strategies for the BB Comics comp. Nicole is going to try and do the first attempt as fast as possible then hit the buzzer and then go back if she needs to. Jackson wants to hit the buzzer on every change.
11:45 PM BBT – Nicole settles into her honorary HOH room for the night. Jackson has relinquished the room over to Nicole since she was only briefly the HOH.
12:30 PM BBT – Nicole is rehearsing days and events in the HOH room.
1:00 PM BBT – Everyone is sleeping.
The HOH competition set us up with Jackson and Holly being safe for another week and now Tommy's safety comes down to the Power of Veto on Saturday. If the medallion slips through his fingers it'll be the end of his game. If Tommy does pull off the win then it'll be Cliff vs Nicole for the vote and even then Jackson and Holly will hold the tie-breaker power and decide who goes to Jury next. Gotta watch out for those showmances, HGs.
You can watch all of these Big Brother events using the archives Flashback, the DVR-like feature of this year's Live Feeds which means it's always live, even when you missed it! Sign-up now to get the free trial to watch it all live & uncensored.


Gallery: Live Feeds Highlights
Download our Big Brother App, join us on Facebook & Twitter, and get our Email Updates for more!