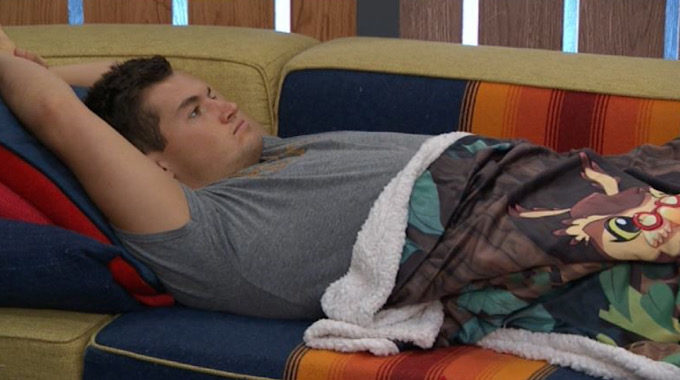 Every Big Brother houseguest that makes it into the Final 3 has some sort of paranoia about whether or not their fellow finalists will take them if they win the Final HOH. This is even true for shomances like Jackson and Holly who have both won a round of the Final HOH so far. So what do they have to worry about?
Monday night on the Big Brother live feeds (8:35 PM BBT cams 3&4), Jackson tells Holly that he has a lot on his mind. Talks about how close they are, how far they have come, he's thinking about the questions the Jury might have and the final round of the HOH. He then talks about how he is a little nervous about Holly talking so much with Nicole one-on-one.
Jackson tells her that if he was Nicole, he would tell Holly that she has a lot of friends in the jury, she has stuck to her word throughout the game and the jury will respect her for that. Not to mention, she hasn't burned anyone and has done a great job managing her relationships with the members of the jury. Holly tells him that she has said all that, but she feels like Nicole is describing herself and not Holly.
Holly mentions that everyone in the jury respects game moves, but Jackson says that they have been in the jury house for 8 weeks now and they could be very sour and salty about his game moves. Especially the Tommy and Cliff moves because those are still fresh in their minds.
Jackson asks Holly to just let her know if she decides to change her mind about bringing him to F2. She tells him "okay, you too" but adds that it's not happening. Jackson tells her that there is a zero percent chance that he changes his mind about bringing her. She tells him that he doesn't want him to worry about that, but understands why he is. Jackson tells her that he trusts her, but he fought too hard for his fate to be in someone else's hands.
Do you think that Jackson has a reason to be nervous? Do you think there is any shot at Holly taking Nicole over him?
Download our Big Brother App, join us on Facebook & Twitter, and get our Email Updates for lots more Big Brother coverage.
Did you know you can get a Free Trial to check out the Live Feed in-house cameras for Big Brother? Watch any moment from the season both live and in the past with the Flashback feature. If you haven't tried the Feeds yet then this is your week to do it! It's twenty cents a day and the cheapest entertainment you'll find all summer.