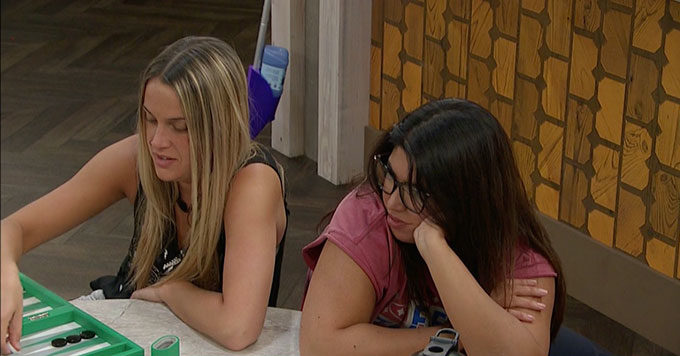 There's a new Head of Household in the Big Brother 21 house after the endurance competition played out on the Live Feeds Thursday evening. And the new HOH's target was decided on quickly, and it's a head-scratcher. Read on to find out what the plan is for nominations as we head into Week 10.
If you've got the Live Feeds (Free Trial) then you can watch all of these moments with the Flashback feature to go back and watch those important conversations or funny scenes you may have missed.
Big Brother 21 Live Feed Highlights – Thursday, August 29, 2019:
7:03 PM BBT – Feeds return after live show ends. All HGs are still on the wall in the endurance comp.
7:18 PM BBT – Jessica drops from the HOH comp.
7:34 PM BBT – Cliff drops.
7:35 PM BBT – Christie is out.
7:41 PM BBT – Nicole falls and is upset she's out.
7:48 PM BBT – Tommy drops. Jackson is the new HOH.
7:58 PM BBT – Feeds return after the HOH comp.
8:00 PM BBT – Jackson tells Nicole and Cliff that he won HOH for them because he knows Tommy would have nominated them. He says he really didn't want to win that HOH but knows he had to. He says they have a final four and he wasn't about to let them go on the block.
8:04 PM BBT – Jackson says he wanted to throw that completion to Nicole if Tommy had fallen before her. Cliff tells Jackson that he doesn't think it's good for either of them if he goes after Tommy. He says if Tommy goes, that leaves only two guys. Jackson tells Cliff he's thinking of nominating Jessica and Christie.
8:06 PM BBT – Jackson is upset that he won another comp. He says it's a bad look for him and Holly to win back to back to back. Cliff tells him at this point that doesn't matter.
8:25 PM BBT – Jackson again says to Cliff he made the final four with them and he was not going to let anyone come after them.
8:32 PM BBT – Jackson lets Christie know that he might have to cash in the her as a pawn deal. She isn't happy and asks why it has to be her. Jackson tells her she won't go home. He tells her he wants Jessica to go because she scares him. Jackson tells her they shook on it so he won't let her go anywhere. He says he does want to make it look like their deal is over though.
8:37 PM BBT – Jackson tells Cliff he's thinking Christie and Jessica for sure with Jessica as his target. Jackson says Jessica has made it known she's coming after the guys so she needs to go. He also thinks Jessica would be better at mental comps than Christie. Cliff says that works for him. He tells Cliff that he will spin it with Christie that she is a pawn and she will be really because he would rather Jessica go.
8:45 PM BBT – Cliff tells Jackson that he is worried about Christie and Tommy. Jackson says he's worried about Tommy too, but if he goes they're the only guys left and they're screwed.
8:46 PM BBT – Cliff tells Jackson if Tommy wins HOH next week he would like to see him target Christie (these players don't seem to realize that will never happen).
8:48 PM BBT – Jackson doing some eavesdropping, but not sure what he hears.
8:52 PM BBT – Jackson reassures Christie that there's no way she could go this week because she has two definite votes with Holly and Tommy and that would be a tie with him breaking the tie.
9:28 PM BBT – HGs having dinner and rehashing the HOH competition.
9:38 PM BBT – Tommy and Nicole say they were expecting the audience to gasp when they voted to evict Nick.
9:40 PM BBT – Nicole hopes there's no DE because those are too stressful.
9:42 PM BBT – Nicole is worried now how it looked for her to sleep in the same bed with Nick the night before eviction.
10:15 PM BBT – Holly and Jackson strategize that they think they'll be safe from Christie and Tommy while those two will instead go after Cliff and Nicole.
10:45 PM BBT – HGs discuss the rules of The Wall included that they couldn't turn around and hang on.
10:50 PM BBT – Jackson tells Holly they need to convince both other couples that getting Jess out is best for their foursome.
11:20 PM BBT – Jackson feels Cody was respected for taking Derrick to F2 even though Cody lost.
11:45 PM BBT – HOH room reveal time for Jackson. Lots of watermelons everywhere.
12:20 AM BBT – HGs are clearing out and Jackson says he'll do the talks in the morning since there are so few of them left.
12:25 AM BBT – Holly and Jackson can't believe they're still here and strong after the blow-up on Day 44. They're discussing Jackson's noms plans and how they'll convince Jess she's just a pawn.
12:40 AM BBT – Nicole apologizes to Jackson for not doing better so he could throw it to her since he didn't want to win this one. He says it's okay because she'll do better at the mental comp than he could so this works out.
12:50 AM BBT – Cliff talks with Nicole about Jackson's intent to target Jessica and their pair being more desirable to Jackson and Holly than Tommy and Christie because they (C & N) would be easier to beat in comps. Cliff says he'd be going after Christie if it was his choice.
1:20 AM BBT – Cliff offers to be a renom pawn after Christie and Jess go up initially. He feels he'd be safe with Nicole and Holly's votes (that'd tie it and send it to Jackson).
1:30 AM BBT – Jackson talks again with Holly how he thinks the pairs will go after each other instead of them.
2:00 AM BBT – HGs are feeling sad and missing their families.
2:30 AM BBT – HGs are heading off to bed.
Jackson and Holly are back in control of the house for the third straight week and they have a plan to get out that mastermind Jessica. Terrible plan, but okay. Noms are coming up on Friday so get ready for Jess and Christie to hit the Block with Christie's fourth straight round in the danger zone.
You can watch all of these Big Brother events using the archives Flashback, the DVR-like feature of this year's Live Feeds which means it's always live, even when you missed it! Sign-up now to get the free trial to watch it all live & uncensored.

Gallery: Live Feeds Highlights
Download our Big Brother App, join us on Facebook & Twitter, and get our Email Updates for more!