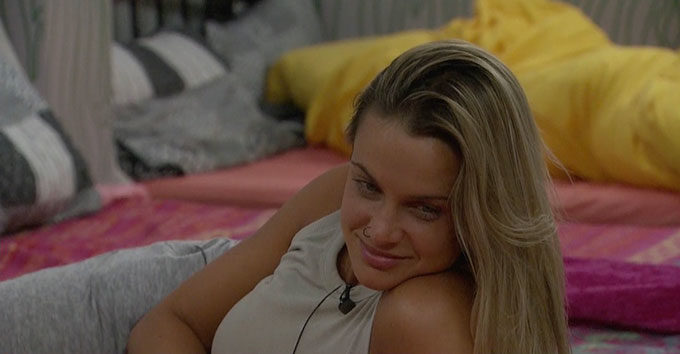 It was nomination day in the Big Brother 21 house and Jackson went straight for his target instead of a backdoor plan. Read on to find out what happened after the nomination ceremony, what the nominees are thinking, and what plans have been set in motion for the person who wins the Power of Veto.
If you've got the Live Feeds (Free Trial) then you can watch all of these moments with the Flashback feature to go back and watch those important conversations or funny scenes you may have missed.
Big Brother 21 Live Feed Highlights – Friday, August 16, 2019:
4:06 PM BBT – Feeds cut. Time for nominations.
4:57 PM BBT – Feeds return. Jackson has nominated Christie and Anaylse. Everyone is hugging and moving about. Christie and Anaylse head to the bedroom to lay down.
4:59 PM BBT – Analyse is annoyed that Jackson said they were the biggest threats standing between him and the win. Christie tells Sis she is a pawn and that she (C) is his target.
5:03 PM BBT – Christie tells Tommy that if she comes down then Sis goes home. Then Sis says and if she comes down Christie goes home. Tommy says he knows it might seem that way, but you never know what can happen.
5:05 PM BBT – Tommy points out that only he and Holly haven't been nominated now.
5:07 PM BBT – Nicole and Jessica work on making amends after what went down Thursday. Nicole tells Jessica she is really happy Jessica didn't go on the block. Jessica says anything that Kat said in the storage room before eviction she didn't agree with. Nicole said she appreciates that because what Kat said really hurt (we aren't sure what Kat said, but we might see it on Sunday's episode).
5:14 PM BBT – Holly told Christie and Sis she had no idea how Jackson's nominations were going to play out. After she leaves Sis flips her off and says Holly knew exactly what was going to happen. Christie says everyone is so fake.
5:24 PM BBT – Christie says if Jackson thinks he has a shot at winning Big Brother he is delusional.
5:30 PM BBT – Tommy tells Jackson the move he just made makes sense and he respects it.
5:35 PM BBT – Analyse tells Nick she had no idea she was going on the block. Christie says she's annoyed because it's all so phony. She says Jackson was talking like he wanted them all to get back together the other day but that was just in case he or Holly didn't win HOH this week. Christie says she's sick of this game.
5:43 PM BBT – Anaylse tells Christie she will want anyone who wins veto to save Christie over her. She says she knows she can stay up against anyone other than Christie.
5:48 PM BBT – Christie says the universe has her back and she knows she and Sis are both staying this week. Sis says they have both been nothing but good in this game. Christie agrees and says that's why the universe will reward them.
6:22 PM BBT – Christie tells Tommy Jackson thinks he's his new Jack. Tommy says no to that. Christie then says she's going to win the veto. Tommy said he would rather win it so he can use it on one of them and they'd both be safe. Christie says Tommy doesn't have to win because Jackson won't put him up.
6:26 PM BBT – Tommy says he knows they can all survive this week and then they all need to get back on the same team. Christie tells him she is not working with Jackson and Holly anymore.
6:58 PM BBT – Nick tells Nicole that he loves Christie but he will vote her out over Anaylse no matter what.
7:04 PM BBT – Nick says if he wins HOH next he would target Jessica.
7:40 PM BBT – Analyse tells Nick that if he wins veto she'd rather him take Christie off the block. Nick says that is dumb. Analyse thinks she'd have Holly's vote to stay. Nick says not if Jackson wants her to vote you out. Nick says he would take her Sis and she can't tell him not to.
7:52 PM BBT – Nick tells Sis that if Christie was next to Nicole he would vote Nicole out.
8:32 PM BBT – Analyse tells Christie that they will go after Holly and Jackson after this and if it means losing Tommy so be it. Christie says she agrees and she will never work with Jackson and Holly again.
8:33 PM BBT – Christie asks Analyse if she thinks Nick would use the veto on her (C). Analyse says yes because she told him that's what he needs to do.
8:43 PM BBT – Tommy wonders if they can still cut a deal with Jackson and Holly this week. Christie says that won't happen. Tommy again says they can try to get the team back together. Christie says she is not going to cut a deal with them.
8:46 PM BBT – Analyse says even if she stays she can't work with them. Tommy says if they can't come back together then Nicole will win this game.
9:35 PM BBT – Nick tells Jackson and Holly that he hopes he doesn't get picked for veto. Jackson tells Nick if he does use veto just please use it on Sis and not Christie. Nick says that's what he would do. Jackson indicates to Nick that if Nick uses veto Tommy goes up and if Tommy uses veto Nick goes up.
9:39 PM BBT – Nick says that if Christie picks him to play in veto he doesn't think he would try very hard. He then says but if Tommy is playing and wins Nick doesn't want to go up.
9:50 PM BBT – Holly telling Tommy she just doesn't understand why Christie was trashing her and Jackson yesterday. She says they had a heart to heart and everything and then she still trashed them. She said Jackson basically had no other choice with his nominations. She says she really wants to make amends with Christie and Analyse but now that Jackson put them up that might not be possible.
10:00 PM BBT – Jackson explains to Tommy if he wins the Veto he doesn't want him saving Christie. He shares that Sis is only up to keep her from voting to save Christie.
11:05 PM BBT – Tommy and Nick agree that Christie is the target.
11:10 PM BBT – Sis, Jess, and Christie suspect Nick threw the HOH comp.
11:15 PM BBT – Tommy and Nick discuss their options for Veto. Nick suggests he wouldn't play hard to win it. Nick doesn't want to get picked. They agree if Christie comes down then Sis will go.
11:45 PM BBT – Sis is stressed with worry that Nick is working with Jackson.
11:50 PM BBT – Christie is convinced she's going to win the Veto. She talks with Sis and Jess about scenarios with the Veto. Christie wants Sis to pick Tommy if she gets HG Choice but she worries he'll be torn on what to do.
12:15 AM BBT – Sis and Christie are telling Jess that Holly and Jackson talked about how spaced out Jess was when she came to talk with them.
12:30 AM BBT – Holly points out to Jackson they're the last showmance and the house is after them.
1:00 AM BBT – Lights are out and HGs are asleep.
Busy day for Jackson's plans and the remaining Shooters as they prep for Veto. Christie is working to manifest a sure thing win but she might have to win this one on her own to guarantee her safety.
You can watch all of these Big Brother events using the archives Flashback, the DVR-like feature of this year's Live Feeds which means it's always live, even when you missed it! Sign-up now to get the free trial to watch it all live & uncensored.


Gallery: Live Feeds Highlights
Download our Big Brother App, join us on Facebook & Twitter, and get our Email Updates for more!