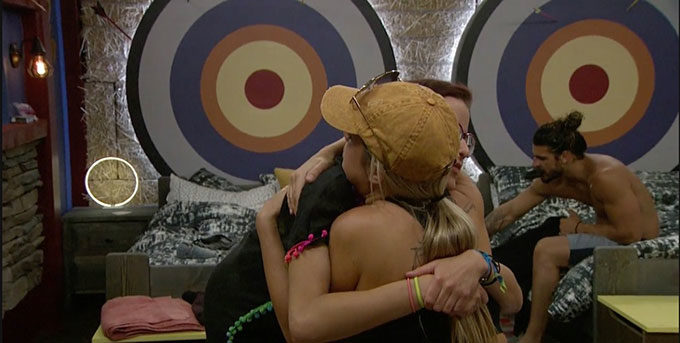 Following a big meltdown by Christie and the Veto ceremony, the Big Brother 21 houseguests were left stressed and scrambling for most of the night. Read on to find out the eviction plan at the moment and who all have learned about Christie's Diamond Power of Veto.
If you've got the Live Feeds (Free Trial) then you can watch all of these moments with the Flashback feature to go back and watch those important conversations or funny scenes you may have missed.
Big Brother 21 Live Feed Highlights – Monday, July 15, 2019:
3:11 PM BBT – Christie tells Nick and Bella at some point tonight they will get with Sam and let him in on the power. She says she doesn't want him to be the only one who doesn't know.

3:28 PM BBT – Bella is talking to Christie about the Nick and Analyse situation. Christie tells Bella that she thinks Nick really cares about her. Bella is just still really frustrated with the Nick and Analyse flirting though.

3:35 PM BBT – Christie telling her group that Kemi is why she had her meltdown today. Bella says that Kemi is toxic. Christie says she's laughing about it now but knows it was a full-on meltdown and that they will air it on television.

4:18 PM BBT – Analyse tells Tommy that the best case for all of them is if Cliff goes this week but the two of them are good with Nick and Bella so blinding them this week might be a bad idea. She says she doesn't know what to do.

4:20 PM BBT – Analyse says if Christie is suddenly on board again with getting Nicole out then she's going to be sketched out and think Christie is back with Nick and Bella.

4:26 PM BBT – Tommy and Analyse are rethinking saving Nicole this week but they still think Cliff should go. They discuss going to Nick to convince him that Cliff needs to go so they don't have to blindside him to keep Nicole.

4:30 PM BBT – Analyse says she just really wants Cliff out and thinks if they ask Nicole to be with them she will because she has no other option. Analyse says Cliff wants them out and wants to work with Nick and Bella whereas it's the opposite with Nicole.

4:43 PM BBT – Christie is now saying she kind of thinks that Nick really was about to take a shot at her today. She says that Nick was shaking and she is certain he decided at the last minute not to put her up because of her power. She is convinced she averted a crisis by letting him know she won the last Whacktivity Comp.

5:13 PM BBT – Christie is clearing up the details of her power with Nick and Bella (she was likely told she had to do this since she was overselling the power). She tells them that it is good for the next three weeks and the veto holder when she activates it gets to name the replacement nominee.

5:35 PM BBT – Christie confirms that if she talks about the power she has to tell what it does accurately.

5:40 PM BBT – Holly and Christie confirm with each other they want to stick with the plan to get Cliff out this week and keep Nicole.

5:45 PM BBT – Analyse was worried Christie would go back to Bella and Nick but Christie tells her to look her in the eye and says "Bella is dead to me" and says she is voting out Cliff. Christie says she used her initiation today and stopped their plan to backdoor her so the last thing she would want to do is work with them again.

5:48 PM BBT – Holly and Analyse let Christie know that if it ever comes down to it they will both put Jack on the block.

7:05 PM BBT – Christie is telling Jackson that she knows she was really going on the block today from how Bella and Nick are acting. She says she's excited to move ahead with their plan this week.

7:15 PM BBT – Christie is annoyed that Bella is acting like her best friend how. She tells Holly she can't wait to blindside them.

7:40 PM BBT – Kat tells Holly she thinks Nicole has the first power. Holly tells her no, Ovi has the power.

8:30 PN BBT – Kat has been telling Jessica and Holly that she doesn't trust Nicole to not work with Bella and Cliff. She tells them that as of right now she would vote to evict Cliff because she feels closer to Cliff.

8:43 PM BBT – Christie asks Nicole if she heard her name being tossed around today. Nicole said all she heard was Kemi said Christie was acting nervous and might be going up. Christie asks but who did Kemi hear it from. Nicole says Bella and Nick start with the little jabs just like they did with Kemi and herself. Nicole says that's what scares her for Christie because they're starting that with her too. Christie goes on to explain to her what happened today before the veto meeting (without telling Nicole she has the power).

8:48 PM BBT – Christie tells Nicole to play it smart and remain calm and just be herself because no one knows what can happen this week.

8:50 PM BBT – Nicole tells Christie she thinks Kemi would have told her (Nicole) if Kemi had heard from someone specifically that Christie was going up.

8:55 PM BBT – Bella is blabbing everything she heard today to Sam.

8:57 PM BBT – Nick is telling Christie and Jack that Kemi said Jessica has a power to take herself off the block. Christie says there's no way Jessica has that power because she has it and she's not allowed to lie about it. Feeds cut.

9:00 PM BBT – Christie says someone is going to get in trouble for making up a power unless Jessica has one America voted.

9:03 PM BBT – Christie tells Jack that she is so sketched out by Bella and Nick she can barely look at them. She says she's going to win the next HOH and she is going to put them up.

9:04 PM BBT – Christie says Cliff has to go and Jack says "and stay gone." Christie says she wants David to come back but would be OK with Kemi coming back too. Christie says she doesn't even want to talk a little came with Nick and Bella.

9:07 PM BBT – Christie says that they need to make sure Nicole feels good with them so that she is with them when she stays this week and doesn't go with Nick and Bella.

9:20 PM BBT- Sam, Nick, and Bella are fine with Cliff staying and think it's just Christie with a problem.

9:35 PM BBT – Christie explaining her power to Sam and Jack.

10:30 PM BBT – Sam is upset with Nick and tells Bella that Nick hurt his game by running his mouth. Sam learned about Gr8ful when Jack slipped up then when Sam told Nick he knew Nick ran it back to Jack and Christie which lead to Christie questioning him on knowing it.

10:45 PM BBT – Bella tells Sam she worries Nick doesn't trust her anymore like he did at first.

10:45 PM BBT – Analyse and Holly think they can get Nicole to join them over Kat and Jess if she stays.

10:50 PM BBT – Analyse tries to explain Christie's power to Jackson. She lets him know that Christie has been telling everyone.

11:25 PM BBT – Jack and Christie are feeling good about their position in the game. Both expect they've got the F2 set. They'll travel with their winnings.

11:35 PM BBT – Nick worries they're at the bottom of the group. Bella says not this week they aren't because Nicole is going home.

11:45 PM BBT – Kemi encourages Nicole to play up the damsel in distress to Jackson since he'll want to be "captain save a girl."

1:00 AM BBT – Nick is prepared to break a tie and send Nicole home.

1:05 AM BBT – Nick tells Analyse that they can't cuddle anymore (because Bella got upset yesterday).

1:10 AM BBT – Nick describes to Analyse what he sees as the subgroups of Gr8ful. Him and Bella, Christie/Tommy, and the two couples. Analyse denies that.

3:00 AM BBT – Lights out for HGs.
Christie really blew her power out of the water today but at least she was finally told to correct the exaggeration she had given its strength. Now we get to watch Nick and Bella confidently head towards Thursday's eviction where they'll be shocked and disappointed to find out their alliance isn't supporting them nearly as much as they expected! Good times.
You can watch all of these Big Brother events using the archives Flashback, the DVR-like feature of this year's Live Feeds which means it's always live, even when you missed it! Sign-up now to get the free trial to watch it all live & uncensored.
Gallery: Live Feeds Highlights


Download our Big Brother App, join us on Facebook & Twitter, and get our Email Updates for more!