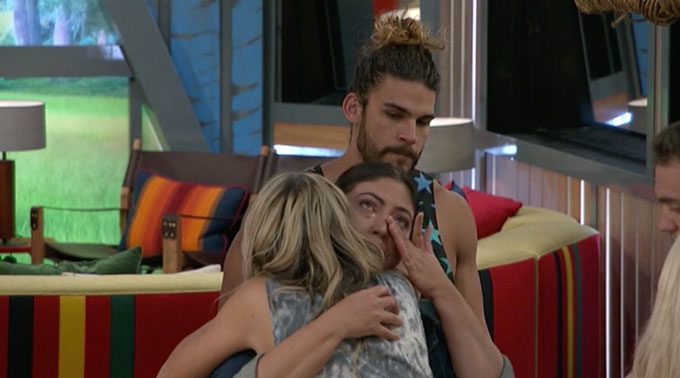 Emotions were high in the Big Brother 21 house as the second nomination ceremony took place and the nominees found themselves feeling betrayed by one of the few people they thought they could trust in the game. Read on to find out reactions from the nomination ceremony, and who the real target is shaping up to be this week.
If you've got the Live Feeds (Free Trial) then you can watch all of these moments with the Flashback feature to go back and watch those important conversations or funny scenes you may have missed.
Big Brother 21 Live Feed Highlights – Friday, July 5, 2019:
7:19 PM BBT – Feeds return from the nomination ceremony. Kemi and Jessica have been nominated. Jessica is crying.

7:22 PM BBT – Kemi, Jessica, and Holly discussing what's next. They say they have almost a whole week before the next eviction and they talk about playing in the veto.

7:23 PM BBT – David and Ovi discussing the nomination ceremony in Camp Comeback. They got to watch it on their TV.

7:24 PM BBT – Bella tells Nicole that she had to tell Jack about the alliance so that they wouldn't be targeted next week. Bella says he wants Kemi gone this week and Jessica gone next. Nicole says she better talk to him then because in that case, she'll be next.

7:25 PM BBT – Bella tells Nicole she knows it's hard but asks her to trust her. Nicole says she trusts her but now she's (Nicole) is the one who's going to be screwed. Bella says she had to tell him because she knew he was putting Jess and Kemi up and was afraid they'd tell him or others about the Black Widow's alliance while they were campaigning. She says she did this to save them.

7:27 PM BBT – Nicole is worried now but Bella tells her Nicole isn't even on his radar. Nicole says she's worried he'll back door one of them. Bella says she doesn't think so because of Camp Comeback.

7:29 PM BBT – Kemi joins Nicole and Bella and they start talking about the nominations and then Bella tells Kemi what she just revealed to Nicole.

7:38 PM BBT – Jack tells Christie that he can see Jessica imploding and that she will be the one to go home this week.

7:40 PM BBT – Christie suggests that Jessica be the target because she'd be less likely to win a Battle Back. Christie says Jack can patch things up with Kemi if she stays this week. Jack seems to agree and says Kemi hugged him because she respected his game move. Christie says that's because Kemi would have done the same thing and she's being real whereas Jessica would have been phony.

7:42 PM BBT – Jack says he would have been on the block had either of those girls been HOH. He said just doesn't want people to think he picked them as nominees for another reason.

7:45 PM BBT – Bella says she wonders who told Jack about the girls alliance. Nick tells her that she told Jack. She says she told him after he asked but someone had to tell him first. Nick says maybe Sam did.

7:48 PM BBT – Nick tells Bella he was afraid Jack was going to pull something and actually put them on the block.

8:00 PM BBT – Nicole and Jessica talk about Jack knowing Jessica and Kemi's whole plans. They run through the names of everyone who could have told him. They land on Bella. Nicole tells Jessica that Bella told Jack about the four of them having an alliance. Jessica does not like that. Nicole tells her to keep her cool. Jessica wants to blow up but Nicole tells her it was after Jack already had made up his mind. Jessica says that doesn't matter it's still messed up Bella told him.

8:10 PM BBT – Nicole says she wants to see if Bella comes clean to Jessica herself about telling Jack.

8:12 PM BBT – Now Bella is suggesting to Nicole that Holly, Analyse or Christie made up the girls alliance and told Jack. Then she says maybe it's just an excuse Jack made up to target Jessica.

8:15 PM BBT – Bella tells Kemi she thinks she screwed herself because of her conversation with Jack. Kemi asks Bella if she told him the name of the alliance. She says she did.

8:30 PM BBT – There was another earthquake. HGs are wondering if they're safe there.

8:34 PM BBT – Kat tells Jessica that she thinks Kemi has taken a lot of heat for things that Bella has was responsible for and that Jackson thinks so too. Kat says Bella has a huge target on her back right now and doesn't even know it. Kat says everyone wants to make sure Bella is gone before jury.

8:50 PM BBT – Kemi asks Jessica if she thinks Jack believes the story about the alliance. Jessica says she doesn't think he'd make it up and knows someone had to have told him (meaning before he allegedly asked Bella about it). They can't figure out who would have told him.

9:30 PM BBT – BB calls for the Camp Comeback campers to get in uniform and are told to head to the DR. The rest of the HGs hang out in the living room waiting to see Ovi and David's uniforms.

10:25 PM BBT – David and Ovi are back from the DR with their Camp Comeback outfits on. Very Boy Scouty.

10:40 PM BBT – Kemi tells Bella that Jess is made at Bella because she (J) feels she's on the Block because Bella made the all-girls alliance.

10:45 PM BBT – Bella warns Kemi that Cliff can't be trusted. Kemi says he promised her that if she picked him for Veto. Bella cuts her off and says he lied. Kemi asks if she would save her with the Veto. Bella says it would endanger her in the game the next week.

11:05 PM BBT – Bella shares that Jack told Jess she was just a pawn to get Kemi out. Kemi is frustrated that Jess is such a mess when she's been told she's just a pawn.

11:20 PM BBT – Tommy promises Jess he'll vote to keep her over Kemi. He reminds her she isn't the target.

11:30 PM BBT – Kemi tells Kat she's confident she could beat David and Ovi in a Battle Back comp.

12:10 AM BBT – Nick and Bella promise not to vote each other out.

1:45 AM BBT – David and Ovi are debating the possibilities of their return to the game and what sort of competition or otherwise will decide it.

2:00 AM BBT – HGs hanging out in the kitchen ahead of bedtime.

3:15 AM BBT – Jackson is back out of bed and eating a huge bowl worth of watermelon.
The day went as planned with Kemi and Jess heading to the Block. Still no word on who has the Chaos Power from the second Whacktivity. Veto comp is coming up on Saturday so let's watch and see if Jess or Kemi can win their way to safety.
You can watch all of these Big Brother events using the archives Flashback, the DVR-like feature of this year's Live Feeds which means it's always live, even when you missed it! Sign-up now to get the free trial to watch it all live & uncensored.


Gallery: Live Feeds Highlights
Download our Big Brother App, join us on Facebook & Twitter, and get our Email Updates for more!