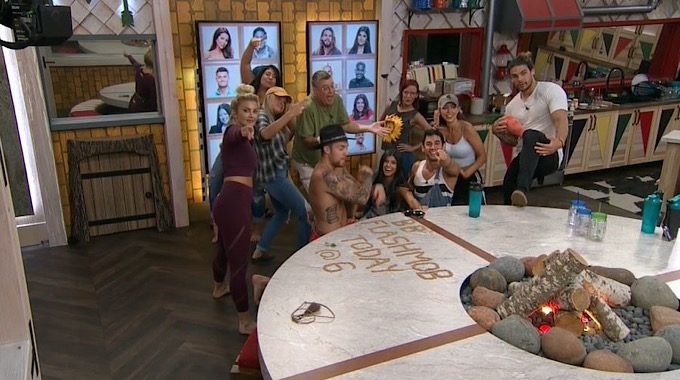 It was a slow morning in the Big Brother 21 house, but things got interesting when Sam started to campaign. Sam may have exposed one of the biggest cracks in the Six Shooters alliance to just the right person. Find out what he said and who he said it to right here with our Wednesday Daytime Feeds Highlights Report!
If you've got the Live Feeds (Free Trial) then you can watch all of these moments with the Flashback feature to go back and watch those important conversations or funny scenes you may have missed.
Big Brother 21 Live Feed Highlights – Wednesday, July 31, 2019:
10:00 AM BBT – HGs are waking up.

10:24 AM BBT – Jessica talks to Nicole about how not one of the six have walked into the HN room in the four days they have been in there. Nicole adds how when Tommy and Christie weren't allowed outside, everyone stayed inside with them. They both talk about how irritating it is. Nicole says that if it was her with the Poison Ivy punishment, no one would have stayed inside with her.

10:38 AM BBT – Jackson says that he has this weird feeling that Jessica is going to win this next HOH. They then speculate that Jack and Nick would end up on the block and she would backdoor Jackson.

10:45 AM BBT – Jessica and Nicole are talking about Analyse. Jessica wonders what kind of lifestyle she has lived where her best friend is Sylvester Stallone's daughter. Jessica then mentions how she used to see Analyse as a role model for young kids and now America has seen her hook up in the HOH shower.

11:05 AM BBT – Jack asks Kat how she is feeling and if she prepared a speech. She said she did and she wants to talk to everyone. She tells him she is nervous and is always paranoid no one likes her.

12:00 PM BBT – It's pretty quiet in the Big Brother house with everyone eating and lounging around the house.

12:07 PM BBT – Sam tells Nicole that it's safe to say she is going with the majority so she doesn't look guilty. He then asks how is she going to find out what the majority wants? What if the house is going to flip, how is she going to know? She said she thinks they would tell her so that she votes with them, Sam reminds her that there are 5 of them voting and they don't need her, Jessica, or Nick.

12:30 PM BBT – Kat is telling Holly and Jackson how Sam keeps asking her if she has her campaign ready and that she can make or break her game with her campaign. She adds that he keeps telling her that they put her up on the block for a reason. She says she thinks about it for a minute and then says to herself, "oh yea, because I volunteered!"

12:40 PM BBT – Sam tells Cliff the same thing, that he is assuming Cliff is voting with the majority. Cliff says that he is and it looks like it's going the other way, but if it should change he would vote for him to stay without hesitation. Sam also tells him to do what he has to and not to throw him a pity vote.

12:45 PM BBT – Nick and Sam talking in the Boat Room and Nick tells Sam that he was going to keep all of them safe next week, but they all screwed themselves because they keep talking.

12:52 PM BBT – Sam talks to Jessica and he tells Jessica that he mentioned Jessica's name week one and now all of a sudden everyone is airing his dirty laundry and making him out to be the bad guy. He said that after week one, he had no intentions of going after her. He tells her that he knows that she has to do what she has to do, but if she thinks that she could use him to better his game, he sticks by what he said, he would never go after her.

1:00 PM BBT – Cliff, Kat, and Holly talk about Sam and the vote. No one thinks that he is going to try and flip the vote except for Kat. Cliff and Holly both mention that he seems to have resigned and Cliff adds that Sam just told him not to throw him any pity votes and just vote how he needs to.

1:20 PM BBT – Christie and Tommy are talking and Tommy mentions that Nick told him the only people in the 6 that he trusts are Tommy and Christie. Christie says she doesn't think that Nick would put them up and Tommy says he would want Nick to go after the boys (Jack and Jackson). Christie said that once her power is gone, she thinks Jackson is going to want her gone.

1:37 PM BBT – Christie and Tommy continue to talk about Analyse. Christie is convinced that Analyse is a Disney child star and can't tell them.

1:43 PM BBT – Sam got his suitcase from the storage room.

1:50 PM BBT – Sam talks to Jackson and tells him it's probably going to be pretty quick. He doesn't really have much to say and he doesn't have much to offer him because he's in such a great spot. Sam tells him that if he is starting to notice that his close ties are coming loose, he might be worth keeping around. Jackson tells him that Sam isn't an easy eviction and he tells him that he would rather have Sam here. Sam says he has more to offer than Kat does. Jackson tells him that Sam hasn't done anything directly to him.

2:08 PM BBT – Flashmob dance rehearsal is going on in the kitchen.

2:30 PM BBT – Sam and Jackson continue their conversation and Sam tells Jackson that his name has come up with Jack's to him before. He tells him that Christie has mentioned Jackson and Jack's name and tells him about what happened during Cliff's HOH. They then talk about the week that Cliff was supposed to stay and Sam tells Jackson that he felt like an idiot when no one filled him in on it because he thought that he was good with the house. Jackson goes back to the Christie being good with one of them going during Cliff's HOH. Sam thinks that it was BS and Jackson said: "that you and Nick got pinned as the bullies."

2:45 PM BBT – Sam then tells Jackson about the night that Christie called him out in front of Jessica, Cliff, and Jack. He tells Jackson how she flipped everything and made Sam look like the bad guy in this whole thing but he couldn't say anything in front of Jack because Christie would have turned on the tears and Jack would have believed her over him.

2:50 PM BBT – Sam then tells Jackson about how he overheard Cliff and Christie a couple of days ago talking about how Cliff was going to vote. Christie was overheard saying that the majority wanted Sam out but then later told Sam that she wanted him to stay and she didn't know what the house was going to do. Sam asks if Jackson thinks that any of this information would help him stay if the right people knew, Jackson tells him that he can talk to Jack. Sam agrees and then Jackson asks if Jack is on board, would he (S) and Nick be willing to work with him, Holly, and Cliff to get Christie out. He says yes. Sam then tells Jackson that Analyse might act dumb, but he told her yesterday about all this. Jackson tells him this is his best chance at staying.

3:05 PM BBT – Jackson tells Holly that they have to talk because every question he had about why Christie was pushing Sam just got answered.
Jackson knew that there was something going on within his alliance, but he had no idea what it was. Now that he has all the information that he has been looking for, do you think that Sam has a shot of staying? Jackson has made it clear that this is the best shot that Sam has at staying, but will they really vote out Kat to save him? We will have to wait and find out what happens throughout the evening.
You can watch all of these Big Brother events using the archives Flashback, the DVR-like feature of this year's Live Feeds which means it's always live, even when you missed it! Sign-up now to get the free trial to watch it all live & uncensored.


Gallery: Live Feeds Highlights
Download our Big Brother App, join us on Facebook & Twitter, and get our Email Updates for more!