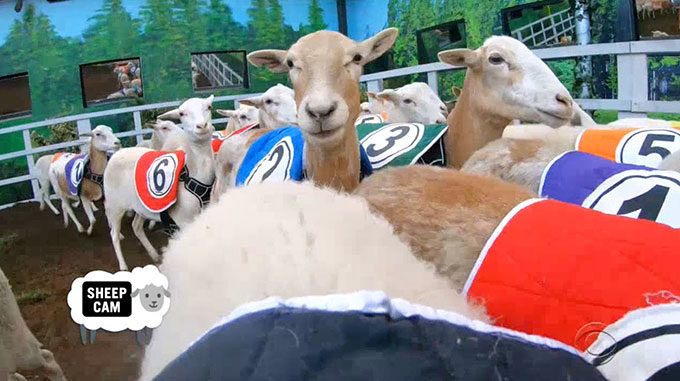 Wednesday night's episode of Big Brother 21 had more sheep than BB19 as Nick and Sam fought for the Power of Veto. But the real drama came later when the inevitable cracks started to form in the Six Shooter's alliance a little early.
The episode picked up right after Holly nominated Nick and Sam. Nick and Sam aren't shocked but hope there are enough people on the other side of the house to help them out this week. But we learn really quickly that isn't happening. Cliff tells Jessica and Nicole it's best not to rock the boat this week, so they need the nominations to stay the same or one of them could end up on the block.
At the veto draw, joining Holly, Nick and Sam are Tommy, Cliff (via Sam's HG choice) and Jessica. That's a pretty solid veto draw for Nick and Sam's chances. And we get right into the veto competition after the draw.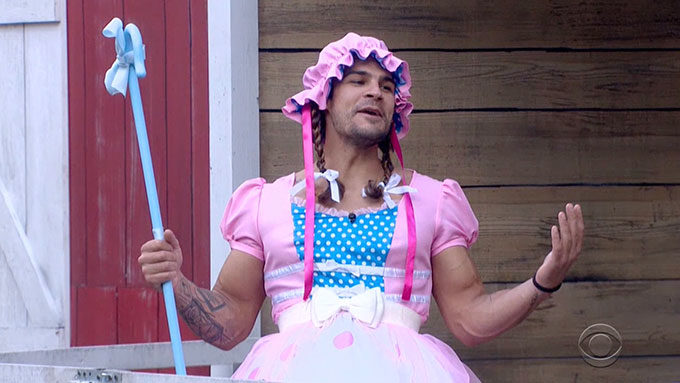 For this veto competition the HGs have to herd numbered sheep into their pens that equal an assigned number. This is a head-to-head competiton and first up are Nick and Jessica.
Nick wins the first round so Jessica is out. Up next are Holly and Sam. Holly wins the next round, which means Sam is out. The third matchup is Cliff and Tommy. And Tommy takes that round. Cliff is out.
The next round is Nick vs Holly. Nick wins the round and moves onto the final round against Tommy. Nick wins the round and the Power of Veto!
So now that Nick has won the veto, the Six Shooters have to figure out what should happen next. Christie wonders if God chose Nick to win the veto to show them he's really with them. I'm not making that up. She really said that. Holly tells her that's a bit of a stretch at least.
Sam decides to have a chat with Holly. He wants to try to get her to put someone up that he can actually campaign against and flip the vote this week. He tells her that he's never come after her and never had a problem with her. She says that's what's been so hard about this because she never had anything against him either. Sam asks if there's any other option this week. Holly says Nicole is the only other person who has caused any kind of drama.
Holly tells Sam that if she puts Nicole up and Sam stays they can build trust and work together. Holly tells us via DR that keeping Sam might be smart so he can take out the people in her alliance that she can't take out herself. So Sam gets a little bit of hope from Holly.
Christie, however, isn't too into that idea, and the fact that Holly is considering putting up Nicole makes Christie paranoid. She says she's not being paranoid but she is. And Analyse tells Holly and Jackson that Christie and Tommy are freaking out and think that Holly and Jackson could be up to something this week. Jackson gets really pissed at this information and says he wants to clear the air.
Jackson tells Christie and Tommy that Analyse told them people are getting paranoid. Holly comes in and makes Jackson mad and he leaves. I'm bored with this, but I'll keep telling you how this plays out I guess. They tell Holly that they don't believe she's working with Sam and Nick. Holly seems to believe them and is actually more annoyed with Analyse for comparing Jackson and Holly to Nick and Bella. So that backfired on Analyse. So needless to say, the cracks in that alliance have begun.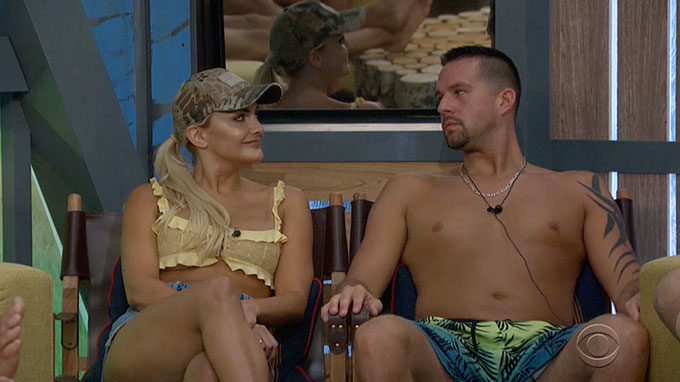 Despite the other options that presented themselves, Holly goes with the easy plan and names Kat as the replacement nominee after Nick uses the veto on himself. So as of now, Kat is the pawn and Sam is the target.