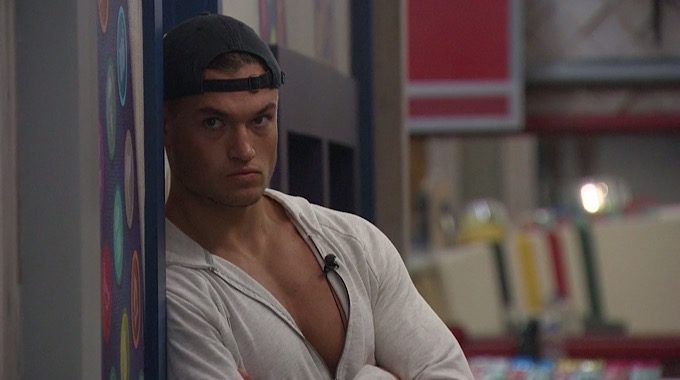 We had another eavesdropper on Thursday morning's edition of Cliff Notes on the Big Brother live feeds. The information spread through the alliance pretty quickly as the HGs prepared for Thursday night's live show. Keep reading to find out what happened inside the Big Brother 21 house before the live show!
If you've got the Live Feeds (Free Trial) then you can watch all of these moments with the Flashback feature to go back and watch those important conversations or funny scenes you may have missed.
Big Brother 21 Live Feed Highlights – Thursday, July 11, 2019:
7:20 AM BBT – Cliff is up cam talking, Jackson is outside the door listening. He is talking about Orwell, the missing knife. Cliff then talks about the possibility of keeping Kemi in the house. He then talks about why he would keep Kemi in the house. He thinks that if Kemi stays she might pick off the "cool kids club" alliance instead of them picking them off one-by-one. He does mention that Jackson and Holly aren't people he would like to see go and Kemi might target them first. Cliff does mention that Christie and Tommy were possible flip votes.

7:45 AM BBT – Cliff still talking, Jackson still listening. Tommy starts to walk towards the bathroom and Jackson tells him to be quiet. Cliff is now talking about the HOH comp possibly being an endurance comp. Cliff says he wants to win this HOH and maybe shake things up. Cliff mentions that if Jessica wins HOH she could put Cliff and Kat up together and if that happens, he thinks he can beat Kat in a vote.

8:00 AM BBT – Cliff wraps up his Cliff Notes for the day and goes back to bed.

8:05 AM BBT – Jackson heads up to the HOH to talk to Jack and Analyse. He tells them everything that he heard Cliff say.

8:10 AM BBT – Jackson suggests that he feeds Cliff some misinformation and tell him that they are keeping Kemi so that he will go and tell the other side of the house and expose them all. Jack tells him that they know everything about Nick and Bella and there is no reason for them to expose them all. Jackson is wondering why the other side thinks they have Christie and Tommy for votes.

8:25 AM BBT – Jack, Jackson, and Analyse are talking about trusting Christie and Tommy, they don't think they would flip. They also talk about David being cool and Jackson tells them about how David gave him a heads up that people are coming after them.

9:00 AM BBT – Christie is up talking with Jack, Analyse, and Jackson in the kitchen. Jackson tells Christie that he heard Cliff talking but he is going to wait for Holly and Tommy to wake up.

9:12 AM BBT – Christie suggests that they tell Jess little bits of what they have heard Cliff say. She then says that the worst part of this for Cliff is that his family is watching him do this live and screaming at the feeds for him to stop.

9:45 AM BBT – The rest of the HGs get their wake-up call. David says that it sounds like there was some early morning game talk (they cut the music).

10:05 AM BBT – Jackson is filling Holly in on what he heard Cliff say. Holly wonders if they can trust Nicole and Jackson tells her that the plus side with Nicole is she doesn't trust Nick and Bella.

10:10 AM BBT – Tommy and Analyse walk in and Jackson repeats what Cliff said again.

10:25 AM BBT – Holly and Analyse are talking about Cliff. Analyse wonders why she is the target and then wonders if she screwed herself (by being associated with Jack). Holly then wonders why Christie's name hasn't been put out there. The talk about how they make no decisions in their group and Holly also mentions that they are never included in the alliance meetings.

10:30 AM BBT – Analyse tells Holly she is lucky that Jackson isn't as big of a target as Jack. Holly said now that Jackson is hurt, the target has shifted to her. Holly says their six need to stay strong and keep the power on their side. She also thinks that if they can get Jess on their side, they would be even better off.

10:40 AM BBT – Analyse tells Holly how pissed she is that she voted Ovi out because he truly had her black in this game. Jackson walks into the room.

10:50 AM BBT – Sam walks in, casual conversation, walks out. Jackson tells Analyse and Holly that he walked in to try and talk about something, but then got called to the DR.

11:00 AM BBT – Christie, Tommy, and Jack go into the HOH room to talk. Christie tells Tommy that she was supposed to be filled in. Tommy tells her it wasn't really a big deal, it's all stuff they already know. Jack adds that Cliff wants to break up the cool kids club of Jack, Analyse, Jackson, and Holly. Talks came up about their fake alliance and Christie tells Jack that when they get a chance to talk, she will tell Jackson about it.

11:10 AM BBT – Tommy says that Nicole doesn't seem to have taken a side in the house. He mentions that she listens to people talk and takes it all in, she also knows that Kemi is bad for her game. Christie says that she would put Cliff and Jess on the block together if she won and they would send Cliff home. If Cliff comes off the block, then Nicole will go up as a renom and Jess will go home.

11:22 AM BBT – Jack mentions maybe bringing Sam into an alliance meeting without Bella and Nick, but he worries that Sam might go back and tell them. They talk about how terrible Nick and Bella are at this game. Jack also mentions that he told Nicole that he has her back in this game and he would tell her if she was ever a target. They all agree she can be trusted.

11:27 AM BBT – The HGs are called to the HOH for lockdown.

1:30 AM BBT – Feeds come back.

1:38 PM BBT – Christie and Kemi talking and Kemi tells her that she thinks things for tonight are the same and Christie tells her that she literally doesn't know.

2:20 PM BBT – Nick tells Bella that he heard that Kemi was going around telling people she is taking the fall for Nick and Bella. Bella then says to herself, "Why would you run your mouth about the only people that stood up for you in the house? It doesn't make sense at all."

2:33 PM BBT – Orwell has been found unharmed in the Storage Room by Tommy. Cliff doesn't think it's the same Orwell and promises to never leave him again. Also mentions how anti-climatic his return was.

2:53 PM BBT – Holly asks Sam if the plan is still to vote Kemi out. He said yes.

3:00 PM BBT – HGs are getting ready for the live show.

3:05 PM BBT – Kemi is going over her eviction speech and saying that there is a snake in the house and if she stays this week, her only intention going forward is to cut the head off it.

3:22 PM BBT- Feeds cut.
There shouldn't be any surprises during Thursday night's eviction show. It looks like Kemi will be the one to go to Camp Comeback this week. Depending on who wins the HOH for week 3 will dictate who will go next week, but it is looking like Cliff is the target on one side of the house, where Nick and Bella are the targets for the other.
You can watch all of these Big Brother events using the archives Flashback, the DVR-like feature of this year's Live Feeds which means it's always live, even when you missed it! Sign-up now to get the free trial to watch it all live & uncensored.

Gallery: Live Feeds Highlights
Download our Big Brother App, join us on Facebook & Twitter, and get our Email Updates for more!