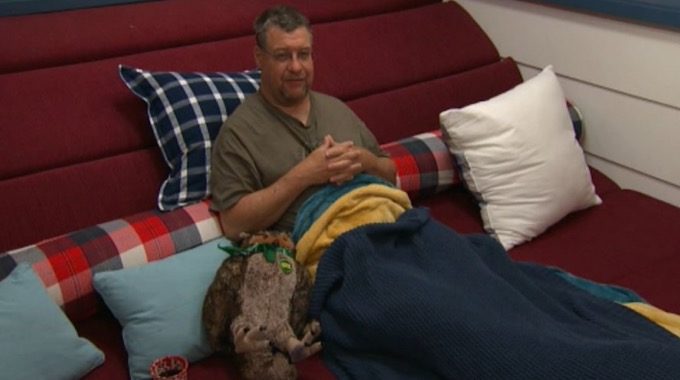 What a start to the Tuesday live feeds in the Big Brother 21 house! Cliff's game was exposed due to him carelessly cam talking to his family in his latest edition of Cliff Notes. He didn't realize that there was a member of Gr8ful right outside the door listening in! Read on to get all the details of what happened below!
If you've got the Live Feeds (Free Trial) then you can watch all of these moments with the Flashback feature to go back and watch those important conversations or funny scenes you may have missed.
Big Brother 21 Live Feed Highlights – Tuesday, July 9, 2019:
9:30 AM BBT – Cliff is up doing his daily cam talk.

9:50 AM BBT – Christie is walking by the Boat Room and hears Cliff. She hears him talking about how the HGs should never assume someone else in the room with them is sleeping. He talks about the couples in the house and how Christie and Tommy were up giggling late last night and he is considering them a "fourth couple." He is talking about how there might be friction between Christie and Analyse because of Jack. He talks about his alliance with Ovi and Nicole called the "Fellowship of the Zing."

9:55 AM BBT – Christie runs to the Archery Room, wakes up Jackson, Holly, and Tommy and tells them about what she heard.

10:15 AM BBT – Christie is recalling everything she heard Cliff say to Jack. Jack is wondering if they can use Cliff instead of targeting him.

10:25 AM BBT – Jack gets emotional while telling Christie about a bad dream he had about his ex. Tells her that she was there and he was trying to talk to him, but she wouldn't talk to him.

10:30 AM BBT – Christie and Jack are telling Tommy that they are going to work on trying to build a rapport with Nicole this week. Cliff comes out and Jack makes a joke about someone talking a little bit of game this morning. Meanwhile, Holly is relaying what she can of what Christie heard to Analyse while they are taking advantage of the yard before it closes.

10:45 AM BBT – Kemi and Nicole are in the storage room talking. Kemi says that Jack has been a straight shooter with her and she is thinking about going to him and saying that there is a snake in the game and if they keep her in the game, she will make it her mission to cut it's head off. (She is talking about exposing Bella's game)

10:58 AM BBT – Jack is talking to Nicole. Nicole tells him that she respects his game and she doesn't want him to think there is any animosity on her end. He tells her that he respects that she is there playing her game and adds that he personally has her back.

11:00 AM BBT – The backyard is closing.

11:08 AM BBT – Analyse and Holly are talking about Nick and Bella being their biggest threat in the house right now. Gr8ful does not exist anymore and Nick and Bella are not on their side.

11:20 AM BBT – Christie is still relaying information to the rest of her alliance. She is currently talking to Analyse with Holly and Jackson.

11:55 AM BBT – Jack and Jackson are talking. Jack is telling Jackson that he is thinking about separating himself from Analyse. Jackson asks him why he would do that? Just don't do it downstairs in front of everyone, what he does late night isn't seen by everyone else in the house. Jackson tells him that if he cuts Analyse off, she's going to turn.

12:20 PM BBT – Ovi is talking to Cliff. They are discussing the alliances they have noticed inside the house. Mentions that Tommy and Christie could be considered a fourth couple inside the house in regards to voting blocks.

12:30 PM BBT – All the HGs are sitting and having general conversations.

12:47 PM BBT – Jack is laying on the couch, still very emotional about the dream he had, Bella is laying with him. He tells her that Analyse has been doing her own thing and senses that he might be needing some space. He tells Bella that Analyse gets him. Bella asks if she really does and Jack says Christie gets him more. Bella tells Jack that she is there for him.

1:04 PM BBT – Kemi is telling Nicole that she plans on exposing Bella's game by going to Jack and telling him that someone in the house told her about his alliance of eight and start naming them all.

1:13 PM BBT – Kemi says she thought it was funny that Jack suggested she should blow up someone's game in her eviction speech. Nicole says that just means that everyone else sees it, just a matter of who is going to expose it.

2:05 PM BBT – Cliff scared Jackson and Nick in the kitchen with his fake mouse. They both scattered when he pulled it across the room.

2:25 PM BBT – Holly and Jackson contemplate getting rid of Nick and Bella in their 8 so they can bring in Nicole and Kat instead.
The target this week hasn't shifted but next week's target may be bouncing around more now thanks to Cliff's expose on all he knows to Christie.
You can watch all of these Big Brother events using the archives Flashback, the DVR-like feature of this year's Live Feeds which means it's always live, even when you missed it! Sign-up now to get the free trial to watch it all live & uncensored.

Gallery: Live Feeds Highlights
Download our Big Brother App, join us on Facebook & Twitter, and get our Email Updates for more!