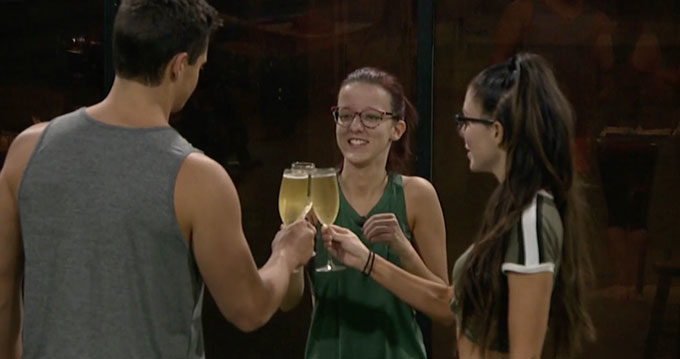 It was another typical Final 3 day in the Big Brother 21 house, so that means not a lot went on, especially considering the Final 2 has basically already been decided so there's no debating or campaigning to worry about. There is still some slight paranoia between Jackson and Holly as they're both worried about the other burning them, so read on to find out what that's all about.
If you've got the Live Feeds (Free Trial) then you can watch all of these moments with the Flashback feature to go back and watch those important conversations or funny scenes you may have missed.
Big Brother 21 Live Feed Highlights – Sunday, September 22, 2019:
10:10 AM BBT – HGs get their wake up call.
12:00 PM BBT – HGs begin to debate who should make the F2. Just kidding. They're napping.
2:00 PM BBT – Nap time continues.
4:15 PM BBT – HGs are vertical. They're discussing why they're so tired.
4:20 PM BBT – Jackson points out just three more nights of sleep before the end.
6:00 PM BBT – Nicole kicks back in the hammock while Jackson & Holly cuddle.
7:57 PM BBT – Nicole cam talks. She says she loves Holly and Jackson and she goes through phases where she's depressed and regretful for not keeping Tommy, but then she there's the "it's alright" phase. She says she's going to be OK. She says she's excited to return home and to her life. She says she really found herself on this journey and she's excited.
9:13 PM BBT – Jackson tells Holly he's paranoid and hopes she doesn't burn him. She says she hopes he doesn't burn her. They both say they aren't going to burn each other. Holly tells Jackson they are first and second place and they both think that has never been done by a showmance before (Boogie and Erika did it in BB7).
9:15 PM BBT – Holly says to Jackson she's glad the won parts 1 and 2 because she doesn't feel like she's taking anything away from anybody because they earned the final 2 spots.
9:20 PM BBT – Jackson talking about Paul getting to the end twice and losing. He says it was all because of the way he answered the jury questions. He tells Holly he will do everything he can to sell himself to the jury. She tells him not to make her look bad.
10:06 PM BBT – Holly, Nicole and Jackson toast with some champagne.
10:10 PM BBT – Holly notes that second place doesn't get much money after taxes. Nicole offers to carry that burden for Holly.
10:35 PM BBT – Jackson wants to stay up until 5 AM since that's when the backyard will be shut down and he wants to get all the time he can. Nicole agrees.
10:40 PM BBT – Jackson notes he has won every HOH that he was eligible to win since Day 51 and wants to win the final HOH to complete that.
11:10 PM BBT – Nicole says she stressed herself focusing on beating Holly and blacked out.
11:30 PM BBT – Nicole and Holly chat about life back home while Jackson quietly observes.
11:55 PM BBT – After Jackson goes in Nicole encourages Holly to campaign for herself in F2. Nicole tells Holly if she (H) cuts Jackson at F3 then it'll prove to the Jury she's her own player. Holly says it's a moral dilemma. Nicole points out Jackson will have Tommy and Cliff under his belt as his eliminations, not hers.
12:00 AM BBT – Nicole pushes on Holly that if she (N) is sitting next to either of them then they win over her. Holly says it's a hard choice and kept her up last night.
12:15 AM BBT – Jackson is back and Holly leaves. Jackson tells Nicole he's ready to get out and hear what damage has been done.
12:16 AM BBT – Jackson admits to Nicole that he did not have that conversation with Tommy. Nicole thought so because Jackson wasn't his usual "angry" self but behaved differently from when she's seen him really angry.
12:40 AM BBT – While Jackson steps away Holly and Nicole again discuss F2 scenarios. Holly is confused by Jackson telling her his F2 speech. She says he acts like she isn't even competition for him there.
1:15 AM BBT – Nicole says she didn't like how first place walked out before second place in the Big Brother finales but now she understands the winner wants to get out there as quickly as possible.
2:30 AM BBT – HGs are still up. Nicole and Holly are doing my tie-dye.
3:00 AM BBT – HGs are back outside and hanging out together on the hammock.
4:00 AM BBT – They're still there, getting all the backyard time in that they can.
The subtle campaigning has begun for Nicole. She's down but not out, at least not entirely. Seems unlikely for either Holly or Jackson to turn on the other, but Nicole knows she has to make that effort just to be sure.
You can watch all of these Big Brother events using the archives Flashback, the DVR-like feature of this year's Live Feeds which means it's always live, even when you missed it! Sign-up now to get the free trial to watch it all live & uncensored.

Download our Big Brother App, join us on Facebook & Twitter, and get our Email Updates for more!