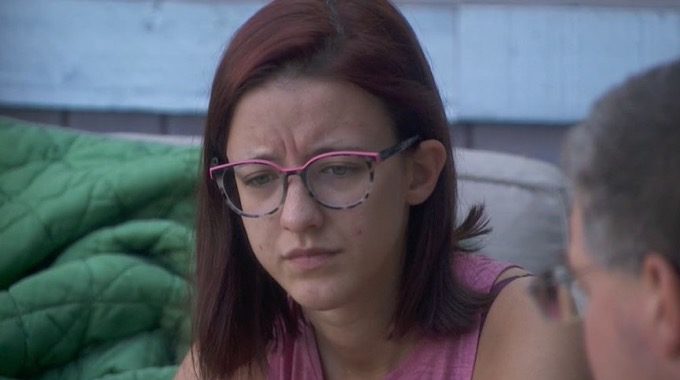 With the Veto Meeting not happening until Thursday night's show, the HGs spent most of the time lounging. Cliff and Nicole talked about what they could possibly say to Jackson to make him change his mind about evicting Cliff over Holly. Read on to find out what they are thinking about using in their campaign talks here!
If you've got the Live Feeds (Free Trial) then you can watch all of these moments with the Flashback feature to go back and watch those important conversations or funny scenes you may have missed.
Big Brother 21 Live Feed Highlights – Monday, September 16, 2019:
10:05 AM BBT – HGs are waking up.
10:30 AM BBT – Nicole is practicing what she is going to say at the Veto Meeting. She wants to point out how Jackson is talking about people and their word and now Cliff fought in this week's veto to keep his word to Jackson and take him to F3.
11:20 AM BBT – Cliff is camtalking in the backyard and tells us that unless he can work some magic, he is being evicted on Thursday. He said what hurts him on a personal level is that his family can't come to the finale because he screwed up.
12:00 PM BBT – Cliff is still camtalking and reflecting on the game so far. Other cameras are on Nicole sleeping.
12:40 PM BBT – Cliff and Nicole are talking about Nicole's speech at the Veto Meeting. She says she wishes the Veto Meeting was today and adds that she is going to tell him all this on Wednesday instead of waiting for the Veto Meeting (implying the Veto Meeting will happen live on Thursday).
1:35 PM BBT – Nicole camtalks to her family a little bit hoping that they are proud of her and saying that regardless of what happens, she will be okay.
2:00 PM BBT – Nicole and Cliff are sitting outside talking about what she is going to say to Jackson again and reflecting on the last couple weeks in the Big Brother house.
2:15 PM BBT – Cliff mentions that he could promise F2 all he wants, but Jackson probably already thinks he has it. Nicole mentions that Jackson never factors in what happens if she wins final HOH and it's frustrating.
2:27 PM BBT – Jackson comes out and they are talking about how they didn't know there wasn't going to be a Veto Meeting today.
2:45 PM BBT – Cliff says that after this he won't be able to view any reality show the same again. Nicole adds that it's crazy to her that she missed watching this season and is going to go back and rewatch her life unfold.
3:58 PM BBT – Nicole says as a viewer, she probably would have been rooting for her to take out Holly and Jackson over Christie and Tommy. She's afraid she looks stupid for sticking with a showmance for so long.
4:40 PM BBT – Nicole worries Jackson and Holly will realize the better plan might be for Jackson to throw the endurance part of the Final HOH to Holly.
4:41 PM BBT – Nicole says if she doesn't win Part 1 or Part 2 she should just ask to be sent to the jury house because they won't take her to Final 2 anyway.
5:28 PM BBT – Cliff tells Nicole he hopes the fans like this season. Nicole wonders what their season will be known for.
5:35 PM BBT – Cliff says he might be upset with Jackson now but says he might feel differently when he's in jury and respect his game more. Cliff says he will be pushing Nicole hard on the jury.
6:20 PM BBT – Nicole reminds Cliff there are still a few days before Thursday so things can still turn around. Cliff says he does plan to still talk to Jackson about the vote.
6:27 PM BBT – Cliff and Nicole agree that Cliff's best bet is to talk to Jackson about how the jury will perceive him going back on his deal. Cliff says he can say Holly stuck to her but Jackson didn't.
8:25 PM BBT – Nicole and Cliff again discussing if it's possible Jackson keeps Cliff. Nicole thinks Jackson is torn.
8:38 PM BBT – Nicole tells Cliff he should play up his age and that Jackson has his whole life in front of him and he might even get to do Big Brother again but this was probably Cliff's only shot. Nicole says just tug on Jackson's heartstrings.
9:01 PM BBT – Cliff cam talks that he's not going to give up and is still going to campaign but says he's happy with his BB experience and will be at peace if he goes home.
9:45 PM BBT – HGs lounging. Nothing much going on.
10:05 PM BBT – Jackson mentions to Holly that he still can't believe they let a showmance stay in the game.
11:40 PM BBT – HGs are wandering the house looking for Orwell.
12:00 AM BBT – Orwell has been found. Cliff takes him outside to camtalk and discuss his coming eviction.
12:15 AM BBT – Cliff shares he had gone to an open call event and got his chance to be on the show. (If you want to be on then do it too!)
1:25 AM BBT – Nicole is pitching to Jackson to keep Cliff over Holly.
1:35 AM BBT – Nicole explains to Jackson she wanted Holly out at F5 so then they could get out Tommy and go to F3 together with Cliff.
2:05 AM BBT – Jackson and Nicole discuss the final days of the game. She hopes it goes quickly and is ready.
2:45 AM BBT – Nicole and Jackson talk about being a returning Vet for another season. Jackson says he'd get voted out right away.
3:00 AM BBT – Jackson promises Nicole he's had her back the whole time.
3:45 AM BBT – Nicole and Jackson are still up and chatting in the backyard.
The Veto ceremony didn't happen on Monday which isn't a surprise after recent seasons but this set up has also been different without a taped eviction this week. All the same, we'll see it on Thursday's live show and already know what will happen. Cliff hasn't given up which is good but Jackson isn't changing his mind no matter what Cliff or Nicole throw at him. Few more days of that to go though.
You can watch all of these Big Brother events using the archives Flashback, the DVR-like feature of this year's Live Feeds which means it's always live, even when you missed it! Sign-up now to get the free trial to watch it all live & uncensored.

Gallery: Live Feeds Highlights
Download our Big Brother App, join us on Facebook & Twitter, and get our Email Updates for more!