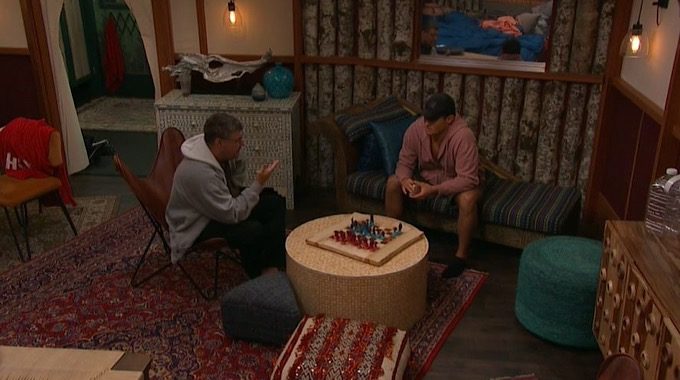 It has been a busy few days with all the campaign talks inside the Big Brother 21 house. There has been a lot of planning and execution of these campaign pitches, but last night Cliff laid out everything on the table. Read on to find out what Cliff pitched to Jackson on the Big Brother live feeds Tuesday and how Nicole has been helping.
Cliff has been talking to Jackson on and off for a couple of days now about wanting to stay in the game, however, everyone at this point wants to stay in the game so Cliff has a lot of work to do. Cliff talked to Jackson in the HOH room Tuesday evening and started off with telling Jackson that he knows he is in a tough spot, but Cliff really wants to see final three. Cliff adds that it means that his family gets to come out and participate after taking a hit financially for him to do this.
Talks turn to the DE and how Cliff talked Nicole out of putting Jackson or Holly up because Nicole's idea was to put one of each duo up, but he pushed for Christie and Tommy to go up. Cliff also reminds Jackson that he pushed for Holly all week last week and that he has always had Jackson's back in this house. Jackson tells him that he knows and that's why Jackson was surprised that Cliff wouldn't vote as an individual last week and stuck to wanting to vote with Nicole. Jackson adds that he knows that Nicole feels guilty that Cliff could go this week because Nicole made a deal with them for the HOH and now Cliff is being hung out to dry.
Cliff tells Jackson that he has no deals with anyone going forward and that he would do whatever it took to stay. Jackson tells him that he has been and will be thinking about this the nonstop. He tells Cliff that it isn't like it's him and someone else, it's only him deciding to end someone's hopes and dreams of winning this game. Jackson wants Cliff to know that if he chooses to evict Cliff, it's not because he feels like it was him who wanted to evict Holly. He knows that Cliff would have been loyal, but unfortunately, there was a deal put in place that guaranteed Nicole safety and not Cliff.
Cliff closed out his argument by telling him that he is 54 years old and isn't going anything else on television in his life, this is his one shot. He mentions that he had to cash in his 401k to cover the finances at home in order to even be on the show. Cliff tells him that he will throw comps and shake on any deal Jackson wants if that means he can get to F3.
Nicole has been pitching a lot of the same things, just in smaller doses. She told Jackson the other night that it kills her every time she hears Cliff apologize to his family for not being able to come out. She has mentions that Cliff is the one that deserves to be there the most after fighting his way back after being banished and evicted. She has pointed out that Cliff has stayed loyal to Jackson and Holly and that it was her doing that put him in this situation to begin with.
They have both been playing the guilt-trip up, but will that do anything to help Cliff's case? Do you think there is any chance that Cliff will go to F3 over Holly?
Download our Big Brother App, join us on Facebook & Twitter, and get our Email Updates for lots more Big Brother coverage.
Did you know you can get a Free Trial to check out the Live Feed in-house cameras for Big Brother? Watch any moment from the season both live and in the past with the Flashback feature. If you haven't tried the Feeds yet then this is your week to do it! It's twenty cents a day and the cheapest entertainment you'll find all summer.