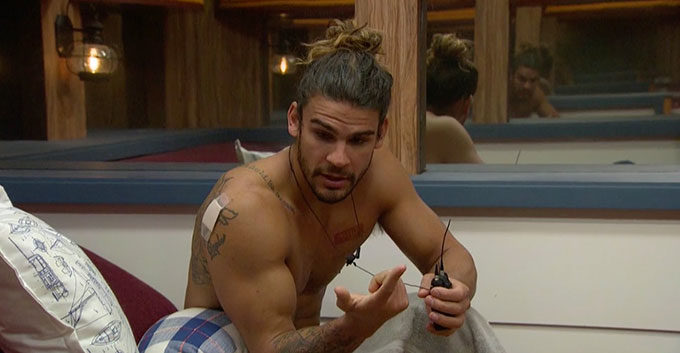 It's Jack or Jackson heading out the door this week on Big Brother 21. But which of the dominant males will it be? Read on for Big Brother eviction plan spoilers for this week.
Right now the votes are pretty evenly split, but Jack has a couple of plans going to gain some more votes. Whether those plans will work or not is anyone's guess, but I'm leaning toward it not working. He might get a couple of false promises, though, so that could make for an interesting vote Thursday night.
Let's take a look at how the votes currently stand:
Votes to evict Jack: Cliff, Nicole, Kat, Holly
Votes to evict Jackson: Analyse, Christie, Tommy
Nick is an unknown. It seems he's definitely going to vote Jack out, making the count a 5-3. I think I believe Nick when he says this, but he's been so all over the place it's hard to say. Jessica has let everyone know that she does not want to have to break a tie if the vote is 4-4. So we should expect Nick to vote against Jack.
Regardless of Nick's vote, Jack is the one set to head out the door this week. That is unless Jack's plans actually work. But don't count on that (if anyone out there is actually counting on it). Actually, as soon as everyone learns that the numbers aren't in Jack's favor, they might even switch up their votes. Christie has been big on appeasing both sides of the house, so I could see her voting Jack out just to try to gain a little trust or respect from Jessica, Cliff and company. I imagine Tommy and Sis are too attached to Jack to vote against him though, so the vote could end up 6-2. But who knows with this group. They're a strange bunch and anything could happen.
Who do you think will be voted out of Big Brother 21 Thursday night?