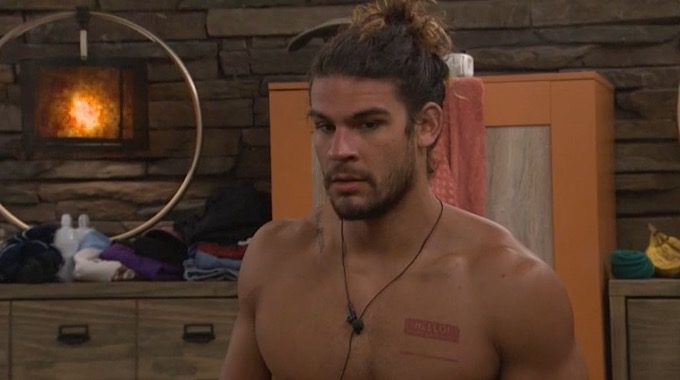 Jack has really been putting in a lot of work into different campaigns throughout the week. However, it is starting to look he isn't very confident in one of his plans, so he is working on another.
Jack has a plan to go to Cliff sometime today and promise him 3-4 weeks of safety with him, Tommy, and Analyse if Cliff will give him his vote to stay this week. Jack also talked to Nick yesterday about possibly making a similar deal with Nicole to gain that vote, but with Kat, Jack is taking another route. Blackmail.
Jack spoke with Tommy, Christie, and Nick yesterday on the live feeds and tossed around the idea of telling Jessica about Kat's involvement in the flip vote that evicted Cliff week 4. After talking it out with Nick and Analyse, it looks like Jack is going to talk to Kat first and then Jessica.
Jack's original plan was to just go and tell Kat that if she doesn't vote for him, he is going to tell Jessica about her knowledge of the flip vote that sent Cliff to Camp Comeback. Tommy told him that he can't make it seem like a threat with Kat, just to go to her and tell her that Tommy told him that she felt like Jack never respected her word and always kept her in the dark. 
Tommy then tells Jack that he should tell her that it was never his intention to do that and that he still wants to work with her. He also adds that dropping information like "when you were a mole for us" and talk about all the times that she gave him and the others information about the other side to make her paranoid. Which isn't hard to do with Kat.
They then talk about what he should do with Jessica. They talk about him going up to her and telling her that he has information that he has been sitting on because he didn't want to play a dirty game. Tell her that he thinks that the information that he has that could keep him in the house, but it could also make her think differently about someone that she is working closely with. The plan is to then offer Jessica the option of knowing the information or not.
They also talk about mentioning how Holly wanted Christie to use her power this week to put Cliff up and get him out, but Christie said no. His hope is that if he can flip Jessica's views on Kat, he can then talk her into keeping him by telling her that Kat is high on his pecking order.
Do you think that any of these campaigns are going to work in Jack's favor? Or will Jack be greeted by Julie and become the first member of the Big Brother 21 jury?
Download our Big Brother App, join us on Facebook & Twitter, and get our Email Updates for lots more Big Brother coverage.
Did you know you can get a Free Trial to check out the Live Feed in-house cameras for Big Brother? Watch any moment from the season both live and in the past with the Flashback feature. If you haven't tried the Feeds yet then this is your week to do it! It's twenty cents a day and the cheapest entertainment you'll find all summer.