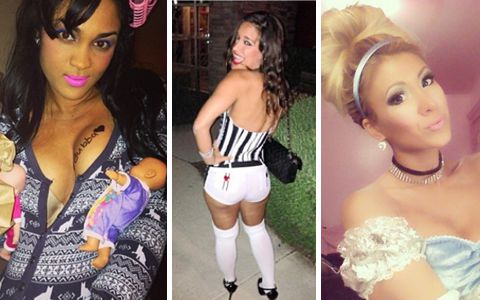 The Big Brother houseguests are taking to Twitter, Instagram, and Facebook with their costumes this year and we're collecting them up to share here on the site.
So far we've seen Jessie as a scantily clad referee and Kaitlin as a zombie prom date, but now we've got even more costumes coming out of the woodwork and beyond Big Brother 15. There's Candice as a baby-mama, GinaMarie as Cinderella, and Frank Eudy as a surgeon or possibly a conehead doctor as he joked.
Throughout the Halloween night we'll keep an eye out on the rest of the Big Brother HGs and see what costumes and craziness they get up to tonight. If you spot any costumes we missed then be sure to send us a link either in the comments here or through Twitter @bigbrothernet. Thanks and have a Happy Halloween!
Update: Lots more pics added all night! We've got more from Aaryn, GinaMarie, Jeff, Dr. Will, and lots more so keep clicking through and checking them out.
Click images to see Full-Size