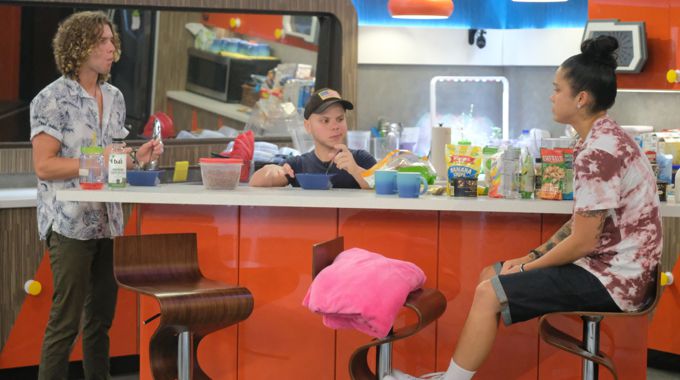 Tonight on the Big Brother 20 finale we'll be watching the three rounds of the Final HOH competition but two of those are already done and we're ready for what comes next.
Spoilers on the Feeds revealed last week that Tyler outlasted both Kaycee and JC in the first round as they flew around the backyard in their spaceships. Okay, that was a pretty cool setup. Tyler and Kaycee had discussed that she would take the first round once JC dropped but Tyler says he didn't see her signal before she dropped and it was too late. No big deal for their F2 alliance because guess how Round 2 went.
Round 2 of the Final HOH was completed over the weekend as well and that matchup obviously featured Kaycee and JC. These are typically physical+mental competitions and this season was no different. When the Feeds returned Kaycee was revealed as the champ of that challenge. It was close though!
JC fumed in the back bedroom that Big Brother should have offered a purely mental competition. That's just now how this works though, JC. Turns out Kaycee beat JC by less than one minute and he had far fewer mistakes in his answers along the way. He just couldn't match her physical prowess though.
Now we're set for Round 3 tonight featuring Tyler & Kaycee as they'll likely climb aboard the giant scales and answer A/B questions about the season's Jurors. The winner there will decide who to cut and who to join him or her in the F2. So who is it going to be?
Either way I'm fully expecting JC to be cut. Tyler and Kaycee seem to be set on their decision to take each other as an original F2 with their Coast2Coast alliance. Last night the pair discussed when and how to let JC know. Tyler suggested they wait until the Feeds had cut and that happened around 10 AM BBT this morning.
For a bit there I wondered if Tyler would throw the third round and let Kaycee cut JC to avoid taking any blame for JC's departure, but if they're agreeing to tell JC of their F2 then obviously it'll be too late for that move. Also I don't know if anyone is crazy enough to throw R3 with the expectation to be taken to F2. Well sure, Boogie threw R1 in BB7, but that was R1 and this is R3!
If I was Tyler or Kaycee then I'd rather be going to F2 with JC than either of the other of them. They've both played strong games from the same side of the house and it'd be tough to easily beat the other but I'm guessing they're too close to the trees to see the forest on this one.
What do you think will happen? Who will Tyler take if he wins R3 and who will Kaycee take if the win is hers tonight? We're just hours away from finding out! Vote now in our polls while we wait and share your thoughts.