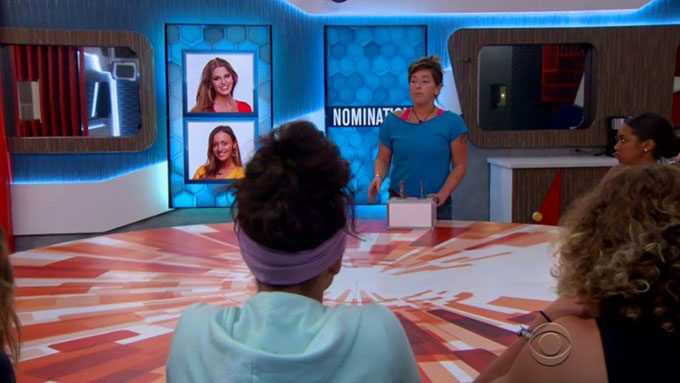 It's already been one of the strangest weeks in recent history, and the Big Brother 20 veto ceremony hasn't even gone down yet.
As we saw Sunday night, Sam won the Head of Household competition and nominated Haleigh and Kaitlyn for very non-game reasons. Sam has been pretty cryptic about her plans all week, but it seems she has been angling more toward wanting Kaitlyn out despite what seemed to be a solid relationship between the two (Sam had previously told Tyler she'd use her power on Kaitlyn).
Fast forward to Saturday's Veto competition that ended with Faysal winning. He has found himself in quite the bind as he's had near-showmances with both Haleigh and Kaitlyn this season. But to make matter worse, he promised both nominees he'd save them if he won the veto. And since he can't save them both, what is he going to do?
Kaitlyn has been working Faysal hard ever since he won, guilting him and telling him she loves him and all kinds of things that almost makes Sam's nomination speech make sense. But it sounds like Faysal is actually going to use the veto today on Haleigh. He told her Sunday night that he can't risk her staying on the block and going home after what has happened with the vote the past three weeks. He was going to just let the vote play out and trust everyone would vote Kaitlyn out over Haleigh, but he knows that's just not safe in this season.
So we can expect for Haleigh to come off the block, but who will go up? That's a complete mystery as Sam is telling no one directly. She has kind of, in her Sam way, told Rockstar and Bayleigh they aren't going up, but then again not really. Sam did talk to Brett Sunday night and tell him to let Rockstar apologize to him before she goes home and then said something about and if she stays she'll be an easy out next week. So it might actually be Rockstar who goes up on the block. Sam is really confusing, so I won't be surprised by any decision she makes.
Sam does intend on telling the final nominees about the power that will give one of them the chance at coming back in the game. So there will be a little extra hope there for whoever gets the seat next to Kaitlyn today.