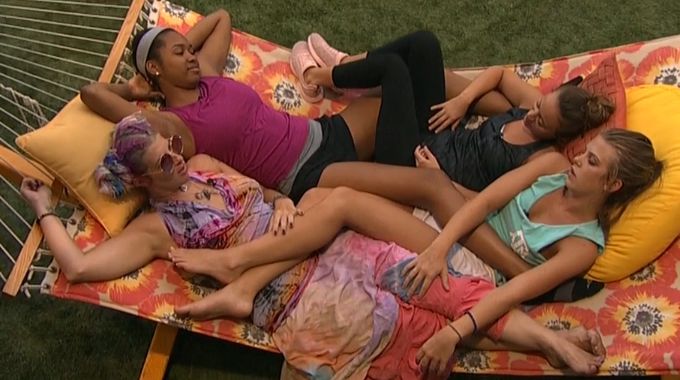 It looks like one of the Big Brother 20 nominees will definitely be coming off the block today, but which of his allies will Faysal choose? Read on for all the details from Sunday's Live Feeds.
If you've got the Live Feeds (Free Trial) then you can watch all of these moments with the Flashback feature to go back and watch those important conversations or funny scenes you may have missed.
Big Brother 20 Live Feed Highlights – Sunday, July 22, 2018:
10:15 AM BBT – HGs got their walk up call.
11:15 AM BBT – Sam asked Angela who she would renom and Angela suggests Angie. She says she still wants Kaitlyn to go, but thinks Angie deserves to be put under pressure for her behavior.
11:55 AM BBT – Kaitlyn goes to Tyler and he tries to cheer her up saying she shouldn't keep saying she's going home.
12:05 PM BBT – Scottie tells Tyler and Angela that he'll vote with the house (Kaitlyn) this week.
12:15 PM BBT – Kaitlyn is making her pitch to Rachel over why Faysal should be saving her (K) this week. She's upset that Faysal is using Kaitlyn's BD-Swaggy as an excuse not to save her.
12:25 PM BBT – Kaitlyn talks with Tyler and asks him to pitch to Faysal about saving her so both of the girls can stay this week.
1:15 PM BBT – Scottie asks Kaycee to let him know how they're all voting so he can vote with the house this week. Scottie suggests Faysal will probably use the Veto.
1:30 PM BBT – Kaitlyn says she just wants to have fun if this is her last week. Haleigh tries to cheer her up and says she doesn't think she's going anywhere. Angie is also there as the group wonders if JC really does have the extra power.
1:45 PM BBT – HGs gather for the HN picks. Bayleigh, Scottie, Kaycee, and Rachel volunteer.
2:10 PM BBT – Angie asks Sam why she didn't want to go with the all-girls alliance. Sam says she likes JC too much and doesn't want to target him. Angie shifts the idea to going after the tougher guys then.
2:25 PM BBT – Bayleigh warns Faysal that he better make sure he knows who Sam is going to renom before he uses it and instead makes the whole house upset instead of just the two noms.
3:15 PM BBT – Faysal asks Haleigh if she thinks anyone suspects he's planning to use the Veto on her. She thinks only Angie might expect that.
3:45 PM BBT – Kaitlyn worries to Bayleigh that if she's still on the Block then she'll go home. Bayleigh tries to encourage her and says she'll be fine because she has strong connections in the house.
3:50 PM BBT – JC tells Haleigh his theory is that Kaitlyn doesn't really have a boyfriend and is just hitting on guys to help her game.
4:05 PM BBT – Kaitlyn and Faysal discussing that she thinks it'd be okay for him to not use the Veto. He says she feels that way now, but afterward, she'll be upset.
4:25 PM BBT – Haleigh tells Angie that she definitely wants Kaitlyn gone.
5:00 PM BBT – JC is trying to convince Faysal that he shouldn't use the Veto. He's bringing up that Kaitlyn probably told Tyler that she really likes him to get him to do what she wanted.
6:35 PM BBT – Brett tells Haleigh he thinks Faysal should use the Veto since he's close with both the noms and since he's already lost his trust with Kaitlyn he should use it on her (H).
6:40 PM BBT – Brett assures Haleigh that she won't be going home this week. He promises Haleigh his vote.
6:50 PM BBT – Brett tells Haleigh that he wants Kaitlyn gone because he's sure he is her target and can't let her stay with that being the case.
7:00 PM BBT – JC and Tyler compare notes on Kaitlyn. JC heard from Haleigh that Kaitlyn confessed to Faysal her love for him. Tyler says Kaitlyn said the same thing to him, but he also notes that Kaitlyn told him that it was Faysal who confessed feelings for her. JC plans to use this info against Kaitlyn to persuade Faysal to leave noms alone for tomorrow.
7:08 PM BBT – JC tells Tyler that he thinks he wants Kaitlyn to stay. Tyler says he doesn't want her to stay, but her staying isn't the worst thing because he can manipulate her. JC says if they don't evict her this week and she wins HOH she's going to nominate him (JC). He says he doesn't want her in jury either. Tyler says he doesn't want her in jury either.
7:15 PM BBT – Tyler tells JC to chill out in case they both stay this week. He's hinting that something might happen and they both stay. Tyler tells JC to just calm down until the veto meeting and stop pushing for Kaitlyn to go so hard.
7:20 PM BBT – JC still won't let up so Tyler has to tell him just to chill out until the veto meeting where he'll learn all about why one of them might not go home this week.
8:15 PM BBT – Angela tells Haleigh that she'll be safe even if Faysal doesn't use the veto.
8:53 PM BBT – Angela says she couldn't stand when Kaitlyn was HOH and wanted to throw her down the stairs in her HOH robe.
9:12 PM BBT – Haleigh tells Faysal that she's nervous he's going to change his mind and not save her. He asks if she trusts him and she says yes and he says then don't worry. Faysal says he doesn't care if the vote is supposed to be 10-0 he's not leaving her on the block and risking her going home. He said after the past three weeks with the blindside votes he'd never risk it by leaving her up.
10:00 PM BBT – After all the negativity, Angie goes down the list of HGs and says something very nice about all of them.
10:35 PM BBT – Haleigh talks with Sam about how Sam noticed Haleigh has a slight lisp. Haleigh says she went to speech therapy for years to get rid of it and didn't realize it was noticeable anymore. Haleigh tells Tyler she's going to stop talking so others don't hear it.
11:30 PM BBT – Angie talks to Bayleigh about how she (A) wants to try and apologize to Brett for how she's been reacting to what he said on Thursday night. Bayleigh encourages her to go and try.
12:10 AM BBT – Rachel gets a little emotional and talks with Kaycee about how she's missing life back home.
12:30 AM BBT – Sam talks with Faysal about his plans. She doesn't want to pressure him in either direction, but she just wants to be prepared. Sam reminds Faysal that using the Veto will only protect one player, but not using it would protect the rest of the house.
12:45 AM BBT – Faysal follows up this talk with Bayleigh and mentions what's going on with Sam trying to find out what he's going to do. Bayleigh tells Faysal that Sam really does like him. He's surprised.
1:00 AM BBT – Angie and Faysal discussing the Veto situation. Angie mentions how Sam won't talk game with her. Faysal points out that Sam does talk game with Brett and Tyler.
3:10 AM BBT – Faysal and Haleigh are alone in the backyard discussing the Veto. Faysal wants her to tell him what to do. Haleigh is afraid that Angie will go up in her place if he saves her. Faysal says if it comes down to a tie then Sam would evict Kaitlyn.
3:15 AM BBT – Faysal says he will save Haleigh, but then she has to commit to be his F2 in return. She agrees and they hug.
3:30 AM BBT – Haleigh tells Faysal that no one sees this coming with him saving her. They go over the votes to make sure they can save Angie if/when she goes up.
3:50 AM BBT – Haleigh asks what is involved in being his "ride or die." Faysal says she has to stop playing with other guys' hair and commit to him. She's not agreeing to the idea that they're in a F2 showmance.
4:55 AM BBT – Faysal and Haleigh are still up talking. She's almost trying to talk him out of using the Veto by saying she doesn't want to jeopardize his position in the house. "I would understand if you didn't want to use it, but I would want you to talk to me about it."
=====
Sure sounds like Faysal is planning to save Haleigh in his desperate attempt to get her attention and affection. That's okay because we get to reap the benefits of Kaitlyn losing her mind yet again over this "betrayal" so be sure you're ready to watch later this afternoon!
You can watch all of these Big Brother events using the archives Flashback, the DVR-like feature of this year's Live Feeds which means it's always live, even when you missed it! Sign-up now to get the free trial to watch it all live & uncensored.


Gallery: Live Feeds Highlights
click images to see full-size