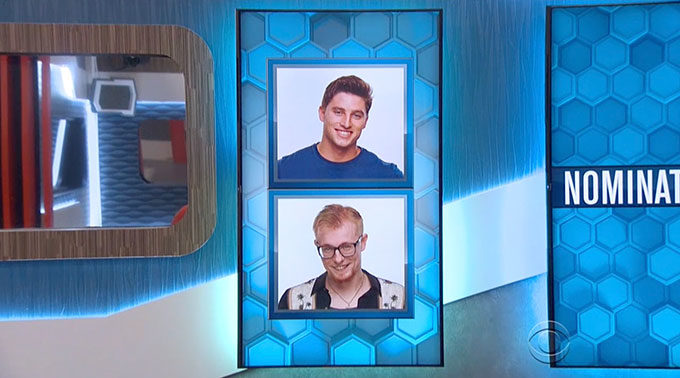 For the first time this season, a nominee has won the Power of Veto, so we can definitely expect it to be used at the veto meeting later today.
As we saw during Sunday night's episode of Big Brother 20, Faysal won this week's Head of Household Competition and nominated Brett and Scottie for eviction. Despite how bad of a move that seems to be, Faysal has not had any moments of doubt since then and Scottie remains his target.
During Saturday's Veto competition, Brett earned his first win of Big Brother 20, and for him, it couldn't have come at a better time. So needless to say, Brett will be using the Power of Veto on himself today, and we can likely expect another entertaining speech from him.
As for who Faysal will be nominating in Brett's place, that has pretty much been narrowed down by process of elimination. Faysal has told Tyler and Angela that he's not touching them this week, and has attempted to make a deal with them, offering himself and Haleigh as a foursome to help them get to the end of the game. Angela and Tyler told Faysal what he wanted to hear, so they're safe from the block this week, as is Tyler's cloud app (but only for one more week).
Faysal has also told Sam and JC that they're safe. So aside from Haleigh, his only option is Kaycee. And since Faysal doesn't want anymore blood on his hands, that is likely who he will go with. That is unless JC comes up with another plan for Faysal to execute. And since Faysal seems to do whatever JC wants, that is entirely possible.
Scottie finally talked to Faysal Sunday night to try to clear things up and pitched the idea to name Sam as the replacement nominee. Faysal said he is considering that because same sketched him out earlier by trying to get him to put Haleigh up. So unless JC also gets on board with Sam going up, it'll probably be Kaycee.
Regardless of who goes up, Scottie is doomed. Level 6 has the numbers to do whatever they want to do now, and with Scottie going out the door, that is even more true this week. Faysal and Haleigh will likely feel major reprecussions from this move in the coming weeks.
What do you think will happen at the Power of Veto meeting this week? Who do you think will be walking out the Big Brother front door Thursday?