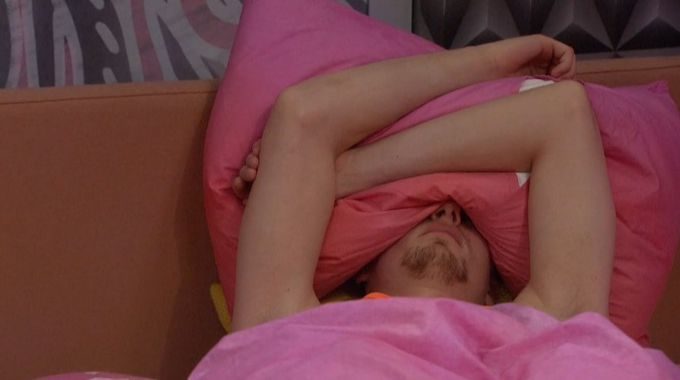 It was a crazy day in the Big Brother 20 house as Sam decided to start attempting to play the game and Scottie worked on a few ideas to save himself this week. Read on for all the details from Sunday inside the BB house.
If you've got the Live Feeds (Free Trial) then you can watch all of these moments with the Flashback feature to go back and watch those important conversations or funny scenes you may have missed.
Big Brother 20 Live Feed Highlights – Sunday, August 19, 2018:
10:15 AM BBT – HGs starting to get up for the day.

10:20 AM BBT – Sam working on Faysal already and saying if he will renom Haleigh then she'll quit smoking. She warns Faysal that Haleigh would nominate him if she had the chance.

10:25 AM BBT – Sam continues to push Faysal on this idea that he won't possibly accept. She's acting excited about it and saying he should do it (renom Haleigh).

10:50 AM BBT – Sam hugs Faysal. He gives a bewildered look to the camera. She heads back inside and hugs Kaycee and asks if she would pick her or Angela. Kaycee promises she loves them both very much the same.

11:10 AM BBT – Faysal tells Tyler he just got a crazy pitch.

11:30 AM BBT – Kaycee mentions to Angela that Scottie is planning a big speech to try and get Haleigh on the Block.

11:30 AM BBT – Sam talks with Tyler and says she's going to make him proud.

12:20 PM BBT – Tyler and Scottie talk. Both think Tyler will be the renom. Scottie warns Tyler that Haleigh thinks he is full of it.

12:40 PM BBT – Scottie tells Kaycee and Tyler that his plan was to make a big speech and to try and make sure Tyler isn't the renom.

12:45 PM BBT – HGs called to the living room. Faysal has to pick 3 HNs: Sam, JC, and Tyler.

1:00 PM BBT – Sam pushes again for Faysal to renom Haleigh.

1:25 PM BBT – Faysal lets Haleigh know that Tyler has talked with Angela about his F4 proposition.

2:00 PM BBT – Faysal talks with Brett about this week's target. He promises Brett he was just the pawn against Scottie as his real target.

2:10 PM BBT – Faysal says he believes Brett about voting to keep RS. He says since he's getting off the Block and keeps that story then it must be true.

2:25 PM BBT – Kaycee and Angela suspect Scottie was lying about Haleigh being aggressive and saying mean things about Angela.

2:55 PM BBT – Tyler and Angela talk strategy. He thinks he'll tell Faysal that Sam and Brett are his targets. Angela suggests he just says HGs playing the middle instead of naming names.

3:00 PM BBT – Faysal assures Kaycee that whoever goes up won't go home this week.

3:30 PM BBT – Faysal lets Haleigh know that Scottie wants her (H) up as the renom. Haleigh goes downstairs. She's upset. Tyler, Angela, and Kaycee comforter her. Tyler explains Scottie is just trying to save himself.

3:40 PM BBT – Group warns Haleigh to watch for Scottie trying to blame her a lot now.

3:50 PM BBT – Angela wants Sam to be the renom. Brett says he suggested that to Faysal. He also mentions how Sam is planning to try and convince Faysal to renom Haleigh.

4:00 PM BBT – Haleigh asks Sam if she was telling Faysal that she (H) was manipulating him. Sam denies saying that. Haleigh believes her and thinks Scottie is doing a lot of lying.

4:30 PM BBT – Haleigh tells Faysal she's really hurt by Scottie because she had been trying to save him before that.

4:50 PM BBT – Angela and Tyler are upstairs with Haleigh and Faysal talking game. They discuss that Kaycee will probably be the renom.

5:15 PM BBT – Faysal tells the group about Sam pushing for Haleigh to be the renom.

5:20 PM BBT – Angela is surprised to hear Sam likes Brett and had no idea.

6:05 PM BBT – Scottie and Haleigh are talking. He tells her he's bad news and bad for her game.

6:15 PM BBT – Scottie plans to use his speech to apologize to Haleigh instead of doing what he had originally planned.

6:30 PM BBT – Haleigh is sad and hurt by what's happened. She continues to talk with Scottie about what he did.

6:45 PM BBT – Scottie and Haleigh's talk finally ended. Scottie stays in the room while Haleigh leaves.

7:20 PM BBT – Tyler tells Kaycee he doesn't know why Faysal won't put Sam up. He says if Sam wins HOH she will target Haleigh and Faysal. Tyler tells Kaycee that Faysal is probably going to put Kaycee up.

7:49 PM BBT – Kaycee asks Haleigh if she knows who the nominee will be. Haleigh says she has a feeling it's Kaycee and if so she has her vote to stay. Haleigh said she told Faysal she doesn't want Kaycee on the block two weeks in a row.

7:50 PM BBT – Haleigh tells Kaycee that she let Rockstar run her HOH and she shouldn't have let people get in her head. She apologizes for putting Kaycee up twice.

8:03 PM BBT – JC tells Angela she's safe this week. Angela says she thinks it will be Kaycee. JC agrees and says Faysal won't be stupid enough to put Tyler up.

8:32 PM BBT – Haleigh tells Faysal that Scottie told her he wanted to distance himself from her because he knows he's going and wants Haleigh to work on relationships with other people. Faysal doesn't buy it.

8:45 PM BBT –  Faysal tells Haleigh that he's taking the biggest target out of the game. She says Scottie isn't the biggest target, but Tyler is.

9:01 PM BBT – Faysal tells Haleigh she can't vote to keep Scottie. She says she's not but don't tell her what she can and cannot do.

9:38 PM BBT – Scottie goes to explain to Faysal what his campaign against Haleigh was all about. He tells Faysal that if he puts Haleigh up he'll be mad. He says he would love for Sam to go up because she is playing everyone and playing like she knows nothing about the game. Faysal says he has thought about putting Sam up.

9:41 PM BBT – Scottie tells Faysal that he never had feelings for a person before but he has that with Haleigh and it's messing him up. He says people are taking advantage of that.

9:43 PM BBT – Scottie says that Brett and Sam were trying to get him to go off on Haleigh in his veto speech, but he's not going to do that. Scottie told Faysal that he just wanted to separate himself from Haleigh so that she has a chance to recover her game.

9:45 PM BBT – Faysal tells Scottie he'll think about putting Sam up. Scottie said he could get Tyler's and Haleigh's votes and then they'd need just one more. Faysal says if he would do that for him, the two of them and Haleigh will have to get on the same page.

9:48 PM BBT – Faysal says Sam asking her to not put her up and to put Haleigh up did freak him out.

9:50 PM BBT – Scottie tells Faysal that if Sam goes, he is going for Brett to "finish the job" he started when he nominated Brett and Winston.

9:51 PM BBT – Faysal asks Scottie if he was definitely the vote to keep Rockstar and he says 100 percent. Faysal says Brett is still claiming it was him. Scottie says no, it was him.

10:00 PM BBT – Scottie continues to push for Sam. He says she's in a good mood today because she thinks her plan with Faysal might be working.

10:05 PM BBT – Scottie says he'll be coming for Brett and everyone who tried to convince him that Haleigh was against him. Faysal says he'll think about it but hasn't decided.

10:20 PM BBT – Scottie mentions how Sam says she misses RS but she voted her out. He wants her up so he can tell Sam to go see RS in Jury.

10:25 PM BBT – Scottie asks Faysal who Haleigh wants out. Faysal says that'd be Sam. Scottie tells him to do it for Haleigh then.

10:30 PM BBT – Kaycee comes up and Faysal asks who she'd rather see out, Sam or Scottie. She says, Scottie. He questions her on how that means she'd go up. Faysal says he still wants Scottie to go because of how convincing he can be.

10:40 PM BBT – Faysal says he would put up Sam if he was sure Scottie would still go. Kaycee says Scottie would for sure still go. He's not convinced so Kaycee switches back to telling Faysal to go ahead and renom her then.

10:45 PM BBT – Downstairs Sam questions Scottie on why he won't look her in the eye.

11:10 PM BBT – Kaycee and Haleigh discuss the situation with Sam. They go over how Sam might have feelings for Brett. Haleigh wonders if Sam is jealous of her and Brett, thinking Brett likes her more. Haleigh says she didn't come here to date anyone.

11:20 PM BBT – Kaycee talks with Brett then Tyler to let them know she discussed the renoms with Faysal. She says she pretended to be worried about Brett's vote so it didn't seem too coordinated, but she promises she's secure with her safety.

11:30 PM BBT – Tyler tells Kaycee he'll pretend that Scottie has his vote so he doesn't do anything too crazy this week with his campaigning.

11:35 PM BBT – Tyler lets JC know about Faysal pitching the F4 deal for Tyler, Angela, Haleigh, and Faysal. JC worries Scottie is coming for him and Tyler says that's why they need him out this week. JC thinks Haleigh would go for Sam next. They think they'd be okay with Brett for a little while longer and he'd go after Faysal instead.

11:40 PM BBT – JC and Tyler agree they want Brett out before F4 and would rather have the two of them plus Angela and Kaycee there. Tyler promises JC he'd never keep Angela over JC. JC points out that Faysal and Haleigh are trying to make others think Tyler is really close with Angela to make them a target.

11:50 PM BBT – Faysal tells Brett how Scottie is all over the place telling him to target Haleigh then suddenly to protect Haleigh. Faysal worries Scottie might be on his side and getting framed, but doesn't think that's likely.

1:10 AM BBT – Haleigh and Faysal discuss whether they can trust Scottie. Haleigh says part of her still trusts him or at least wants to.

2:00 AM BBT – Brett is alone outside studying.

3:00 AM BBT – HGs are off to bed.
Scottie and Sam made Sunday interesting but neither seems to have done much to change the course of the week as Faysal is back to his original plan and Scottie is still sitting in the hot seat with the target on his back for Thursday night.
You can watch all of these Big Brother events using the archives Flashback, the DVR-like feature of this year's Live Feeds which means it's always live, even when you missed it! Sign-up now to get the free trial to watch it all live & uncensored.

Gallery: Live Feeds Highlights
click images to see full-size