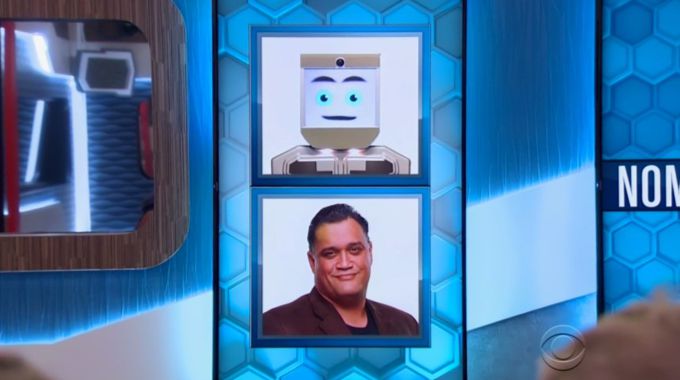 Houseguests are preparing for the first Veto meeting of the Big Brother 20 season and I'm expecting it to come through a day earlier than our usual season routine since the first week is always a little off the schedule. Shouldn't be an issue for the Houseguests though since this week's Veto winner has already decided what to do.
Faysal pulled off the win and considering it sounds like he got to play because Steve used HG choice on him, well you'd almost expect Faysal to save Steve with it. Nope, not this time.
Tyler has warned Faysal and Swaggy that if Steve comes down then Bayleigh goes up in his place. Obviously, Chris doesn't want that so he isn't going to push Faysal to use it. Faysal's hands are pretty tied on this one. Faysal and crew want Sam out so moving the noms around really won't help their goal here since most anyone else would be a bigger target than Steve anyway and perhaps more tempting to vote out over Sam.
Now we know that Sam has the power app that will save her from eviction, but aside from Tyler no one else knows so that's why there's still so much scrambling that could all end up being for nothing at all.
Faysal has already confirmed on multiple occasions that he won't be using the Veto and that's frustrating several other HGs who want to see some bigger targets go up on the Block. Everyone has their own angle and, as always, will get upset if another player isn't making the moves they want to benefit them. Just the same thing again here.
You can hope and wish for one of the Bros to go up as a renom, but considering Tyler has the L6 alliance with them there's no chance it'll happen. It's time to move on from this one, wait for Faysal to make his inaction official, and head toward Thursday to see what happens with this Power App.
We'll be watching for the Veto Ceremony coming up soon and will have the spoiler results then. What do you think of Faysal's Veto plan? Is he making the right choice here?
Get the results when they're announced. Grab our Big Brother App and we'll send you an alert when the spoilers are in. Join us on Facebook, Twitter, and by Email Updates to get more results all season.