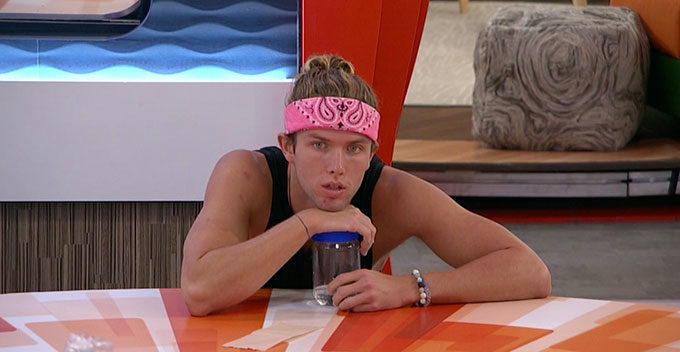 Veto players have been picked for this week's competition expected later today in the Big Brother 20 house, and it's Tyler's turn to sweat as the Hacker took Scottie off the block and nominated him in Scottie's place.
So will the draw come out in Tyler's favor? Well, not completely likely, as another one of the Hacker's (overkill) powers is they also get to choose one of the Veto players. So today we can expect only two names to be drawn from the veto player pool. Angela and Tyler would both save Tyler, so they can hope for a Brett and/or Kaycee draw to better Tyler's chances. JC would also likely save Tyler so that he can get Bayleigh on the block as the target this week.
The initial three players in the comp are Angela (HOH) and her nom, Rockstar, along with the Hacker's nominee Tyler. Feeds were down for the players pick and we've got those results below.
Week 6 Power of Veto Add-On Players:
Kaycee (Hacker's pick)
Brett
Scottie
Oh, look at that, it actually did come out in Tyler's favor. This should be an interesting competition as four of the six players will likely save Tyler from the block, leaving it up to Angela to name the replacement nominee, who will likely be Bayleigh. It's most surprising that the Hacker (who we think is Haleigh) picked Kaycee to play instead of Faysal. Maybe she thinks Kaycee is the more neutral person or maybe she thinks she wouldn't have a chance at winning the competition. Or maybe Haleigh has simply had a change of heart and wants Tyler to stay this week. Or she could just be trying to throw people off.
Stay tuned later today for the Power of Veto results. Scottie will be the only wild card to win, and even he has mentioned using the veto on Tyler, but with Faysal at risk of going up, that's not likely.
Who do you hope wins the Big Brother Power of Veto today?