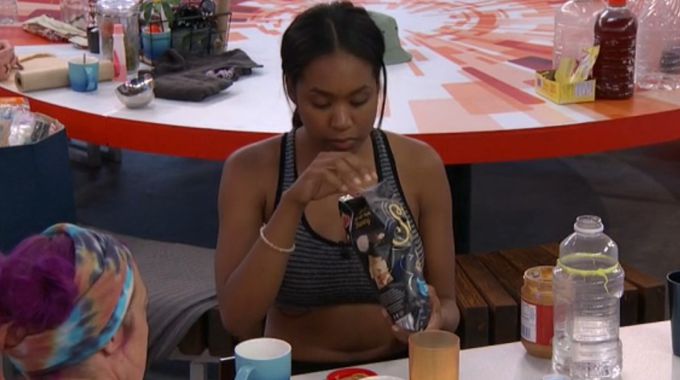 Don't get between Bayleigh and her pita chips unless you want to set off a new feud with "Chipgate" on Big Brother 20. The outgoing HOH seems to think her power has outlasted her reign as a "food fight" incident may have set a bigger target on Bayleigh this week.
To set the stage Flashback to 7:44 PM BBT 8/3 Cams 3/4 as JC finishes at the sink and turns to pick up a bag of pita chips positioned in front of Bayleigh as she's been eating from them. He has the bag in his hand for just a moment when she snatches it back and shouts "ASK!" at JC. "Are they yours?!" JC snaps back. "No. I'm literally eating them right now," replies Bayleigh.
JC is incredulous and tells Bayleigh he was just going to have one chip and give them back. Bayleigh begins to lecture JC that he goes through the house opening things without asking, which JC denies. Note that Bayleigh admitted these weren't her personal chips like from her HOH basket, but rather the house's chips. So yeah.
Gallery: Chipgate Food Feud
Jump forward to 7:50 PM BBT 8/3 Cams 1/2 to find JC arriving in the HOH room. "I want [Bayleigh] to go. I want her gone. THIS week," JC announces to Tyler and Angela. He's pissed and if we know JC I think it's safe to say he'll hold this grudge. "I'm literally going to jeopardize my game to flip all this f**king house for her to go," states JC. I hope those were some really good pita chips.
Bayleigh was already a top pick for a renom situation if Veto changes the noms but Angela had also been considering Faysal for that role. Now after that I think Bayleigh has solidified her top spot on JC's s**t-list and he'll fight to make sure she's the one that goes if this Veto falls into L6's hands later today at the Veto comp.
What do you think of this food feud situation for JC and Bayleigh? Has JC lost his mind? Was Bayleigh being foolish? For her part, Bayleigh did come upstairs later and apologize for being mean but I'm thinking that was too little too late for JC's way of things. Share your thoughts.