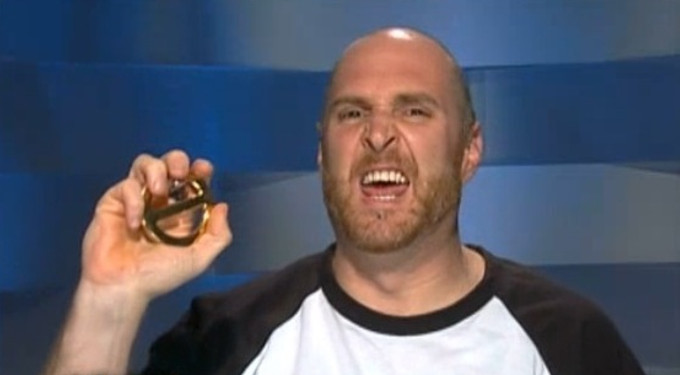 It was another boring week inside the Big Brother 20 House. I contemplated not even doing a ranking this week since it was such a snoozefest. No drama, no lies, no backstabbing, no fights… oh wait – this week was AMAZING!!! Remember how upset everyone was 2 weeks ago when Kaitlyn left, thinking the season would not be able to maintain the intensity we saw the first 4 weeks? It's only gotten better and better.
This week we saw another famous House Meeting that did more damage than good for the host – and the fallout that happened after just reaffirms that when all is said & done, Big Brother 20 is going to go down as one of the best seasons of all time. Let's get to the rankings.
I am going to do something different, and start with the Tofurkey of the Week – and this week – there are 2… Haleigh & Bayleigh share the dubious honor! First off – let's start with Haleigh Broucher.
With the addition of the Hacker competition, this was a lot of power for the winner with the ability to change the game like we have never seen. After successfully being able to unscramble the words – Haleigh walked away with the win. Her first move was to change a nomination and she did the best thing by putting Tyler on the block. So far so good. Haleigh has been on to Tyler – but this was her chance to actually do something about it.
However – after that things turned for the worse. Her second responsibility was to pick someone to play for the VETO. Thinking she was covering her tracks she picked Kaycee. Yes – she picked one of Tyler's closest allies instead of picking herself which would have been the best move. She could have acted surprised and kept the rouse going – but instead left it up to chance. As we saw with the Veto draw – all of Tyler's other adoring followers were picked – basically leaving Rockstar alone to try and win the VETO – which even if she won, would still give Angela the ability to replace her to put up one of Haleigh's allies.
This alone was not enough to earn her the Tofurkey – but what she did yesterday solidified the prestigious honor. Ok, coming clean to Bayleigh that she was in fact the Hacker was not the worst thing, but calling a house meeting to let everyone know that she was the hacker was just as dumb as Bayleigh telling Rachel about her power last week.
This did nothing more than make her a bigger target to people that she was not in immediate danger with. I am just sitting here shaking my head at how bad this was. The best/worst part of it all is she did not even convince everyone she was the hacker as L6/5/4 still thinks she was just covering for her friend.
Speaking of her friend Bayleigh Dayton – she gets the co-Tofurkey for NOT using her power this week despite being outed by Brett to the whole house during his plea before last week's eviction. Sure – she thought she had earned some level of trust with Angela and did not want to take over her HoH – and leave herself vulnerable for a backdoor / renom possibility. But after another vote went against her side of the house last week – this should have been the light bulb that went off that things were not as she thought. I mean, it was the 4th time in 5 weeks that her side of the house was blindsided by the eviction. At what point do they realize that they were all being played??
Instead Bayleigh just tried to convince Angela to go back on her word and put Scottie back up on the block. Her not trusting Scottie again – but trusting Angela is just one more example of how clueless she is in the game – and she will be sitting in the jury house alone for a week. There is still a possibility of a battle back – so we may not have seen the last of Bayleigh – but her power is walking out the door with her unused and plenty of regrets for the rest of her life.
Rockstar – 5 strips of Tofu – her whole week can be summed up by this… she is on the block vs her friend Bayleigh – and she has shown more sadness that Bay is probably leaving than the possibility of her staying and still having a chance to win this game. Yes – a VERY VERY VERY small chance – but she went so far to even say she would make a speech tonight that would ensure she gets evicted. Sorry – but nothing you can do at this point can flip the votes. AND… I guarantee you – even if she has votes against her tonight from her own allies – she will not be upset about it. At least she is taking her cooking/exercise punishment much better than Paulie did on BB18 with his Apple Pie punishment. That's still not enough to move her up the rankings this week.
Faysal Shafaat – 4 strips of Tofu – Fessy gets this for once again being so naive on how the game works and he is still trying to make Haleigh fall in love with him as he is with her.He is under the impression – if he does not win the game at least he can win the girl. He's still blinded by JC – thinking he has an ally in someone that is using him badly. The other side of the house gets a kick out of seeing Fessy dumbfounded every week.
Sam Bledsoe – 2 strips of Tofu – last week I questioned if Sam was a genius acting dumb – or an idiot with a genius plan. I still feel that way – however, her plan this week by asking everyone to throw the Hacker comp to her was almost as ridiculous as the other bad moves this week. However, luckily for her – she is still a non-threat to, and a vote for L6/5/4. She is still the first one there to comfort whoever needs comforting – and still being her quirky self making flowers from dryer sheets and other silly knick-knacks around the house.
At some point Sam will either become an easy vote out for Tyler's gang – or she may finally realize that she has a legit shot at winning the game. Probably the former – but hey, still plenty of weeks to go and anything is possible.
Scottie Salton – 1 strip of Tofu – Scottie still seems to get blamed for everything that happens in the house – and both sides want him on their side, but do not trust him. He is starting to pinball back and forth a little too much and would be an easy target for either side. However – since we have not seen too many DRs from him and he does not camera talk – we don't really know where his true loyalty lies. Would he have really used his VETO on Tyler had he won? Who knows… but the fact that he cannot seem to pick a side has him playing the dangerous middle.
Brett Robinson – 1 strip of Bacon – another scorcher of a speech while on the block last week – and another job of sliding under the radar after being 1 vote away from eviction. He could have been an easy renom by Hacker Haleigh – and this would not have raised any red flags (another nail in Haliegh's Tofurkey coffin). After the house meeting – he did a great job pretending to be shook by it – and made his rounds with his non-alliance members to gather information. So much so – they are fooled and think there is a shot that Brett would vote to evict Rockstar – setting Haleigh & Fessy up to vote for Bay to stay. As previously stated however – Rockstar will not hold any animosity towards them if they do. I cannot wait to see Brett's InstaGrammy punishment on tonight's show. From the re-tells on the feeds – it sounds like it will be quite comical.
Angela Rummans – 2 strips of Bacon – usually when an HoH also wins VETO – they get the top honors of the week – but I cannot seem to award that to her due to Angela's mean girl persona. Sure – what she did last week to her former BFF Rachel was bad – but this week – she is the one on the super-duper Power Trip. She claims to be playing an honest game – while doing the exact opposite.
OK, this is Big Brother – and lying or misleading people is part of the game – but Angela makes it all personal at the end of the day instead of throwing her hands up and saying "it's just game." This will lead to her demise soon – but in the meantime – she is enamored with Tyler – even going as far as admitting to having a crush on him during her HoH video this week. I guarantee she will fall on her sword for him down the road, paving the way for him to win rather than herself.
The top 3 this week remain the same
Kaycee Clark – 3 strips of Bacon – Kaycee is the Gretchen Wieners of the season (I'll give you a minute to look that up)… her hair bun holds all the secrets in the house. Despite running to Tyler's side after the house meeting – Bayleigh and the rest of her allies still think they can possibly get Kaycee's vote tonight. She has been the one to play the game so unemotionally and truly strategically up til now.
If Kaycee can maintain her level head she can get to the end and actually win it as her real allies are all making personal attacks on potential jurors. (for the record – the Gretchen Wieners reference was given to me by my wife – thanks baby – 1010 love you Fara!)
JC Monduix – 4 strips of Bacon – another week – and another great job of JC being the pinball that Scottie isn't. He has mastered working both sides of the house and no one on the Hive/FOUTTE side have caught on that he has been screwing them over every week. As long as he can keep the charade up – he should stick around for a long time to come. I am not sure if he will in fact be able to take a shot at Tyler when he needs to, but if so and he's successful – that will be his strongest point to the jury to win the game (if he gets there).
Tyler Crispen – 5 strips of Bacon – last week I said he was well on his way to becoming a legendary player – and this week he kept that going. Despite being the target by Hacker Haleigh's renom – and the target of Bayleigh's ire during the House Meeting, he still walks away this week unscathed – and his allies are on his side even more. He is doing a great job of letting his allies make moves that benefit him, but make them think they are calling the shots.
Similar to Derrick on BB16 – everything is going his way (even when it doesn't) because that's how he wants it. I have said it and have seen others on social media say it too – it's great to see a player that is dominating the game go through rough patches and still come out on top. As long as he has all this wool – he will keep pulling it over everyone's eyes. Look for him to be a target IF the other side wins any of the powers this week – but also look for him to escape again!
Well – there ya have it – the 6th person will get voted out tonight – and first member of the jury. I have a feeling that there will be a battle back in a few weeks so we can get at least 1 double eviction this summer, so let's hope it is Bayleigh that comes back just to keep this drama filled season going as crazy as it has been so far.
My question of the week is this – I mentioned in the opening this could go down as one of the best seasons in BB history – what season do you think was the best. I think Season 6 hands down was the bar that every other season will be measured against. That had the combo of great players, great moves, and drama like no other… that is maybe until BB20.
Please let me know what you think of my rankings and answer my question of the week in the comments section below.
See you all next week – from outside the Big Brother House, I'm Adam Poch. Have a great day!
Follow Adam Poch on Twitter: twitter.com/heavymetalteddy & you can listen to him weekly on the Big Brothers Podcast – follow them at @BigBrothersPod