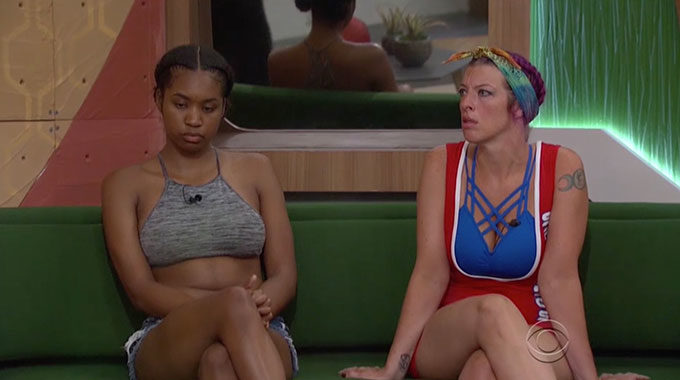 There have been a lot of nominees this week on Big Brother 20.
Rockstar, Scottie, Tyler and Bayleigh have all been on the block. It's down to Rockstar and Bayleigh though and tonight one of them will become the first member of the jury.
When Angela won this week's Head of Household competition, it was always in her mind that Bayleigh could be the target this week since she has the Identity Theft Power App. So she initially nominated Scottie and Rockstar and decided to go from there. But the Hacker Comp debuted, Haleigh won it and took Scottie down and nominated Tyler.
That set of a chain of events that included Bayleigh getting the blame for being the hacker, Angela ending up with the veto this week and saving Tyler, Bayleigh being named the replacement nominee and an explosive house meeting where Haleigh revealed that she is the hacker and not Bayleigh.
Haleigh and Bayleigh though it they proved to everyone that Bayleigh isn't the hacker, that could be the way to save her this week. And Rockstar is kind of over the game and has hinted that she'd be OK getting evicted over Bayleigh this week.
But that plan didn't work out. Right now Bayleigh and Faysal think they might be able to wrangle the votes, along with Haleigh's hacker vote kill power, to save Bayleigh. That's because Brett has been acting like he's detached from the Level 6 side of the house following the veto competition where Tyler stole his trip to Hawaii. But that's all just an act, Brett is still very much with his alliance. They also think they still have Scottie, but he's kind of been forced to defect from his alliance.
Last night, however, Scottie and Haleigh had the world's longest talk about the vote. They want to keep Bayleigh, but don't think they have the votes even with Haleigh's power (they're correct). So they're either going to vote Rockstar out or vote with the house, leaving Faysal as Bayleigh's only vote. Regardless, it's going to get messy.
So long story short (too late, I know), Bayleigh is going home tonight. But let's break it down to make sure.
Votes to Evict Rockstar: Faysal
Maybe Votes to Evict Rockstar: Haleigh and Scottie
Votes to Evict Bayleigh: Kaycee, Sam, JC, Brett, Tyler – with his vote canceled by Haleigh.
Who do you think will be evicted tonight?