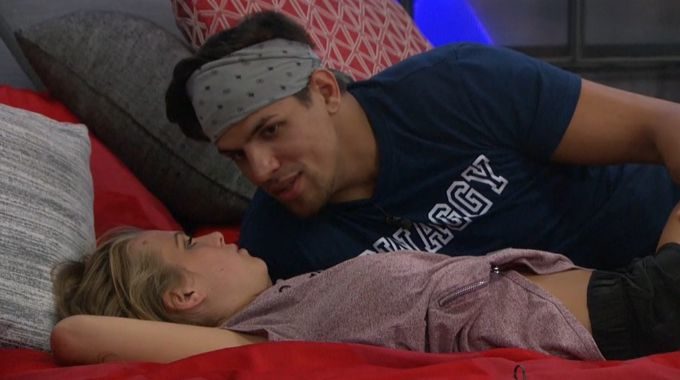 It hurts my Big Brother brain. It really really does, but wow, Hive makes every week more interesting for all the wrong reasons. If you saw the news that Hive took over as HOH then you might initially expect Tyler to be in trouble or even just L6 to face some danger. Well, keep in mind we're dealing with the Hive.
Last night Faysal won Head of Household but left his strategy-brain on the game floor. Soon after the Feeds returned we had Faysal starting to plan his moves with Haleigh and discussing making sure one of the guys left but not going after JC or Scottie. Haleigh was sure to push that it wasn't Scottie while Faysal wants to keep JC as well. Well that only leaves Tyler and Brett. Done and done. Oh wait, what's that, Hive? A new more terrible plan? Tell us more.
After Faysal's HOH room reveal he settled into his new cove with his showmance ally Haleigh, the last of FOUTTE, and co-members of Hive with Scottie. Enter JC. Flashback to 10:50 PM BBT 8/16 to watch this all in action.
JC is working to convince Faysal and Haleigh that it was, in fact, Brett who voted to keep RS, not Scottie. Now we know it was Scottie. JC knows it was Scottie. Basically, everyone in the house but Faysal & Haleigh knows Brett voted out RS. But for JC's plan to work to shift the target to Scottie he needs to continue to fuel his story to Faysal who he knows is worried about Scottie being interested in Haleigh. JC fans those flames and says that Scottie wants Faysal out so Haleigh can be his alone.
Eventually, JC wins them over in this line of thought. Yes, Haleigh and Faysal seem to actually believe JC. Faysal now starts to wonder who to put up against Scottie but JC is quick to course correct that they need to BD Scottie since he's a great Veto competitor. He pushes Faysal to nominate Brett and Kaycee instead so they can pretend to believe Scottie on the vote then surprise attack him.
Later after JC leaves there is no talk about not believing what he's sold them, but they do question the idea of not just putting Scottie up right away and letting the Veto playout. Look, if Faysal wants Scottie out, which is terribly foolish, but if that's what he wants then I'd go with JC's suggestion to keep Scottie's guard down and wait to BD him instead.
Talks wrapped up late last night and Scottie wasn't involved in any more talks. In fact, when Scottie came up later after JC's talk Faysal turned him away and said they'd talk more tomorrow. At that point, Scottie may have made a fatal move. He said "love you!" but it sounds like it was to the whole group in the room. Scottie then asks if she's coming down (earlier he was moving his bed as close to hers as possible) and Haleigh notes she'll be down in a few hours. She asks if he was saying he loved her and he says "oh I do love you." Oh boy.
It's amazing how the stars aligned on this one, but Faysal heard that and is soon laughing about it with Haleigh and JC. JC immediately jumps on it that Scottie was trying to get Haleigh downstairs to the pink room. "It's so romantic!" Oh poor Scottie. I think that one little comment cemented him in danger this week.
Let's wait and see what talks come up today for the initial noms. Faysal seems torn on going with Scottie upfront or not so that could be the debate midday on Friday. If Scottie ends up going this week then it'll be two weeks in a row with Hive holding HOH and one of their own going out the door. My mind is blown.
Update: As of this morning, Faysal told Tyler and Angela he isn't going after them and asks they leave the noms alone if either wins Veto. Earlier Faysal to Haleigh he wants to put Scottie up from the start.
Noms had been pretty early on Friday for the last two weeks thanks to the Hacker Comp being later that day, but we don't have that same time crunch this week. Nominations could shift back to later in the day with this open schedule.
We'll have the Big Brother spoilers as soon as things are revealed on the Feeds. Download our Big Brother App, join us on Facebook & Twitter, and get our Email Updates for lots more Big Brother coverage.
Did you know you can get a Free Trial to check out the Live Feed in-house cameras for Big Brother? Watch any moment from the season both live and in the past with the Flashback feature. If you haven't tried the Feeds yet then this is your week to do it! It's twenty cents a day and the cheapest entertainment you'll find all summer.