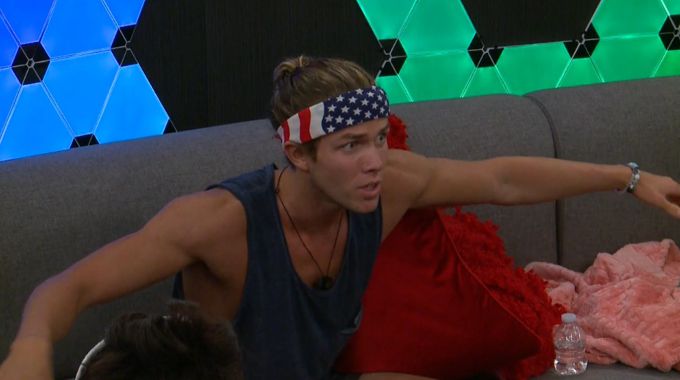 The Level Six alliance on Big Brother 20 has spent the week scrambling to secure votes to keep Sam Bledsoe safe only to watch things suddenly flip from within their alliance. After struggling to keep their goals aligned, HOH Tyler Crispen decided to drop the shock-bomb on his allies.
Flashback to 12:02 AM BBT 7/5 Cams 1/2 on your Live Feeds (get the Free Trial now).
All of Level Six is gathered in the Head of Household room as they struggle to identify which HG has the power this week. Tyler finally can't take it anymore and blurts out that it's Sam, Sam has the power! The group is stunned. Tyler explains he's been fighting to get the seventh vote so Sam can keep the power and keep their group safe later with it.
Excitement breaks out in the group and hugs all around for Tyler as L6 shares his optimism for what this could do for their group. Winston asks, "Why'd you wait so long to tell us?" At this point Tyler had already told Kaycee earlier in the day and he's been hinting pretty heavily to Kaitlyn (and maybe even outright told her) that Sam had the power.
"She's not going anywhere regardless," Tyler trumpets to the L6 alliance. "She told me not to tell anyone!" Tyler goes on to reiterate that by voting to keep Sam she'll trust them and then be open to using the power to their advantage if she survives this week without having to use it on herself.
Gallery: Level Six Alliance Discovers Sam's Power
Okay, great plan, but they're still shy the seventh vote! Tyler admits that it's either going to be a blindside to keep Sam or it'll be 7-6 and then Sam will stand up and use her power to defy eviction. Keep in mind, they don't really know how it works and neither do we!
Later the L6 alliance decided they still need to be strategic about these votes. If they can't pull the seventh vote then it might be best to still vote out Sam since she'd have to use her power either way. They've set up a signal to tell them which way to vote. If Tyler's hair is down then vote out Steve, but if Tyler keeps his hair in a bun they should vote out Sam.
We'll have to wait and see where discussions lead today on the Feeds, but know that later in the night the other side started to wise up that they've got the numbers by just one vote and if anyone of them slips then they would lose Steve. It's got several of them very nervous about Kaitlyn, which is exactly where L6 will have to focus their energy if they want to make this flip happen. I'm not confident they can do it, but watch for a renewed effort to make it happen later today.
What do you think of Tyler's decision to tell his Big Brother alliance about Sam's power? Good move or too risky? Share your thoughts below!