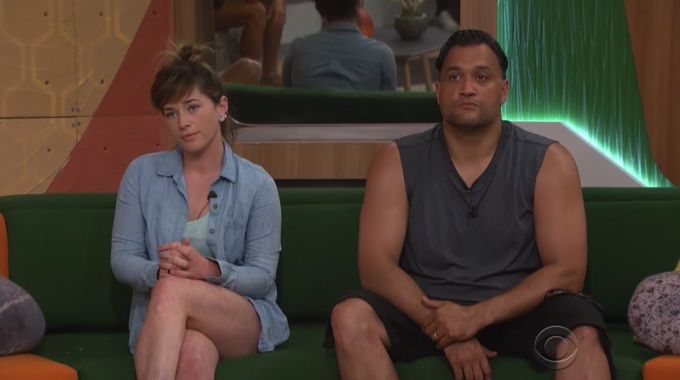 Well, this is a fun one for Big Brother 20! Our first eviction of the season and things are still up in the air just a few hours away from tonight's vote on the live Big Brother episode. Either Sam or Steve will get some bad news, but even then we've got a potential twist looming on the horizon.
As of this morning, the votes were set at 7-6 with FOUTTE + Scottie & Bayleigh voting to keep Steve while L6 + JC were voting against Steve. Things were set on that though, thanks to Kaitlyn. Yes, everything looked to be hinging on Kaitlyn and whether or not she'd stick to her FOUTTE alliance.
Overnight Tyler revealed to L6 that Sam had the power in a last-ditch effort to keep the group on track to keep Sam. Once they knew she had a power that she could keep and use to their group's advantage in a later week everyone was back together and aiming their votes at Steve.
On the other side of the house we saw Faysal and Chris making sure their group was solid especially once they realized they held only a slim one-vote lead. The group knew if something went wrong they could likely point the finger at Kaitlyn. That sounds about right.
This morning Tyler went back to work and we saw him pull Kaitlyn aside. Flashback to 10:50 AM BBT on Live Feeds – get the Free Trial now. He warned Kaitlyn that if Sam gets voted out then a power will be used and those who voted against Sam could be in danger. Tyler tipped the scales by adding that Swaggy claimed he runs the FOUTTE alliance and Kaitlyn is low on the group's totem poll. That really upset Kaitlyn. Tyler sweetened the deal by offering that everyone on the other side (L6) would protect her.
Soon Kaitlyn was off to the races and pulled Haleigh aside. She let Haleigh know they could be in danger if they voted against Sam and that Swaggy claimed to be running their whole group. Haleigh was frightened by what Kaitlyn had heard. She was moved to come along with Kaitlyn, but not quite certain. Soon Angie arrived and Kaitlyn told her as well. Angie was less convinced but still worried as well. She questioned if perhaps Tyler was making this up to break up their side.
Kaitlyn told both ladies that they could vote how they wanted, but she was voting to keep Sam. If she sticks to that then the results have shifted and Steve will be voted out 7-6 leaving Sam in the game with her power intact for at most another three weeks. This should be an exciting show either way!
My eviction prediction? Until this reaction from Kaitlyn I was expecting to see her stick to the FOUTTE alliance, but now I'm thinking she really will vote out Steve and he will be the first evictee of Big Brother 20.
Who do you think will be evicted tonight on Big Brother? Share your thoughts below.