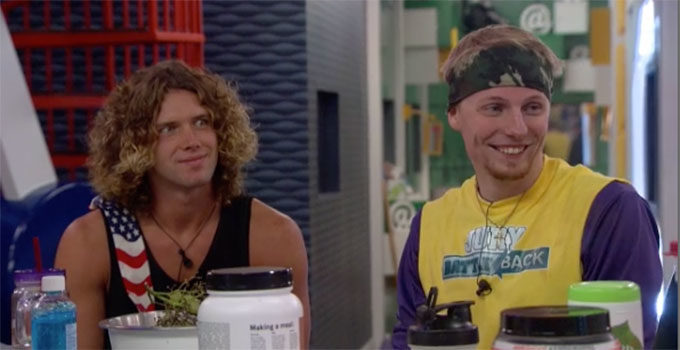 The Jury Battle Back shook up the Big Brother 20 house Thursday night as Scottie re-entered and had a lot of the HGs scrambling. The Head of Household competition went down a little later and now we have a bit of an idea of what this week will be like. Read on for all the details following Thursday night's episode.
If you've got the Live Feeds (Free Trial) then you can watch all of these moments with the Flashback feature to go back and watch those important conversations or funny scenes you may have missed.
Big Brother 20 Live Feed Highlights – Thursday, August 30, 2018:
7:02 PM BBT – Feeds return from the live show. HGs are gathered around Scottie and are happy for his return.

7:05 PM BBT – HGs telling Scottie everything he missed.

7:10 PM BBT – Scottie explaining to HGs how the Battle Back comp worked.

7:25 PM BBT – HGs shifting over to the blue bedroom and talking more with Scottie. Haleigh expresses how happy she is that he's back.

7:30 PM BBT – Scottie figured out Steve might have been a cop from what he learned during the eviction interviews.

7:40 PM BBT – HGs going over Faysal's eviction speech. Haleigh promises she didn't know he'd say that. Angela is upset with what he said.

7:55 PM BBT – Scottie mentions that production took back all the stuff he tried to sneak out in his bag when evicted.

8:00 PM BBT – Scottie retells his details on Steve possibly being a cop. Brett says he thought that was it.

8:30 PM BBT  – JC is panicked. He tells Angela they have the numbers and they just have to win HOH. He says worst case is Scottie or Haleigh winning.

8:36 PM BBT – JC tells Brett Haleigh was wondering if Sam was really the vote to evict her. Brett thinks that's weird to wonder.

9:01 PM BBT – Sam asks Angela if Faysal was just lying about everything in his speech. She says yes. She says it was like slander against her.

9:17 PM BBT – Sam tells Haleigh she had every intention of voting to keep her but then she felt guilty about voting Faysal out. Haleigh tells Sam there are no hard feelings.

9:50 PM BBT – Feeds cut for the HOH comp set up.

10:42 PM BBT – Feeds return. HOH comp is underway.

12:04 AM BBT – Feeds are back and HGs are inside now following the comp. Tyler is the new HOH.

12:22 AM BBT – Angela thinks Scottie would have encouraged Haleigh to BD Tyler.

12:35 AM BBT – Haleigh is disappointed and thought she could have gone 5-10 mins more in the comp.

12:45 AM BBT – Haleigh complains to JC and Brett how Sam was openly rooting for Tyler over Haleigh when it was down to the two of them.

12:50 AM BBT – JC wants Tyler to try and BD Scottie but he knows Haleigh would pick Scottie with HG Choice. JC knows Tyler wants Haleigh out but he thinks Scottie needs to go instead.

1:25 AM BBT – Tyler told JC he didn't know yet what he would do for the noms. Tyler says he doesn't vote so it'll be up to the house who goes between his noms.

2:37 AM BBT – DR leak to the Feeds reveals Tyler's plan to nominate Scottie and Haleigh. (Does not appear to have leaked to the house, only to the Feeds.)

2:50 AM BBT – Haleigh tells Tyler she's happy for him but sad at the same time. Tyler tells her to be proud because that was the hardest comp yet. Haleigh asks that she not go back up. Tyler says he'll let her know before noms are revealed.

2:55 AM BBT – Angela and Tyler discuss who should be the target. Tyler wonders if Scottie will be with them or against.

3:00 AM BBT – Angela mentions how frustrated she is with JC and how he's trying to cause problems.

3:10 AM BBT – Tyler and Angela agree that it's worrisome how well Haleigh performed in the comp.

3:15 AM BBT – Talk returns to JC causing problems. Tyler says they can't let on that they're annoyed with JC or it'll get worse.

4:00 AM BBT – Tyler and Angela are still hanging out cuddling in the HOH room.

4:45 AM BBT – Angela heads downstairs to go to bed. Lights go out shortly after and all HGs are in bed.
No surprises here with Tyler's nomination plans. If one of them wins Veto though we're going to see some pawn action and you never know what could end up happening by Thursday night.
You can watch all of these Big Brother events using the archives Flashback, the DVR-like feature of this year's Live Feeds which means it's always live, even when you missed it! Sign-up now to get the free trial to watch it all live & uncensored.


Gallery: Live Feeds Highlights
click images to see full-size