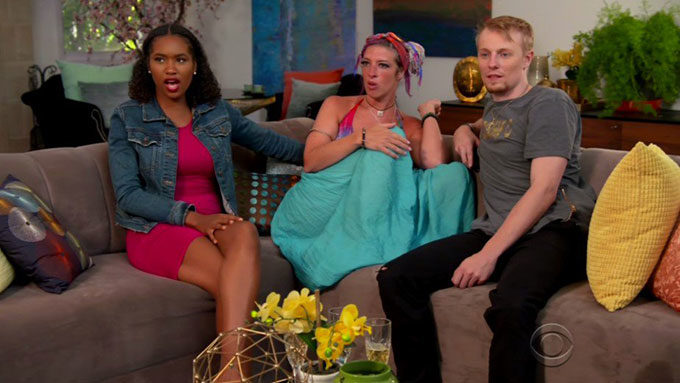 It was a quiet week in the Big Brother 20 house, but after Thursday night's Battle Back competition, it's about to be game on once again.
Despite the low-key week there were still some highs and lows from week 9. The best movement of the week was definitely the jury house footage. But more on that below. Let's take a look.
The Best and Worst of Big Brother 20 Week 9
Thumbs Up: Angela. She's not the most exciting player or anything, but she's doing a pretty good job playing the game and isn't afraid to make moves. And I loved her "day late and a dollar short" quote during the nomination ceremony. She also has zero F's to give in her goodbye messages. That's bad for her (cough – jury management – cough), but entertaining for us.
Thumbs Down: Angela Hiding. I couldn't forgive myself for praising Angela's savagery above without mentioning how she has retreated to her HOH room every time she made a nomination. She would be much more savage if she stuck around and endured her nominees' reactions.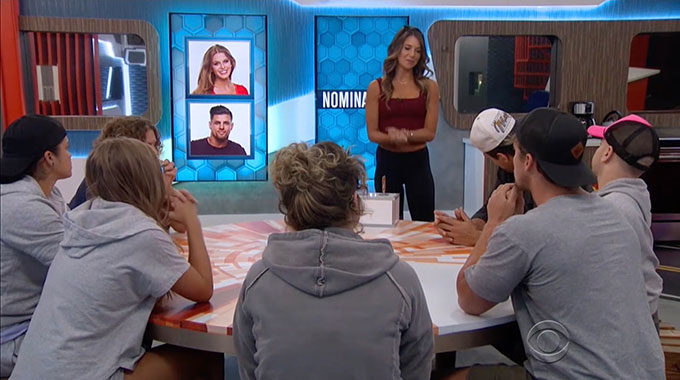 Thumbs Up: Faysal Gets Nominated. I think Faysal is a good guy, but he's terrible at Big Brother. And after his horrible move last week of getting Scottie out, he deserved to go on the block this week.
Thumbs Up: Haleigh Gets Nominated. Despite the edit we got of Haleigh trying to save Scottie last week, she didn't try hard enough. She could have convinced Fasyal to make another move and she didn't. So she too deserved her seat on the block.
Thumbs Down: Kaycee Wins Veto. I was kind of hoping Kaycee would sort of continue to be useless in the game, but imagine a football player being good at a competition that involved catching balls.
Thumbs Up/Down: Intercom Leak. Here's where I'm totally torn. I kind of loved that the HGs freaked out when they learned their HOH room conversation was heard all over the house, but I'm also highly pissed that production would be so sloppy to risk someone's game like that. Why they ever thought installing that intercom was a good idea is beyond me.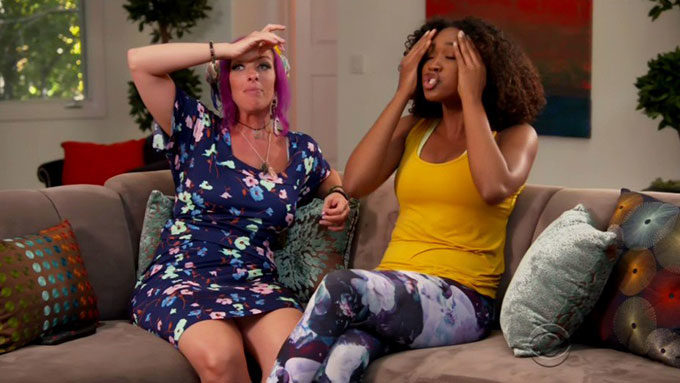 Thumbs Up: Jury House Footage. I think Thursday night's jury footage might be the best jury footage ever. Rockstar shows up and explains to Bayleigh her absurd eviction week. Then Scottie shows up and explains to them his absurd eviction week. They all make fun of each other, including Bayleigh's absurd eviction week. They have some laughs. They realize how dumb they all were. It was definitely a top moment of the season.
Thumbs Up: Scottie Wins The Battle Back. Of the four jurors, I feel like Scottie deserved to get back in the game the most. He was evicted for completely stupid reasons and is also the one most likely to actually make the best of the second chance. But we'll see.
Thumbs Down: JC. I keep having to write about this. And that's a problem. How many inappropriate things can one person do and say and not learn from it or get punished for it? In case you aren't aware, JC is back in the news for his behavior regarding Tyler and Haleigh. And we are talking major news outlets. Stories about the latest incidents ran on the Hollywood Reporter, Newsweek, TV Guide, Fox News and more. Apparently producers addressed the issues with JC, but he is not being removed from the game.
What were your favorite good and bad moments from Big Brother 20 week 9?