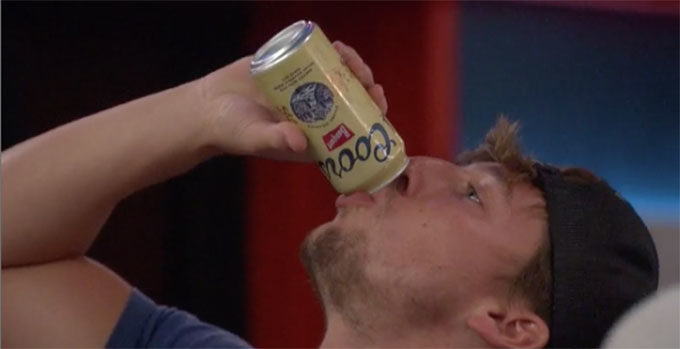 Following Scottie's eviction from the Big Brother 20 house, we learned who the new Head of Household is and who the targets for the week will be.
If you've got the Live Feeds (Free Trial) then you can watch all of these moments with the Flashback feature to go back and watch those important conversations or funny scenes you may have missed.
Big Brother 20 Live Feed Highlights – Thursday, August 23, 2018:
8:57 PM BBT – Feeds finally return. Angela is the new HOH.

9:10 PM BBT – Haleigh is sure she's going to be nominated. Faysal is certain she won't. He says JC and Sam will go up. She says she saw Brett, Tyler, and Kaycee celebrating then they stopped when she walked in.

9:15 PM BBT – Faysal reminds Haleigh they made that deal with Tyler and Angela so they should be fine.

9:20 PM BBT – Angela tells Kaycee that they were seen celebrating her HOH win. Little bit of worry. Kaycee points out it doesn't matter at this stage.

9:25 PM BBT – HGs comparing scores in the comp. Tyler got 38. Angela won with 39.

9:30 PM BBT – Tyler says Scottie will be right back in here if there's a Battle Back. Brett agrees.

9:35 PM BBT – Faysal is pumping himself up about being the HOH for a unanimous eviction. Haleigh says he's giving himself too much credit.

9:37 PM BBT – Haleigh said when Scottie hugged her he told her "I'll see you at the Battle Back."

10:03 PM BBT – Angela says she really didn't want to win HOH. She says she wanted Kaycee or Brett to win.

10:08 PM BBT – Everyone is trying to figure out what is wrong with Sam. She's mopping the storage room and if anyone asks what's wrong she gets upset.

10:16 PM BBT – Brett and Kaycee are celebrating that they won't have to be on the Block this week. They talk about how one of them has been on the block for weeks. Brett asks if everyone is sticking to the plan (Haleigh and Faysal) and Kaycee says yes. Brett says at this point he doesn't have to hide from them anymore.

10:17 PM BBT – Sam continues to avoid everyone by cleaning the fridge in the storage room.

10:30 PM BBT – Brett tells Kaycee he feels like a loser since neither of them have won HOH and now Angela has two. She says their time is coming.

10:32 PM BBT – Brett wonders if Angela will change her target to Sam since Sam is acting so weird.

10:42 PM BBT – Faysal finds booze in the storage room. They all go crazy. Tyler wants to know if have-nots can have any.

10:50 PM BBT – Sam explains to Angela that since she's a HN she's having a rough time with things.

11:00 PM BBT – HGs drinking wine and beer and celebrating being top 8.

11:05 PM BBT – Brett says he felt bad about telling Scottie earlier in the day to have something before he left.

11:30 PM BBT – HGs are all hanging out together in the kitchen and having a good time retelling stories.

11:50 PM BBT – Brett mentions how production had him sitting in the hot seat for the start of the show like he was still on the Block (since Veto meeting was held over). It had him worried.

11:55 PM BBT – HGs discuss how they weren't told what to do during the HOH competition for the part that was on the show. Big Brother wouldn't respond so they just jumped in.

12:10 AM BBT – Haleigh tells Faysal she's going up as a pawn. Faysal thinks JC should have to do it.

12:30 AM BBT – Faysal is concerned about Haleigh being used as a pawn and doesn't think Angela is coming for them.

12:35 AM BBT – Haleigh asks Angela not to blame her for what Faysal did before.

12:55 AM BBT – HOH room reveal time. She gets a letter from her friend.

1:30 AM BBT – Haleigh lingered for the reveal and stayed to tell Angela she can trust her.

1:40 AM BBT – Kaycee and JC discuss who Haleigh might nom. Faysal points out how if Angela doesn't put up both Faysal and Haleigh then one could save the other.

1:40 AM BBT – Haleigh is upset with Faysal and disagrees that Angela is going to feel obligated to keep her safe.

2:00 AM BBT – Haleigh tells Faysal they're probably going to get split up before F6.

2:10 AM BBT – Angela talked with Tyler to decide who to nominate. Tyler suggests Faysal and Haleigh would probably keep the deal if they also keep it. Angela is worried she'll regret not taking the show. He agrees.

2:20 AM BBT – Angela is considering putting up Haleigh and Sam then BD'ing Faysal if she can.

2:30 AM BBT – Tyler points out that if there is a Jury Battle Back (there is) then Bayleigh or RS could come back and join up with Faysal and Haleigh. JC arrives and tells Angela she has to put up both Faysal and Haleigh together. He points out that if Faysal is down and saves Haleigh then Angela will have to nominate one of her own allies.

3:05 AM BBT – Kaycee assures Angela the right thing to do is to get both of them up together. Tyler tells Angela she can just blame it on "what the house wants."

3:20 AM BBT – L6 meeting is finally happening in the HOH room. They're discussing that it still makes the most sense to put up Haleigh and Faysal together since everyone else is good with them being together. Kaycee says they'll understand that it was just game.

3:30 AM BBT – Angela tells L6 that Faysal and Haleigh were encouraging her to use JC as a pawn. Brett wants her to tell JC since he thinks he's so close with Faysal. Kaycee thinks it'll be annoying to keep Sam. Brett says he can easily deal with her grumpy behavior. Angela hopes that if she doesn't nom Sam maybe it'll help bring her back to them a little more.
Angela is going to come around to the plan and knows she has to put up Faysal and Haleigh. It'll happen and Haleigh won't be surprised but Faysal in true Faysal form will be completely shocked and confused.
You can watch all of these Big Brother events using the archives Flashback, the DVR-like feature of this year's Live Feeds which means it's always live, even when you missed it! Sign-up now to get the free trial to watch it all live & uncensored.


Gallery: Live Feeds Highlights
click images to see full-size