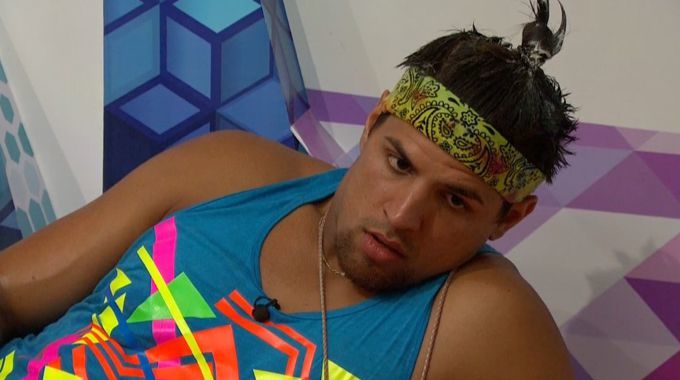 A new Big Brother 20 Head of Household moved into the HOH room and a lot of drama promptly ensued. Read on to find out who sparred and who became the new target of the HOH.
If you've got the Live Feeds (Free Trial) then you can watch all of these moments with the Flashback feature to go back and watch those important conversations or funny scenes you may have missed.
Big Brother 20 Live Feed Highlights – Thursday, August 16, 2018:
7:45 PM BBT – Feeds return. HGs discussing how hard the comp was.

7:47 PM BBT – Haleigh tells Scottie she's angry at Sam for lying about her vote but says Sam is still not a target.

8:06 PM BBT – Faysal tells Tyler he respects him even if they did vote on the opposite side most the time.

8:08 PM BBT – Faysal and Haleigh start going through loops for who he could nominate. He says Angela and Kaycee then decides anyone but those two. He now wants any of the four guys out.

8:15 PM BBT – Faysal now doesn't want to go after Scottie or JC. Haleigh says they could do Brett and Tyler then renom Sam for either guy if he comes down to make sure the guy goes.

8:17 PM BBT – Faysal worries Scottie is going to come after him if he doesn't get him first this week. Haleigh insists Scottie isn't coming for Faysal.

8:33 PM BBT – Haleigh and Faysal are still going through loops. She tells Faysal he doesn't have to go after Tyler now and just try for a BD later if it comes up.

8:35 PM BBT – Faysal wonders if he should just put up Tyler and Brett now.

8:40 PM BBT – Brett, Angela, and Kaycee agree to frame Scottie and claim Brett was the one vote to keep RS. Faysal just spoke with Scottie to confirm it was him.

9:40 PM BBT – Tyler tells Angela and Kaycee that all three of them will be safe this week and to trust him. He says if he starts freaking out then they can freak out, but otherwise don't worry.

9:41 PM BBT – Haleigh tells Scottie that Faysal is worried that he will use the veto on Tyler. Scottie says he will do whatever Haleigh wants him to do this week.

9:43 PM BBT – Scottie asks what happens if Tyler or Brett wins veto if they're the nominees. Haleigh says they will push for Angela to go up even though Scottie doesn't want the girls up.

9:45 PM BBT – Haleigh says she thinks there's a six-person alliance and that's why Kaycee and Angela have the number 6 in their hats.

9:48 PM BBT – Haleigh says they need Brett and suggests if Faysal puts Brett up and one of them wins veto they take Brett down. Scottie says that will piss Faysal off. Haleigh says he'll get over it.

9:55 PM BBT – Scottie says if Rockstar had just not shown Tyler the veto answer … "We would be cruising," Haleigh added.

10:00 PM BBT – Haleigh wonders if Rockstar was the person flipping the votes and going to Brett with info. She thinks the crowd seemed happy Rockstar got evicted.

10:31 PM BBT – Faysal gets his HOH room.

10:40 PM BBT – Faysal says he's not going to do one-on-ones tonight. He says he's been in the dark so much in this game he doesn't know if he's ready to hear all the BS that will come from the one-on-ones. He says he feels like he's pretty much lone and he's going to do what is best for his game. He says he's going to chill by himself tonight but tells people to feel free to talk to him in the morning. 

10:42 PM BBT – Faysal asks who was the one person to keep Rockstar. Scottie raises his hand. Then Brett says he voted to keep Rockstar. Kaycee says she believes Brett and Scottie says Kaycee is a bullshit actor. Kaycee gets upset and overly defensive. She says she's not close with Brett. Kaycee is pretending that she's not with Brett and says everyone has been acting weird to her. Scottie asks who was acting weird and she won't say. Scottie tells her she's having problems with specifics. 

10:46 PM BBT – Faysal tells everyone to go, so they all leave.

10:47 PM BBT – Kaycee tells Scottie she genuinely thought he voted to keep her. He says "nope, I vote to evict Kaycee."

10:52 PM BBT – JC is trying to convince Haleigh that Scottie can't be trusted and that he's coming after Faysal. She tells him that if Scottie is coming after Faysal he has to go (not sure if she believes or is playing along).

11:23 PM BBT – Haleigh tells Faysal that she now believes Brett over Scottie. JC really convinced her.

11:30 PM BBT – JC tells Faysal and Haleigh that he thinks Scottie is playing an emotional game and that he likes Haleigh. JC says Scottie is trying to get Faysal out so Scottie can take his place with Haleigh.

11:40 PM BBT – Faysal and JC push to Haleigh that Tyler was never coming for her.

11:45 PM BBT – JC tells Faysal and Haleigh that he'll work on Tyler to bring him to their side this week. Haleigh says she feels bad for Scottie. Faysal notes that's how people get to the end.

11:50 PM BBT – Faysal asks who to put up next to Scottie, but JC reminds him he needs it to be a BD instead. JC says they need to confuse the house a little with these noms. He then says to nominate Brett and Kaycee. Haleigh is confused and asks why they'd do that if Brett voted to keep RS. JC says then it makes it look like they believe Scottie, not Brett, to disarm Scottie. Haleigh says that's really smart.

12:00 AM BBT – JC says that if Scottie plays and wins Veto then just evict Brett this week. Faysal suggests he just goes for Scottie upfront. JC reminds him that RS beat him in OTEV.

12:25 AM BBT – Scottie comes up to the HOH room. Faysal says they'll talk strategy in the morning. Scottie goes to leave and tells Haleigh "I love you" and asks when she's coming downstairs. Faysal goes and tells JC what just happened.

12:55 AM BBT – Alone, Haleigh tells Faysal she doesn't know if Brett and Kaycee are the right noms to pick. Faysal wonders if he should put up Scottie and Brett then see who wins Veto. He's also worried that Tyler could be off the Block, win Veto, save Scottie, and he'll miss his chance. Faysal considers Scottie and Tyler as the noms.

1:25 AM BBT – Strategy talk continues as Faysal is leaning more toward Brett and Scottie. Haleigh notes Scottie isn't coming after her, but she doesn't know if the same goes for Faysal.

1:30 AM BBT – Faysal wants to work on Tyler to convince him that if he uses the Veto on Scottie then Angela would go up in Scottie's place.

1:35 AM BBT – JC lets Tyler know he (T) is safe and he (JC) convinced Faysal and Haleigh to trust them. Tyler says he can tell Haleigh he's not coming after her.

1:40 AM BBT – Tyler is surprised to hear from JC that Faysal is going to try and BD Scottie.

1:45 AM BBT – JC warns Brett he'll probably go up against a weak player.

3:00 AM BBT – HGs are getting ready for bed.
It's just too much with Hive. How are they so bad at this? If JC can hold his grip on Faysal's HOH and get him to evict Scottie it'll be another week in the books for Big Brother 20 as an incredibly bizarre season with fantastic Feeds.
You can watch all of these Big Brother events using the archives Flashback, the DVR-like feature of this year's Live Feeds which means it's always live, even when you missed it! Sign-up now to get the free trial to watch it all live & uncensored.

Gallery: Live Feeds Highlights
click images to see full-size