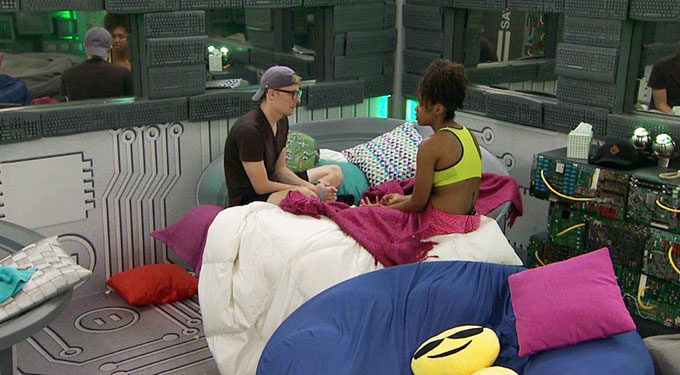 Just when you think the vote in the Big Brother 20 house is finally going to be cut and dry, you get a late night debate between a couple of players that that could change everything. That's the BB20 way! Read on to find out what the HGs are actually thinking about this week's vote. Will it be Rockstar or Bayleigh who leaves on Thursday?
If you've got the Live Feeds (Free Trial) then you can watch all of these moments with the Flashback feature to go back and watch those important conversations or funny scenes you may have missed.
Big Brother 20 Live Feed Highlights – Wednesday, August 8, 2018:
3:40 PM BBT – JC reports back to Tyler and Angela that he talked with Faysal and questions his intelligence. JC says he had to explain that by Haleigh playing things the way he did Faysal could have ended up BD'd.

4:20 PM BBT – Kaycee and JC agree that they like RS better than Haleigh, who they consider fake. Kaycee doesn't believe Haleigh was the Hacker. She thinks it was a ploy by the other group. Kaycee says she's confident they have five votes, more than enough even with one canceled.

4:45 PM BBT – Brett tells Tyler that Haleigh's story about winning the Hacker Comp doesn't make sense and he questions if it's true. Brett tells Tyler he's letting the other side think they've got his vote.

4:50 PM BBT – Brett points out that L6 works because they can keep a secret.

4:55 PM BBT – RS tells Bayleigh Brett is upset with Angela and empathizing with her now.

5:15 PM BBT – Bayleigh mentions to RS, JC, and Haleigh that when they saw The Cloud app up on the screen she thinks it was because the power was expiring and couldn't have lasted as long as hers.

5:45 PM BBT – Brett continues to put in quality time with the other side as he jokes and chats with Haleigh.

6:15 PM BBT – Feeds cut to Loops. It's the half-way party for Big Brother 20.

8:05 PM BBT – Scottie and Bayleigh are talking about Tyler and what deals he and Scottie have. Scottie says they just agreed to not put each other up and use the veto on each other. He tells her that they've never been in on a vote together.

8:10 PM BBT – Bayleigh is still confused why Tyler thinks she was coming after him. Scottie tells her that Tyler thought she was going to backdoor him.

8:20 PM BBT – Bayleigh tells Scottie that she's sitting on the block for no reason so she doesn't understand why the vote isn't obvious. She says she almost decided to quit.

8:22 PM BBT – Bayleigh tells Rockstar she gives up and she knows she's getting voted out. She says they're going to vote her out just because they have the opportunity to.

8:25 PM BBT – Faysal tells Haleigh he thinks they have JC voting with them. She says that Scottie told her he'd vote with her. They think they have the four votes they need. Haleigh also thinks Brett will vote to keep Bayleigh.

8:45 PM BBT – Haleigh tells Brett she's going to cancel Tyler's vote.

8:53 PM BBT – Angela says she wishes she knew what was really going on in Scottie's head. She says she thinks he feels good with both sides of the house so he won't even try to win HOH.

9:20 PM BBT – Haleigh tells Brett she is sad because she really loves Bayleigh and Rockstar. She says this was never her intention this week.

9:34 PM BBT – Brett meets up with Level 6 to tell them what he's been learning from the other side of the house. He tells them that Haleigh is trying to pull him in.

9:54 PM BBT – Scottie and Haleigh are talking and trying to clear the air. Haleigh tells him she never told Angela to put up Scottie next to Tyler.

10:00 PM BBT – Haleigh asks Scottie about a final 2 with Tyler. Scottie says he and Tyler have no official deal.

10:05 PM BBT – Kaycee and Bayleigh are finally talking. Kaycee tells her that she cares about her. Bayleigh says she's not going to be mad if this sends her home.

10:15 PM BBT – Angela and Bayleigh are talking. Bayleigh tells her she enjoyed getting to know her and Angela says she agrees. Bayleigh says it sucks to lose a friend like Angela and Angela says they can still be friends, but Bayleigh implies that ship has sailed. Bayleigh tells Angela that she heard she was trying to tear her down even after she found out Haleigh was the hacker. Angela says that no one was tearing Bayleigh down and this has all be game and not personal.

10:16 PM BBT – Bayleigh tells Angela she was so quick to turn on her and that hurt her heart. Bayleigh adds that Angela said nasty things about her and Angela says that's not true.

10:30 PM BBT – Haleigh and Scottie are still talking. She tells him that she would rather Bayleigh stay because Bayleigh could deflect the target Haleigh put on herself today.

10:35 PM BBT – Scottie tells Haleigh that Bayleigh pitched a final 3 with him and Faysal. Haleigh is getting upset hearing this. He also tells her that everyone thinks Haleigh and Faysal have a secret showmance. She says that is so not true.

10:36 PM BBT – Scottie tells Haleigh that the other side thinks he's no longer with them and that he's fake flirting with her. She asks if he's being genuine and he says yes, he is.

10:40 PM BBT – Haleigh tells Scottie she's angry now and doesn't trust Bayleigh or Faysal. She says the only person she trusts besides him is Rockstar. Scottie says then they should keep Rockstar.

10:45 PM BBT – Scottie says if Bayleigh stays she can use her power to nominate the other side. Haleigh is now worried about Bayleigh working with Faysal behind her back and possibly working secretly with Brett too.

10:49 PM BBT – Haleigh is upset with Faysal more now because Scottie told her he said the guys have to stick together until the end.

11:10 PM BBT – Haleigh says Rockstar isn't good for them. She says she's not good socially and won't win any competitions.

11:15 PM BBT – Scottie tells Haleigh that the other side thinks he is putting her up next week if he wins HOH.

12:35 AM BBT – Tyler and Scottie check-in. Scottie confirms the other side appears to want to keep Bayleigh but he (S) knows they don't have the votes. Scottie also mentions that Faysal is going to all sides of the house and blaming the other side in those talks.

12:37 AM BBT – Scottie suggests Haleigh might not be the Hacker even if she's saying she is.

12:50 AM BBT – Angela lets Tyler know that Sam has promised to vote with them.

1:00 AM BBT – Scottie and Brett working on the votes. They expect JC to still vote out Bayleigh because of those chips. If it's a 6-1 vote then they'll figure it was Faysal who voted to keep Bayleigh.

1:05 AM BBT – Brett talks with Scottie about who could have the 3rd power app. They say the rumors are it's either JC or that Kaitlyn had it. Scottie mentions how after he talked with Faysal about needing to discover the Hacker there was suddenly a House Meeting where Haleigh took the blame. He questions the authenticity of Haleigh's claims.

1:05 AM BBT – Tyler tells Angela everything will be okay and he's sure they have the votes. They close the night with a hug and kiss on the cheek from Tyler.

1:45 AM BBT – Scottie lets Haleigh know that Brett is voting Bayleigh out. Scottie says if Haleigh wants to keep Bayleigh then he'll do that too. Scottie says if he wins HOH then he'll betray Tyler's side while protecting her and Brett.

1:55 AM BBT – Scottie and Haleigh go over how Kaitlyn ruined their alliance's chances by sending out Steve and Swaggy.

2:00 AM BBT – Haleigh asks Scottie if he wants to do a F4 with her, Brett, and RS.

2:10 AM BBT – Haleigh claims to Scottie that she didn't know Bayleigh was pushing to get him renom'd.

2:15 AM BBT – Haleigh says she was confused by the House Meeting because no one seemed to care after she made her announcement.

2:45 AM BBT – RS asks Haleigh if she's decided on which vote to cancel. Haleigh says probably Tyler's vote.

3:00 AM BBT – Few HGs still up chatting while most have gone to bed.
This just keeps getting better as we prepare for a new round of targets and potential power shifts. Bayleigh remains doomed with the vote but where things go from here is anyone's guess and that's making this season great!
You can watch all of these Big Brother events using the archives Flashback, the DVR-like feature of this year's Live Feeds which means it's always live, even when you missed it! Sign-up now to get the free trial to watch it all live & uncensored.

Gallery: Live Feeds Highlights
click images to see full-size