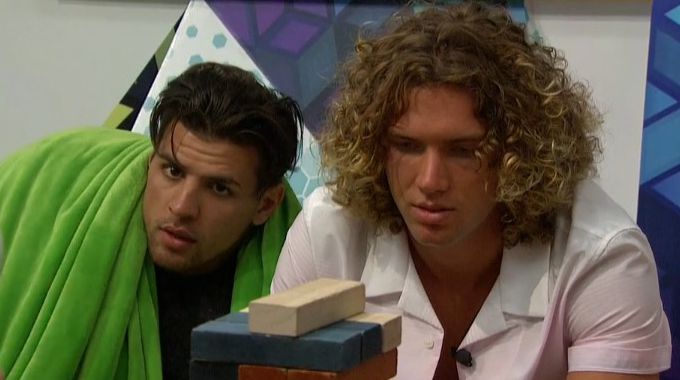 The Big Brother 20 house erupted Thursday night following Rachel's blindside eviction as Angela settled into her role as Head of Household and the houseguests learned of the new Hacker twist coming up. Paranoia soon set in and tensions flared. Read on for all the drama from last night.
If you've got the Live Feeds (Free Trial) then you can watch all of these moments with the Flashback feature to go back and watch those important conversations or funny scenes you may have missed.
Big Brother 20 Live Feed Highlights – Thursday, August 2, 2018:
7:15 PM BBT – Feeds are back after the eviction show.

7:20 PM BBT – JC is trying to get details out of Faysal about Bayleigh's power but Faysal admits nothing. JC pushes that Scottie seems pleased about that vote result.

7:25 PM BBT – Rockstar is crying alone in the Storage room and calls herself stupid.

7:28 PM BBT – Angela says she's never seen everyone so depressed after an HOH competition and says people could at least put on a smile when she's around. Brett says it's more that people are depressed he's still in the house.

7:30 PM BBT – Sam telling Angela how annoyed she is with Haleigh and says she's going to be up Angela's butt this week. Sam says she won't be able to be around the HOH room much in that case because she'll want to slap Haleigh in the head. Sam tells Angela not to nominate her. Angela says she won't do that and that their pinky promise will never go away.

7:48 PM BBT – Angela, Haleigh and Bayleigh talking about Rachel leaving without hugs. Angela says that's almost disrespectful.

7:50 PM BBT – Tyler and JC think the plan this week should be to backdoor Bayleigh.

7:56 PM BBT – Rockstar is upset that this is the fourth time she's voted wrong.

8:00 PM BBT – Tyler and Faysal talking about Bayleigh's power. Faysal acting like he didn't know about it.

8:05 PM BBT – Scottie says he assumes he's going on the block this week. JC says he's going to talk to Angela for himself, Scottie and Faysal.

8:07 PM BBT – JC suggesting to Scottie that Rockstar might have voted to keep Brett. He says they might be secret friends.

8:25 PM BBT – Feeds have cut.

8:45 PM BBT – Feeds have returned. HGs were told about the new Hacker twist. Sam tells Bayleigh that with this new twist her power is kind of irrelevant. Bayleigh agrees and says she cannot override what the Hacker does.

8:49 PM BBT – Angela and Kaycee think Bayleigh won't use her power because she knows she can still get backdoored.

8:52 PM BBT – Faysal talking about the Hacker twist. He says the HOH makes noms first, then the play the competition and that winner gets to change up the game. Sound like the Hacker gets to change one of the nominees.

9:05 PM BBT – Angela tells Tyler she thinks her nominees will be Faysal and Rockstar with a Scottie backdoor plan. Tyler suggests backdooring Bayleigh since she has the power. Angela says that wouldn't be bad, but thinks the target should be Faysal or Scottie. She says she's most scared of Scottie in the game.

9:15 PM BBT – Angela asks Tyler if she should put up Scottie and Rockstar and try to backdoor Faysal or Bayleigh. He says he would put up Tyler and Faysal but that could go wrong if one wins the Hacker comp and the other wins Veto. They think if one of them wins Hacker, they will nominate Brett.

9:22 PM BBT – Brett tells Angela that Bayleigh said Faysal knew about her power, but Faysal said he had no idea.

9:28 PM BBT – Tyler asks Bayleigh if she's going to use her power. She says probably not because everyone now knows it will be her and plus the hacker will just change one of the nominees, making it a waste.

9:30 PM BBT – Bayleigh tells Tyler she thinks Scottie was one of the people to evict Rachel.

9:41 PM BBT – Brett asks Angela who she would want to target if Scottie comes off the block. He suggests Bayleigh might be a better idea so they can get her power out of the game.

9:43 PM BBT – Bayleigh tells Tyler her power is good until there are eight people left.

9:50 PM BBT – JC tells Angela that Scottie is not coming for her. She says Scottie told Tyler and Brett that his targets were Angela and Rachel. He also tries to get her off Faysal and suggests putting up Rockstar and Haleigh to make sure Rockstar goes to jury.

9:57 PM BBT – Haleigh tells Bayleigh that her side of the house is convinced it was Rockstar who voted out Rachel. Haleigh says she doesn't believe it because Rockstar swore on her kids she voted to evict Brett.

10:05 PM BBT – JC pushing Angela to go after Bayleigh. She says she wants to put Scottie up and if he comes down from the Hacker comp, she puts Faysal up. If Faysal comes down from veto, she puts Bayleigh up then. She tells JC she thinks Scottie is a threat to her. But JC deflects again and says Scottie is not coming after her.

10:13 PM BBT – Angela now tells Kaycee she hopes Scottie pulls himself off so she can backdoor Bayleigh. Kaycee is surprised, but Angela says she thinks Bayleigh is the brains behind the other side of the house.

10:44 PM BBT – Sam calls a house meeting. Sam says what if they all make sure Sam wins the Hacker competition. She suggests everyone go into the competition and refuse to participate and then she'll try to win it to the best of her ability and then not use the power and then they can play the game like that twist doesn't exist. JC says you can't expect two people who are nominated to go throw that competition. Sam says but winning that competition doesn't ensure safety because the person who comes down can still go up after the veto competition.

10:55 PM BBT – They decide to have a vote to see if the house wants to agree that Sam is the hacker. They're using Cheerios and M&M's to vote if they want this to happen. This is really absurd.

11:02 PM BBT – Rockstar says she doesn't trust people enough in the house for this so Sam says OK, never mind and tells people to go back to what they were doing before the meeting.

11:04 PM BBT – Rockstar tells Sam again that she's been lied to at two evictions, so she can't trust people to do this. Sam says she understands and says that she doesn't get the game like that was just an idea.

11:10 PM BBT – Bayleigh tells Rockstar that everyone thinks she's lying and that she voted to keep Brett. She tells her she saw her and Brett alone in a room. Rockstar said that isn't true and Bayleigh tells her to shut up because she's talking too loud. Bayleigh says "you have a deal with Brett, I swear to God." She says that Brett said they do. Bayleigh tells her to lower her voice again.

11:14 PM BBT – Rockstar swears she didn't vote to keep Brett and she hates him and would never work with him. Bayleigh said but that would be the perfect cover. Bayleigh said he didn't vote Rockstar out last week either. Bayleigh storms out of the room. Rockstar asks her to finish their talk and Bayleigh said to wait until she's not upset.

11:28 PM BBT – Rockstar tells Sam and Kaycee about what Bayleigh accused her of. Sam tells her not to let it get to her. Rockstar says that's really cute Sam and you don't have people making up lies about you so you can't say that to me.

11:30 PM BBT – Sam tells Rockstar she's never seen her and Brett talking and she sees a lot of stuff. Sam tells Rockstar to avoid Brett like the plague.

11:50 PM BBT – Rockstar goes back to Bayleigh but Bayleigh accuses RS of being a really good actress and crying all the time and pushing people's buttons. RS again brings up how Brett lied about her on her daughter's birthday (it wasn't her daughter's birthday).

11:55 PM BBT – Bayleigh says RS's group needs to figure it out, but she's out of working with them and wants to be left alone.

11:57 PM BBT – RS suggests it was Haleigh who flipped because she and Brett flirt. Haleigh says it was RS who flipped because JC saw her and Brett talking alone.

12:00 AM BBT – HOH room reveal time for Angela.

12:20 AM BBT – Bayleigh explains to Angela more details about her power app and how she can only use it before nominations. Angela promises she won't be nominating her. Bayleigh thanks Angela for being so honest with her. Bayleigh promises not to change the noms if she wins the Hacker Comp

12:25 AM BBT – JC and Tyler discuss needing to get Bayleigh out before she can use her power. They want her gone this week.

12:40 AM BBT – Haleigh's turn with Angela. She says how glad she is for Brett to still be here. Angela says he'll be a shield for them. She promises Haleigh she'll be safe this week. Haleigh says she won't change up Angela's noms.

1:00 AM BBT – Faysal has his turn and promises if Angela doesn't put him up this week then he wouldn't put her up next week in return.

1:30 AM BBT – Scottie tells Angela that if he won the Hacker Comp then the only person he would take down would be himself. He says he would renom RS in his place. Angela says if he goes up then he'll just be a pawn and not her target. Scottie promises Angela that his only F2 was with Steve.

2:00 AM BBT – Angela tells Kaycee she's planning to target RS. She promises Kaycee that she, Brett, and Tyler are a solid F4.

2:25 AM BBT – Faysal and Haleigh check in in the storage. He's stressing about Scottie having talked with Angela after him. Both are frustrated that the other is questioning their loyalty.

2:35 AM BBT – L6 (L4?) meets up in the HOH room and can't believe the other side doesn't see they're together. Angela says Scottie will be the pawn then Bayleigh and Faysal are her renom options after the Hacker comp and Veto comp, respectively. The group can't believe how the others are all blaming each other for the flipped vote when it was none of them.

2:50 AM BBT – Tyler lets L6 know Bayleigh's power app is good until F8.

3:35 AM BBT – Angela confirms the plan to nom RS then hopes L6 wins the Hacker Comp.

3:40 AM BBT – L6 wants to make sure they keep JC happy and voting with them. They agree if RS isn't an option then getting out Bayleigh or Scottie.

3:50 AM BBT – L6 agrees to use "four score and seven years ago" as their code phrase for needing a group meeting.

4:15 AM BBT – L6 has finally departed the HOH room and snuck downstairs to go to bed.

4:30 AM BBT – Lights are finally out for the night.
Thursday night's this season continue to deliver with paranoia and uncertainty thanks for the flipped votes and blindsides over and over. Hive is completely lost and their suspicion of each other is strong, but there's nothing like a new twist with the potential to completely change the week's trajectory. We'll have to see where that goes!
You can watch all of these Big Brother events using the archives Flashback, the DVR-like feature of this year's Live Feeds which means it's always live, even when you missed it! Sign-up now to get the free trial to watch it all live & uncensored.

Gallery: Live Feeds Highlights
click images to see full-size