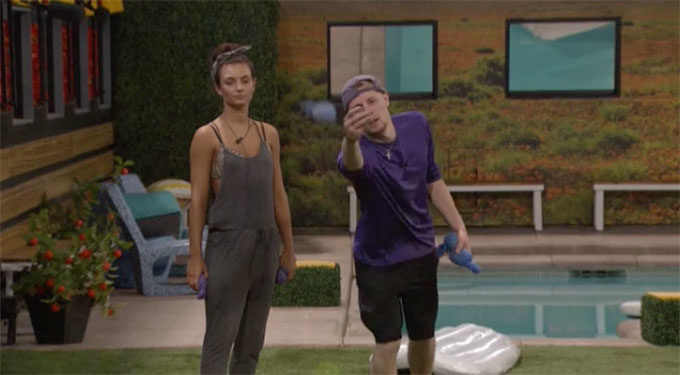 The vote in the Big Brother 20 house this week is still leaning toward evicting Rachel, and she's totally unaware as of now. Will Bayleigh and Rachel be in for a blindside come Thursday night? Maybe so. Read on for all the details on the vote this week and who the next targets being discussed are.
If you've got the Live Feeds (Free Trial) then you can watch all of these moments with the Flashback feature to go back and watch those important conversations or funny scenes you may have missed.
Big Brother 20 Live Feed Highlights – Monday, July 30, 2018:
3:20 PM BBT – Angela lets Brett and Kaycee know that Rachel is upset and asking why she's supposed to be okay with what's happening. Angela is indifferent to Rachel's situation and wonders why Brett should be okay with it instead. Angela mentions Bayleigh is expecting a unanimous vote.

3:55 PM BBT – Bayleigh comments to Faysal that Haleigh must not appreciate the importance of Faysal having saved her with the Veto. She notes how Haleigh is back to hanging on Tyler.

4:05 PM BBT – Bayleigh warns Faysal that Tyler and Scottie will team up and come for him. She makes up a story about Rachel challenging her over having a power but doesn't let Faysal know she's already told Rachel all the details.

4:10 PM BBT – Haleigh and Bayleigh agree that Brett will be evicted. They think it could be unanimous.

4:20 PM BBT – JC tells Brett he's got his vote but is going to distance himself for the next few days.

5:05 PM BBT – Bayleigh and Haleigh discuss getting Tyler and JC out with a BD plan. They don't want to deal with JC on the Block.

5:10 PM BBT – Haleigh tells Bayleigh she's over Faysal's insecure behavior. Bayleigh warns Haleigh to scale back all the time she spends hanging on Tyler.

5:15 PM BBT – Bayleigh questions RS on if she ever agreed to be a pawn. She isn't sure if she did say that but then admits she probably did. Bayleigh doesn't like that idea. Discussing nom plans RS says she would put up Angela and Sam then BD Tyler. She suspects Tyler voted along with Kaitlyn to keep Brett so she wants that as revenge.

5:35 PM BBT – Scottie tells Faysal Brett will probably go in a unanimous decision this week.

6:40 PM BBT – Rachel talks with Faysal and says she trusts him along with Kaycee and Angela. She thinks they will keep her. Faysal says the vote should be unanimous. He tells her not to get nervous if she sees him talking with people around the house and not to get paranoid.

6:45 PM BBT – Bayleigh comes in and is a little annoyed Faysal and Rachel are using her room to talk.

7:45 PM BBT – Haleigh promises Rachel she's got her vote to stay. Haleigh suggests it'll be a unanimous vote as well.

8:30 PM BBT – Haleigh tells Rachel she would like to get rid of all the guys and that there has never been a season where the last five people are all girls.

8:50 PM BBT – Faysal wonders if Angela and Kaycee will vote to keep Rachel over Brett. Scottie says he thinks they will and that Angela has said that will be the case.

8:55 PM BBT – Scottie and Faysal agree that after Brett this week, the next three weeks Rachel, Angela and Kaycee need to go in any order.

9:20 PM BBT – Angela and Kaycee talking about the vote and how to explain it to Bayleigh. Angela says she'll tell Bay that Rachel was the one who told people about the girl's alliance. Tyler joins them and tells them they can blame JC's vote on Scottie.

9:26 PM BBT – Tyler tells Angela and Kaycee that Rachel hinted to him that Bayleigh has the power. They say they will tell Bay she told them about the power after the vote and that's another reason she shouldn't be upset with them for voting Rachel out.

9:28 PM BBT – Kaycee asks Angela what they say if Bayleigh asks Wednesday who they're voting for and Angela says just tell her Brett so no one can even try to talk them out of it.

10:00 PM BBT – HGs are lounging around with not much game talk going.

10:25 PM BBT – RS, Scottie, and JC observe how the HNs are becoming HOH. They wonder if either Faysal, Scottie, or Tyler will keep that trend going.

10:45 PM BBT – JC discovered two-week old peanut butter cookies that he hid two weeks ago. He's doing to heat them up and feed them to Brett as new.

11:30 PM BBT – Tyler camtalks and apologizes for things being slow. He suspects viewers are disappointed that Kaitlyn is gone and things are quieter now that way. He mentions thinking she was doing him "dirty" and this is what happens.

11:50 PM BBT – JC warns Tyler that Faysal is getting jealous of him (T) and Haleigh being close. JC thinks he can still control Faysal's HOH so he's staying close to him.

12:05 AM BBT – Tyler tells Brett he should still be good on the votes with JC's included, but encourages him to hang out more with Scottie for the vote cover later.

12:20 AM BBT – Angela updated Sam on what's going on with the votes. Sam is with them to evict Rachel.

1:10 AM BBT – Brett and Haleigh are hanging out in the hammock. He asks her for a sympathy vote.

3:00 AM BBT – Haleigh and Brett remain outside chatting. Faysal walked by earlier and checked on them from inside.

4:50 AM BBT – Hammock time wraps up for Brett and Haleigh. Faysal continues to lay awake in bed. Haleigh tells Brett he should be okay (sounds like she's just placating him). They go inside and head to bed.
Rachel continues to head toward eviction while Brett is holding a narrow lead in the votes. It could all come down to JC and which way the wind is blowing that evening for whether Rachel or Brett heads out and misses Jury by one round.
You can watch all of these Big Brother events using the archives Flashback, the DVR-like feature of this year's Live Feeds which means it's always live, even when you missed it! Sign-up now to get the free trial to watch it all live & uncensored.


Gallery: Live Feeds Highlights
click images to see full-size