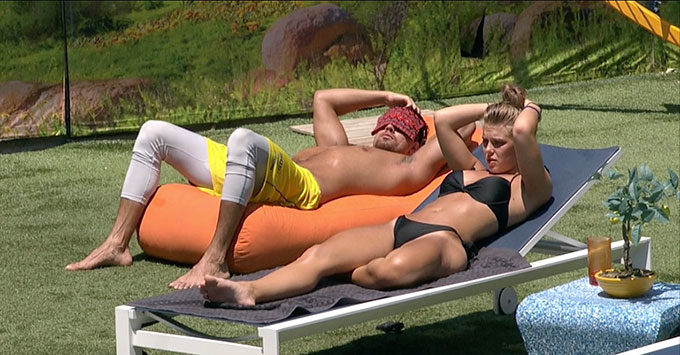 The Big Brother 20 Power of Veto meeting went down Monday afternoon and nothing was disturbed, so now the focus has turned to which of Bayleigh's nominees are going home this week. It seems pretty clear where the votes lie for Bayleigh's side of the house, but once again they're poised for another blindside vote. Of course it's still early, but the plan is already shaping up to happen Thursday night.
If you've got the Live Feeds (Free Trial) then you can watch all of these moments with the Flashback feature to go back and watch those important conversations or funny scenes you may have missed.
Big Brother 20 Live Feed Highlights – Monday, July 30, 2018:
9:50 AM BBT – HGs got their wake up call.

10:25 AM BBT – Angela explains to Sam that Rachel offered herself up as a pawn against Brett. Angela says she's upset that the person she trusted the most (Rachel) has caused these problems.

10:35 AM BBT – Scottie and Angela discuss the options between Brett and Rachel. Angela suggests she's voting to keep Rachel and Scottie says he isn't surprised. Scottie promises he didn't flip his vote.

10:50 AM BBT – Rachel tells Tyler that Bayleigh said she'd renom Scottie. Tyler doesn't believe Bayleigh and says she's BS'ing Rachel if she told her that. Rachel is frustrated and says she only agreed to be a pawn because Scottie was supposedly getting BD'd.

10:55 AM BBT – Angela encourages Brett that JC will vote to keep him because JC was frustrated with Rachel last week after she campaigned to save Kaitlyn.

11:56 AM BBT – Feeds return from the Veto meeting. All is calm and quiet. Rachel goes to the WC and you can hear her sniffling.

12:00 PM BBT – Bayleigh thanks Tyler for not using the Veto. He says he told her he wouldn't. She says she trusts Tyler completely now after he proved himself.

12:05 PM BBT – Rachel tells Angela she's upset that she's expected to just be fine with being on the Block. Angela acts confused and says she doesn't understand what she means.

12:15 PM BBT – Brett tells Tyler that Rachel keeps trying to talk to him and he just wants her to go away because she put them in this situation. Tyler agrees.

12:18 PM BBT – Rachel asks Bayleigh who Scottie would put up if he wins the next HOH. Bayleigh says she thinks he'd nominate Kaycee and Angela.

12:20 PM BBT – Bayleigh said the perfect scenario the next week would be for Faysal to win HOH.

12:30 PM BBT – Bayleigh spilling the rest of the details of her power to Rachel. She tells her how long it lasts and how the HOH will make nominations, but it'll be her nominations that show up on the memory wall.

12:48 PM BBT – JC tells Rachel that she has his vote and asks her if she wins HOH, not to put him up. He asks her just not tell anyone his vote because he doesn't want to have any problems with Brett.

1:00 PM BBT – Bayleigh asks Sam how she feels about the girls' alliance. Sam says she's not opposed to it but she feels for the guy in the house too. Sam says she's no better than a man so she's not opposed to all girls if it happens naturally but she says she doesn't think it's fair to target the men just because their men. Sam mentions loving her brother and suggests Bayleigh is a daddy's girl, implying they love the men in their lives.

1:53 PM BBT – Tyler tells Kaycee that Sam told him that it's you and Kaycee (as her main allies). Kaycee tells him she wants them to have Sam's back as long as they can. Kaycee says it's obvious who has to go. Tyler says yes because Brett goes if he's next to Tyler or Kaycee on the block, so he's better to keep as a target.

1:55 PM BBT – Tyler tells Kaycee about Bayleigh's power and says that she can change the nominations next week (he doesn't know it lasts longer than one more week). They agree they think it's true that Bayleigh has the power.

2:20 PM BBT – Sam made a corn hole game for the HGs to play. They're trying to figure out how to make it work.

3:00 PM BBT – HGs all just hanging out, swimming, cooking lunch, etc. Nothing much going on.
As of now it looks like Rachel will be the one evicted this week. Things have changed a lot in this house, though, so we'll see if that still happens Thursday night. Rachel says she's going to lay low, but she hasn't done a very good job of that so far, so she's likely to continue making herself the target this week.
You can watch all of these Big Brother events using the archives Flashback, the DVR-like feature of this year's Live Feeds which means it's always live, even when you missed it! Sign-up now to get the free trial to watch it all live & uncensored.


Gallery: Live Feeds Highlights
click images to see full-size