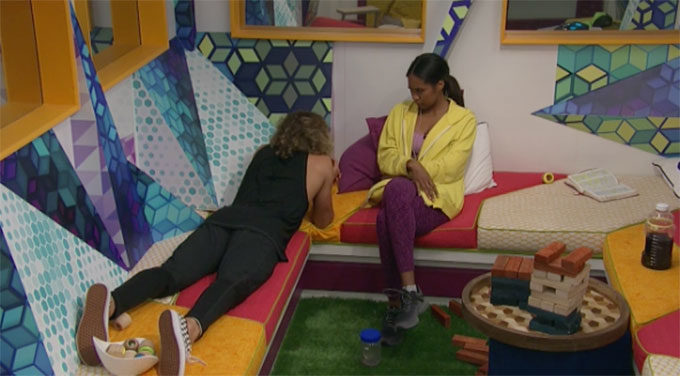 Thursday night on the Big Brother 20 Live Feeds we learned who the new Head of Household was and who she was and wasn't going to target. The rogue vote thrown in by JC cast also a shadow over the house as the houseguests tried to figure out who did it and why.
If you've got the Live Feeds (Free Trial) then you can watch all of these moments with the Flashback feature to go back and watch those important conversations or funny scenes you may have missed.
Big Brother 20 Live Feed Highlights – Thursday, July 26, 2018:
9:48 PM BBT – Feeds return from HOH competition. Bayleigh is the new HOH.

9:54 PM BBT – Rockstar tells Tyler that she doesn't think he was the one to vote her out. Rockstar says she thinks it was Brett. Tyler said he wouldn't be looking that stupid on TV by being the only vote for Rockstar.

10:08 PM BBT – Rachel telling Rockstar all the crazy stuff she heard Kaitlyn said about her (Rachel).

10:11 PM BBT – Tyler tells Bayleigh that he feels like he's in a weird spot this week and he feels like someone is pitted against him. Bayleigh tells him that she doesn't think he flipped. She said she thinks he was framed.  She said only Tyler or Faysal would've done that and they both say they didn't and she believes them.

10:12 PM BBT – Rockstar and Rachel say they aren't sure what Bayeigh is going to do this week, but they think it will be two guys. They both say they feel pretty good this week.

10:13 PM BBT – Bayleigh tells Tyler that she doesn't plan to kick him while he's down. She says people are looking at him differently now because of the position Kaitlyn put him in. She said she felt like that as well when Swaggy left. She says this will be a reset week for him.

10:15 PM BBT – Tyler and Bayleigh talk about how confusing it was for Kaitlyn to act that way with Tyler and Faysal when she has a boyfriend at home. Tyler says he told Kaitlyn the vote was going to be unanimous against her. Bayleigh said she feels like Kaitlyn gave up despite having the chance to do that puzzle to get back in.

10:17 PM BBT – Bayleigh tells Tyler that her only issue with him is that he doesn't feel like he has any loyalty to her but also she doesn't think he's targeting her.

10:20 PM BBT – Tyler says he feels like a lone wolf now. Bayleigh is kind of offering him to be loyal to her, but they aren't going there yet. Bayleigh says Tyler and herself are very similar and have had similar experiences, her with Swaggy and him with Kaitlyn. She says now he can play his own game.

10:25 PM BBT – Tyler tells Bay that if he feels like he needs to put him up, just let him know. She says she doesn't want to put him up, but she wants loyalty from him. She says she wants him on her team. He says he wants that too. They agree to work together and take baby steps. He says he's a free agent and she says and I'm scooping you up. She tells him that she knows that he and Sam are bonded and she won't touch that. They agree that they both love and trust Sam.

10:27 PM BBT – Bayleigh says she does want to know eventually were Tyler and Scottie are with their relationship. Tyler tells her that he feels like they've been drifting. Tyler hints that maybe the rogue vote this week was Scottie since he did that with the Swaggy vote. Bayleigh implies she's thought that also.

10:33 PM BBT – Bayleigh says "I already told you I'm not coming near you …" and tells him he made Jury.

10:34 PM BBT – Bayleigh tells Tyler she wants to be the first black person to win Big Brother. He says he'll help her get there.

10:45 PM BBT – JC is trying to convince Faysal that Rachel is coming for Bayleigh and Faysal should warn Bayleigh. Faysal doesn't think JC is right about that. He wonders who flipped the vote. JC suggests it was someone like Scottie probably trying to frame Tyler.

10:50 PM BBT – Faysal and JC wonder if Kaitlyn actually had a BF or not. Faysal suggests she probably didn't anymore if she had one to start with.

11:30 PM BBT – Angela and Rachel want to try and blame that rogue vote on Scottie and push him as an agenda to Bayleigh. JC tells them he's worried Brett and Tyler could go up together.

11:45 PM BBT – Haleigh warns RS they could be in trouble again if Sam wins HOH another time. Haleigh wants Sam gone but is really happy that Kaitlyn is gone.

12:10 AM BBT – Kaycee is confident it was Scottie who had the one rogue vote (it was JC) and she also believes he did the same thing with Swaggy (true). Sam agrees that they can't trust Scottie.

12:20 AM BBT – HOH room reveal time for Bayleigh.

12:55 AM BBT – Haleigh warns Bayleigh that if she noms two guys and then uses a guy as a renom then she could be outting their all-girls approach. Bayleigh says she wants to be cautious of that but knows that only guys are a threat to her right now.

1:00 AM BBT – Bayleigh tells Haleigh she still thinks it was Scottie who flipped the vote against Swaggy and maybe with this vote too. She thinks Scottie has been very shady. Bayleigh reveals her plan to be nominating JC and Brett with Scottie as the renom. She doesn't want to use Tyler like she thought she might since he seems to be pretty down right now (earlier she promised not to kick Tyler while he was down).

1:05 AM BBT – Bayleigh asks Haleigh to pledge her loyalty to her even over Faysal. Haleigh agrees and says they can use Faysal to help both of them get farther. They both agree that RS is helpful, but could also drag down their games.

1:15 AM BBT – Bayleigh says she wants to give Tyler a "reset week." Haleigh doesn't fully trust Tyler, but agrees with Bayleigh's idea. Bayleigh does want to make sure either Brett or JC goes this week.

1:25 AM BBT – Bayleigh promises Angela she'll be safe this week.

1:45 AM BBT – Faysal tells Bayleigh he believes it was Scottie who flipped his vote. She lets him know Scottie will probably be the renom. Faysal and Bayleigh agree he shouldn't be the one to go though since he's causing trouble in their favor. Faysal tries to discourage the idea of putting up JC, but Bayleigh thinks he's the one causing a lot of trouble.

2:00 AM BBT – Bayleigh says she'd consider using Rachel instead of JC, but Faysal needs to get JC to swear his loyalty to them first.

2:10 AM BBT – Faysal suspects Kaycee, Angela, and Rachel rarely make the episodes.

2:25 AM BBT – Bayleigh talks with RS about nom plans and whether or not to use JC. RS supports putting up JC since he's floating between sides.

2:45 AM BBT – JC promises Bayleigh he's with her and hasn't even considered targeting her. He says he's down to work with her, Faysal, and Haleigh, but isn't too keen on working with RS.

3:00 AM BBT – JC suggests Brett and Rachel as HGs he's not connected with and possible noms. He thinks Tyler would be helpful for their games. Bayleigh admits she's not planning to use Tyler this week as a nom.

3:30 AM BBT – Bayleigh talks with Rachel about noms and how she isn't sure about putting up two guys. Rachel pushes back on the idea of using her as a nominee. Bayleigh offers to use JC as the pawn then if Rachel isn't comfortable. Rachel asks if Bayleigh would consider using Angela as the pawn, but Bayleigh says Angela is too convinced she's a threat and would get voted out. Rachel suggests RS as the pawn, but Bayleigh immediately shoots that down.

3:40 AM BBT – Rachel says Bayleigh would be safe if JC was the pawn. Bayleigh fears Brett could stay and JC would go home.

3:45 AM BBT – Scottie's turn. He promises Bayleigh he didn't do any rogue votes. Bayleigh has Scottie swear on the Bible that he won't flip. Scottie suggests she consider Tyler, Brett, JC, and Sam. Bayleigh says she won't go after Tyler or Sam but she'd be good with JC and Brett going up.

3:50 AM BBT – Scottie promises Bayleigh he'd nominate some mix of Rachel, Angela, and Kaycee next week if he won HOH.

3:55 AM BBT – Brett gets to talk with Bayleigh. He tries to identify with her that they've both lost their close ally. She says no one is giving her names so she'll just pick noms randomly.

4:00 AM BBT – Kaycee comes up to talk and they discuss JC going up. Bayleigh worries no one else would nominate JC and he'll coast to the end. Bayleigh wants assurances that if she keeps Kaycee, Angela, and Rachel safe this week then they better return the favor.

4:15 AM BBT – Bayleigh tells Kaycee she's still thinking of sticking with Brett and JC then using Scottie as a renom, but she needs promises from Rachel if she's keeping her safe this week.

4:30 AM BBT – Kaycee's talk has started to shift the target for Bayleigh over to JC from Brett. Bayleigh suggests JC would be a wild card Juror while Brett would be non-biased.

4:45 AM BBT – Faysal has made his way to the HOH room to chat with Bayleigh.
Have mercy, these HGs will never sleep after that wild night. Kaitlyn is gone and hopefully the game stays strong in its unpredictability. Bayleigh seems to have set her plans with nominations so we'll watch to see when she makes it official later on Friday.
You can watch all of these Big Brother events using the archives Flashback, the DVR-like feature of this year's Live Feeds which means it's always live, even when you missed it! Sign-up now to get the free trial to watch it all live & uncensored.

Gallery: Live Feeds Highlights