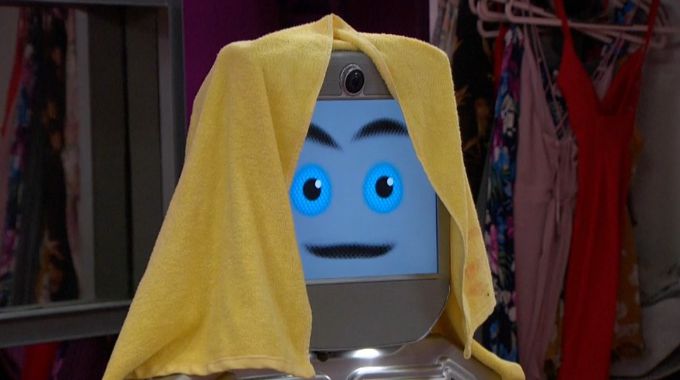 Both sides of the Big Brother 20 house remain confident that the vote is going to go their way, but one of them will, of course, be wrong. But which side will it be? There was a lot of talk about the vote on the Live Feeds tonight, along with some major jealousy over another budding showmance. Read on for all the details and catch up first with Monday's daytime Highlights Report.
If you've got the Live Feeds (Free Trial) then you can watch all of these moments with the Flashback feature to go back and watch those important conversations or funny scenes you may have missed.
Big Brother 20 Live Feed Highlights – Monday, July 2, 2018:
4:25 PM BBT – Faysal goes to Kaitlyn after she walked in on him and Haleigh cuddling under the covers. He asks if they can't still be friends while he flirts with girls. Kaitlyn plays dumb and confused. She promises she's not mad.

4:25 PM BBT – Steve tells Bayleigh he's feeling very good and safe right now because he trusts Swaggy. He's just trying to see if it'll be 9-4 or 7-6 which will tell him a lot. Steve is sure Tyler has been convinced to go after him as part of the numbers game.

4:35 PM BBT – Bayleigh is worried that if Swaggy gets mad then he'll fly off the handle and cause a bigger problem. Steve thinks he can help keep him calm if that happens.

4:40 PM BBT – Bayleigh lets Faysal know that Kaitlyn told her it looked like Faysal and Haleigh were having sex under the covers. (They weren't.)

4:45 PM BBT – Tyler and JC think Kaitlyn might be someone they can flip against the other alliance now that she's mad at Faysal and Haleigh. Tyler thinks Kaitlyn will get closer to him as she gets more upset with Faysal.

4:50 PM BBT – Tyler tells JC not to worry about the vote too much so the other side doesn't find out what's going on. JC says he's just been pretending to be confused on what to do.

5:55 PM BBT – Rachel tells Winston she's getting nervous about JC and whether or not he has the power app.

6:00 PM BBT – Rachel is at the hot tub with Brett. Steve joins them and gives a pitch to Rachel for her vote. She doesn't give him an answer either way, but thanks him for coming to ask her.

6:20 PM BBT – Angela asks JC about any backup plans for Thursday. JC says they need to just keep being loyal to each other. JC promises Angela that she'll have plenty of support if she gets HOH and wants to make a big move.

7:06 PM BBT – Steve tells Haleigh and Angie that he is really confident in the vote this week. He thinks 10 people will be voting to evict Sam. He says he doesn't think anyone has ever felt as confident as he does.

7:14 PM BBT – Angie wonders if they should vote for Sam so that they can blame Winston and Brett on voting against Steve. Haleigh says that's too risky but then says it's a good plan.

8:56 PM BBT – Rachel and Angela talking about still wanting Steve out. They feel confident they can get him out but they're worried it won't happen because JC said he is not 100 percent confident Sam is staying anymore.

9:19 PM BBT – Swaggy slips and reveals to Kaitlyn a deal he had with Winston. She presses him on what it was and he says he, Winston, Brett and Faysal had a deal to keep each other safe, but it wasn't real. He tells her to trust that he wants Winston and Brett out.

9:25 PM BBT – Kaitlyn tells Swaggy he needs to not get angry at her like he does because it scares her.

9:33 PM BBT – Now Kaitlyn is nagging at Faysal about him getting into a showmance and dropping her as is No. 1. He tells her that they made a commitment to their partnership and she needs to trust him.

9:45 PM BBT – Kaitlyn is still dragging out this guilt trip to Faysal. She is worried he will start a showmance with Haleigh and she's really jealous and playing it off like she just doesn't want to lose him as an ally.

10:15 PM BBT – Faysal has a pinky swear with Kaitlyn that she is his #1 ally.

10:30 PM BBT – Rachel, Angela, and Kaycee are going over a plan to try and get Kaitlyn to cast a sympathy vote for Sam.

10:55 PM BBT – Rachel is nervous about the vote going 7-6 and they'd be left out

11:00 PM BBT – Swaggy and Bayleigh addressing America, asking for powers. They suggest America was tricked in to not voting for them and wants the viewers to do right on it this week by giving them the power instead.

11:05 PM BBT – Angela still thinks JC has the power. Rachel doesn't think so.

11:30 PM BBT – L6 still discussing Rachel as their best bet for a vote flip thanks to the fight earlier over Faysal and Haleigh. Tyler plans to work on Kaitlyn on Tuesday. The group plans to befriend Kaitlyn so she feels comfortable with the idea of switching sides.

11:45 PM BBT – Tyler tells the group they must stick to voting out Steve even if it looks close.

12:00 AM BBT – Have-Nots ends and all the HGs can eat again. They dig into a feast.

12:10 AM BBT – JC reports back to L6 that he talked with Angie and plans to keep giving her information to spread that will help their group. They want JC to keep telling Angie that Brett and Winston want to keep Steve so she is off guard.

12:20 AM BBT – Faysal tells Haleigh he's had to talk with Kaitlyn several times about her concerns that he's attracted to Haleigh. He feels like Haleigh might be egging on the situation.

12:30 AM BBT – Kaitlyn is crying to Tyler that Faysal, Haleigh, Chris, and Bayleigh keep talking about her. She's worried about the Faysal and Haleigh showmance getting in the way of her friendship with Haleigh. She says she doesn't know if she can trust Faysal as well anymore. Kaitlyn says she only trusts Tyler right now.

1:00 AM BBT – Haleigh is very upset with Kaitlyn for suggesting she was having sex with Faysal. (They weren't.)

1:15 AM BBT – Haleigh tells Faysal she's going to share a bed with Angie for the rest of the season then gets frustrated when he reacts to that. She reminds him they are not a showmance together.

1:25 AM BBT – Haleigh asks Faysal if he promised Kaitlyn to take her to the end. He deflects that it was just a promise of watching out for her. Haleigh counters that Kaitlyn said it was a F2 deal. Faysal promises Haleigh she'll be his #1 and she says she wants that.

1:40 AM BBT – Haleigh confronts Kaitlyn about the "having sex" comment to Bayleigh, but Kaitlyn denies saying that but says if she did then it was just a joke.

1:50 AM BBT – Kaitlyn is telling Haleigh about Faysal and Swaggy's deal with Brett and Winston. Haleigh didn't know and Kaitlyn says they told her not to tell Haleigh. They pinky swear to tell each other everything.

2:00 AM BBT – Kaitlyn promises Haleigh that she's not mad, but was just worried that her alliance with her was slipping away.

2:15 AM BBT – Kaitlyn wants to know what was going on under the covers with Faysal. Haleigh says he was telling her he wants to come to visit her after the show and was talking about her lips but swears they didn't kiss. Haleigh brings up that she likes Tyler more.

2:20 AM BBT – Kaitlyn brings up the chance that the other side will get power next week and if Chris goes home she will be okay with that. Haleigh agrees that Swaggy is too much drama.

2:45 AM BBT – L6 is upstairs watching Kaitlyn and Haleigh getting along downstairs now. They're frustrated by that.

2:50 AM BBT – Faysal is back from the DR to Kaitlyn and Haleigh update him that they talked it over.

3:30 AM BBT – Last of the HGs are heading to bed. Faysal and Haleigh are sharing a bed after all.

3:35 AM BBT – Lights out.
After an afternoon and evening of drama, things calmed down with Haleigh and Kaitlyn over their love triangle with Faysal. We've still got the uncertainty over where the votes will land so that should be fun to see if the hinky vote plan from Haleigh and Angie takes form or not. That'd be a mess!
You can watch all of these Big Brother events using the archives Flashback, the DVR-like feature of this year's Live Feeds which means it's always live, even when you missed it! Sign-up now to get the free trial to watch it all live & uncensored.

Gallery: Live Feeds Highlights
click images to see full-size