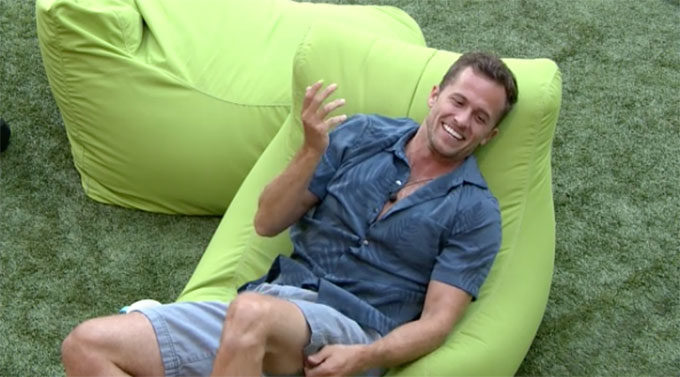 We've got an almost perfectly split Big Brother 20 house at the moment, so that alone should make the vote this week crazy. But right now both sides of the house are very confident that their intended target will be heading out the door.
So will it be Sam or Steve who goes home first come Thursday? Let's take a look.
When Tyler made his nominations (so long ago at this point), he had little to go on and took the easy way out. Since then, it has gone back and forth on who should go. Sam has stirred up a few people with her unfiltered, matter-of-fact way of speaking while Steve has kind of laid back and soaked in some allies. But the fact that he is so comfortable and has people clearing working to save him this week, could be his downfall.
There are 13 votes coming this week and minus a few people teetering in the middle, the votes are starting to solidify.
On the save Sam side we've got Winston, Brett, Angela, Rachel, Tyler, Kaycee and JC working hard. They want Steve out because they really don't want the Swaggy C side of the house to succeed. They also think if Steve is out, they can use Scotty. Since they still don't have the exact number, that group is going to work on getting Kaitlyn to throw Sam a sympathy vote. And since she's upset with Faysal and only trusts Tyler now, that could be an easy vote to get. But that might not be necessary. Read on.
On the other side, we've got Steve being "the most confident anyone has ever been on the block" thinking there will be 10 votes to evict Sam, including Winston and Brett. So Rockstar and Haleigh are considering voting to evict Steve so they can pin those votes on Brett and Winston. They realize that's a risk, but also think it's a really good plan. That would really funny because that would definitely send Steve home.
A lot could still change with votes since Rockstar and Haleigh are scheming and Kaitlyn is a live wire with her alliance, but let's lay the votes out where they appear to be now.
Sam VTE: Scotty, Swaggy C, Bayleigh, Haleigh, Rockstar, Faysal, Kaitlyn
Steve VTE: Winston, Brett, Angela, Rachel, JC, Jaycee
Flip potential: Kaitlyn, Haleigh and Rockstar (though the latter two not likely)
So it's a tight vote either way. It will most likely be 7-6 regardless of who ends up getting the most votes to evict.
Of course all this could be for nothing if Sam's power is in fact a sure thing. We still aren't sure if Sam's "Extra Life" prize she picked up in the BB App Store guarantees her re-entry to the house or if there's some kind of competition. At any rate, there has never been a more uncertain week in the Big Brother house. We might actually get some drama for a first eviction this season.