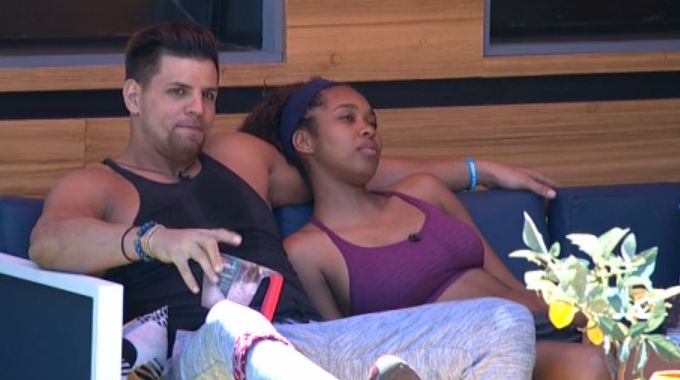 The Big Brother 20 house divide continues as one side is sure the vote this week will be a landslide against Sam, while the other side is pretty confident they have the votes to save her. There's also a lot of personal vendettas and jealousy forming in the house, so we could be in for some pretty dramatic Live Feeds coming up. Read on for all the details.
If you've got the Live Feeds (Free Trial) then you can watch all of these moments with the Flashback feature to go back and watch those important conversations or funny scenes you may have missed.
Big Brother 20 Live Feed Highlights – Monday, July 2, 2018:
9:50 AM BBT – Feeds are back from their wakeup call.

10:00 AM BBT – Tyler and Kaycee are comparing notes. They feel Level Six is in a good spot. Tyler is a little worried about the smoke Swaggy is blowing at Brett and Winston. They wonder when Faysal is going to try and get over Haleigh since she's ignoring him so much.

10:05 AM BBT – Sam's time is up and has to go back to swap out with RoboSam.

10:10 AM BBT – Tyler and Kaycee are confident Sam isn't going this week. Tyler has revealed to Kaycee that Sam has a power, but doesn't tell her much more. They expect the other side to flip out when it happens.

11:30 AM BBT – Brett and Winston suspect it could be a Double Eviction this week since no one has gone home yet. (Nope.)

11:40 AM BBT – Sambot is helping with the dishes. She's just standing there with Kaycee. More of moral support.

12:40 PM BBT – Swaggy warns Haleigh that Kaitlyn is upset about her being around Faysal. She says she'll stay away from Faysal, but Chris says not to do that either. He wants her to split up her time equally so no one gets weird since they're all in an alliance together.

12:45 PM BBT – Haleigh is upset over Kaitlyn's jealousy. Haleigh thinks it's BS that she has to be careful of Kaitlyn's feelings about a guy when Kaitlyn has someone back home. Haleigh decides she'll ignore Kaitlyn's jealousy and let it boil over on its own.

1:40 PM BBT – Faysal, Swaggy, Kaitlyn, and Steve are going through the votes. They think it'll be a landslide against Sam because it'd be foolish not to vote with them. Steve says he'll have a lot of enemies otherwise.

2:25 PM BBT – Tyler gets the Snapchat glasses.

2:33 PM BBT – Winston tells Angela that Swaggy told him the whole house wants him (Winston) out. He also tells her that Swaggy said Winston and Angela are in a secret showmance.

2:40 PM – Winston tells Brett the same story he told Angela, but adds that he wanted to rip Swaggy apart.

3:07 PM BBT – Angie talking about her Winston dislike. She and Bayleigh agree that have to do what they can to get him out. They think Brett and Rachel would be nicer without Winston around also.

3:18 PM BBT – Angie confirms that if she wins HOH she will nominate Winston and Brett.

3:30 PM BBT – JC is trying to convince Haleigh that Sam would be worth saving because she would be a vote for their side and be indebted to them. Haleigh said she has a good feeling about Steve, though. She says she already told him she has his back.

4:10 PM BBT – SamBot and JC are getting married by Angie.

4:10 PM BBT – Faysal and Haleigh are spending some time under the covers. Kaitlyn soon walks in on them.
Things are looking good for Sam so far, even without considering her power. It sounds like whoever doesn't leave this week most likely won't be the target again anytime soon as everyone seems to be looking at Winston, Swaggy or Faysal as the next target.
You can watch all of these Big Brother events using the archives Flashback, the DVR-like feature of this year's Live Feeds which means it's always live, even when you missed it! Sign-up now to get the free trial to watch it all live & uncensored.

Gallery: Live Feeds Highlights
click images to see full-size