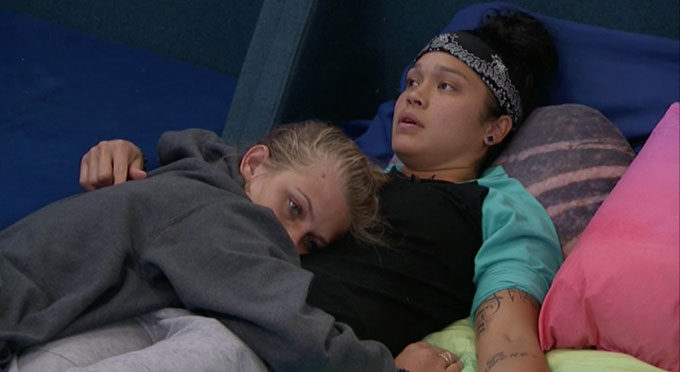 It was another quiet day in the Big Brother 20 house as Faysal isn't handling being on the block very well and continues to sleep the week away. Meanwhile, Haleigh continues to socialize and do what she can to ensure she's not the one to walk out the door Thursday night.
If you've got the Live Feeds (Free Trial) then you can watch all of these moments with the Flashback feature to go back and watch those important conversations or funny scenes you may have missed.
Big Brother 20 Live Feed Highlights – Wednesday, August 29, 2018:
10:25 AM BBT – HGs got their wake up call.

10:55 AM BBT – Brett is working on another bacon creation and jokes about everyone being awake in case there's another house fire.

11:25 AM BBT – Kaycee is working on a Happy Birthday message on the peg board.

11:42 AM BBT – HGs trying to fugue out what to do with their day. They talk about a pillow fight but decide on checkers. Angela says she doesn't know how to play. Kaycee tells her she should learn how to play.

11:50 AM BBT – Kaycee and Angela are playing checkers while Haleigh looks on.

12:11 PM BBT – Kaycee tells Angela she's confident there will be a Battle Back this week to go along with four Jurors. She mentions production stopped her from talking about that idea so she thinks that must be what's happening. Angela says she doesn't want to even think about it because all of those people in jury hate her.

1:31 PM BBT – Brett, Angela, Tyler and Kaycee talk about how they never got to try any of Sam's prison wine. Tyler said it had fermented mold on top. Brett said they probably would have all gotten sick.

1:33 PM BBT – Kaycee is embarrassed about something that happened during the Power of Veto competition and says it's going to air on the episode tonight. Angela mentions getting slapped in the face with a squid.

2:23 PM BBT – Haleigh asks JC to tell her what is going to happen tomorrow so she's not shocked. He asks her if Haleigh has checked with Kaycee to see how she is voting. She said not really but she has an idea how she'll be voting.

2:42 PM BBT – Haleigh goes to see if Faysal is hungry or wants to do anything. He says no. She asks why he's trying to push her away. He says he just wants to sleep and she tells him he can't sleep for 48 hours.

3:04 PM BBT – Kaycee says tomorrow is a double eviction. JC says or it could be a Battle Back.

3:06 PM BB – Kaycee is wondering how Faysal can sleep so much. Haleigh says he's really sad. Kaycee asks why and Haleigh says she doesn't know because he won't talk to her. Kaycee tells her not to feel bad because at least she tried to help him feel better.

3:17 PM BBT – Haleigh asks Kaycee if she still has her and Tyler's vote tomorrow. Kaycee says yes, she should be good.

3:20 PM BB – Haleigh tells Kaycee that Faysal won't even talk about the vote tomorrow.

3:45 PM BBT – Faysal has actually joined the world of the living for a bit.

4:20 PM BBT – Haleigh says she wishes Faysal was handling all this better. She tells Angela he told her to just go play her game. She says she doesn't think he's really good at socializing and this week has just made it worse.

4:21 PM BBT – Angela is upset because she got upset in the diary room. Haleigh and Kaycee are comforting her. They all tell her this is proof she does have emotions. They laugh.
So Faysal continues his death sleep, which means he pretty much knows he's going home Thursday. The HGs are pretty sure something big is happening Thursday night, though. Some think it's just a double eviction, but others have it figured out that it's actually a Battle Back competition.
You can watch all of these Big Brother events using the archives Flashback, the DVR-like feature of this year's Live Feeds which means it's always live, even when you missed it! Sign-up now to get the free trial to watch it all live & uncensored.

Gallery: Live Feeds Highlights
click images to see full-size