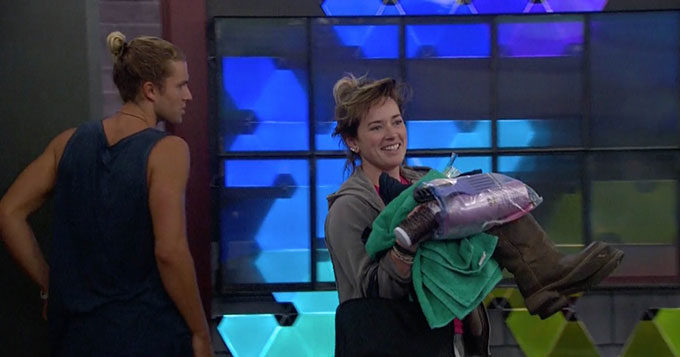 It's our first Big Brother 20 eviction day, and it was a scramble up until the last minute as Tyler convinced Kaitlyn to switch her vote. It didn't take long for Kaitlyn to spread the new plan around the house, though, but it somehow managed to not get back to Steve who is already planning who to nominate if he wins HOH.
If you've got the Live Feeds (Free Trial) then you can watch all of these moments with the Flashback feature to go back and watch those important conversations or funny scenes you may have missed.
Big Brother 20 Live Feed Highlights – Thursday, July 5, 2018:
10:48 AM BBT – Tyler is delivering his pitch to Kaitlyn. He tells her that if she votes for Steve to stay the power is going to be used and she will be screwed. She asks if it means she will be on the block and he says to just trust him she needs to keep Sam. She says OK but she needs to know that she'll have protection if she flips her vote. Tyler tells her that she has nothing to lose because Haleigh and Rockstar are already against her.

11:05 AM BBT – Kailtlyn finds Winton and says if she votes him them they have to be loyal to her. Winston promises her they will be.

11:10 AM BBT – Haleigh and Kailtyn now talking. Kaitlyn tells her that Brett has the power and anyone who votes to evict Sam will be screwed. Kaitlyn also tells Haleigh Tyler said they no one trusts her (K) anymore. Haleigh says that's not true.

11:12 AM BBT – Kaitlyn tells Haleigh they can deny they flipped their votes. Haleigh says they'll know. Kaitlyn says the other side will protect them. Haleigh says they don't trust her so there's no way they will. Kaitlyn says if she wants in the group they'll let her in.

11:20 AM BBT – Kailtyn moves on to tell Rockstar that if they vote for Steve to say something bad will happen to them.

11:27 AM BBT – Haleigh tells Kaitlyn and Rockstar that only one of them some flip so it's easier to cover up.

11:29 AM BBT – HGs called to HOH room for lockdown. Feeds cut.

1:28 PM BBT – Feeds have returned.

1:29 PM BBT – Kailtyn tells Winston and Brett she is definitely voting Steve out.

1:34 PM BBT – Steve tells Kaitlyn that Brett and Winston thought they had flipped Bayleigh to vote him out. Steve asks Kaitlyn if he wins HOH if he can go after the people who vote him out tonight. She tells him he should.

1:38 PM BBT – Winston tells Angela that he thinks Scotty overhead Kaitlyn saying she's going to vote out Steve. Rachel comes in and Angela lets her know. They say it'll just make Kaitlyn a target and that's OK with them.

1:44 PM BBT – Scotty goes off by himself to go through the votes (maybe he did hear Kaitlyn).

2:00 PM BBT – HGs getting ready for tonight's live show.

2:20 PM BBT – JC tells Faysal that he wants him to know that because he's voting Steve out doesn't mean he hates Faysal or that side of the house. He says he just thinks Steve has awful gameplay and doesn't like how he looks at people.
So it sounds like Steve will be the first houseguest to walk out the door tonight unless something blows up while Live Feeds are down ahead of the live show. Regardless of what happens, there's sure to be some drama tonight, so don't miss out. Get your Live Feeds now!
You can watch all of these Big Brother events using the archives Flashback, the DVR-like feature of this year's Live Feeds which means it's always live, even when you missed it! Sign-up now to get the free trial to watch it all live & uncensored.


Gallery: Live Feeds Highlights
click images to see full-size