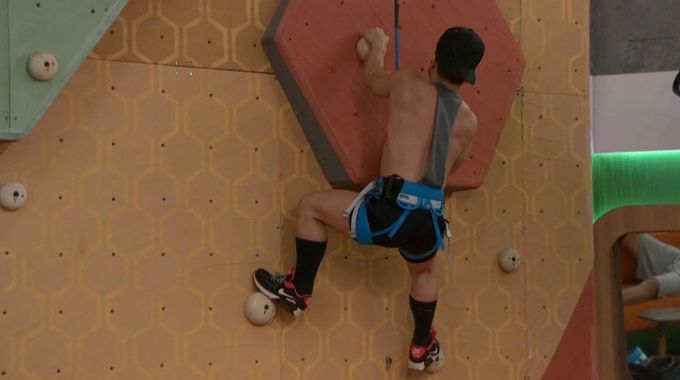 Houseguests were up early and the action came swiftly as Kaitlyn was looking for round two of her arguments over the Faysal situation and she found that audience with Bayleigh. Later HGs faced practice rounds for the next competition which Big Brother decided to hide from us this time.
Now with that wrapped up it's time to get back to plotting this week's votes and just how one side could screw it all up. This could get messy.
If you've got the Live Feeds (Free Trial) then you can watch all of these moments with the Flashback feature to go back and watch those important conversations or funny scenes you may have missed.
Big Brother 20 Live Feed Highlights – Tuesday, July 3, 2018:
8:05 AM BBT – Steve is up and hanging out by himself.

9:10 AM BBT – Bayleigh and Kaitlyn are arguing. Bayleigh says Swaggy was offended by things Kaitlyn has done but wants to wait for a good time to talk with her about it when she's not upset.

9:20 AM BBT – Fight is calming between the ladies. Bayleigh tries to apologize while Kaitlyn is still upset.

9:25 AM BBT – Kaitlyn promises Bayleigh that she supports showmances and think Faysal and Haleigh together is fine by her.

9:40 AM BBT – Sam is back from being a robot. She's decided to clean the house today.

10:00 AM BBT – Haleigh and Tyler discuss JC wanting to keep Sam. Haleigh says the votes aren't there and Steve is a better choice to keep since he comes with Scottie attached.

10:40 AM BBT – Kaitlyn talks with Angela about the arguing in the house. She says she's noticing a divide and appreciates that Angela's side was supportive of her last night.

11:05 AM BBT – Feeds have cut to Loops.

1:43 PM BBT – Feeds return. HGs were practicing for the next HOH comp.

1:48 PM BBT – Angie and Kaitlyn discuss that their side did better in the practice rounds. They're feeling confident for Thursday night.

2:00 PM BBT – JC and Scottie were playing on the climbing wall set up in the living room.

2:25 PM BBT – JC lies to Angie that Winston is probably going to vote to keep Steve so that means Brett will vote that way too.

2:35 PM BBT – Angie goes to Swaggy and says she thinks she and Haleigh should throw hinky votes to frame Brett and Winston. Chris says it's a good idea if they're sure it's a landslide against Sam already. He thinks Rachel will tell him what's going on with the votes. If they're sure at vote time then they'll throw two votes and Steve will be angry and go after the Bros.

3:10 PM BBT – Tyler asks Scottie how the votes are looking for Steve to stay. Scottie believes they have the votes.
I'm all Team Feeds so I love this plan to throw votes which could tip the scales. We could see some really shocked faces come Thursday night if we're lucky or maybe someone will reveal what's really going on sometime over the next two days. That's a lifetime in that house some weeks so you never know.
You can watch all of these Big Brother events using the archives Flashback, the DVR-like feature of this year's Live Feeds which means it's always live, even when you missed it! Sign-up now to get the free trial to watch it all live & uncensored.

Gallery: Live Feeds Highlights
click images to see full-size