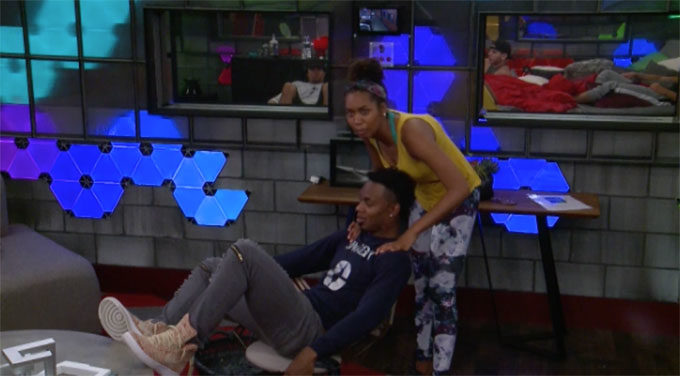 It was a similar evening in the Big Brother 20 house as this first week of the game is such a long one, it's nothing but talk about the first vote over and over and over again. We did get some more of the drama going down between Kaitlyn and Faysal, and it seems to have finally come to a head. Read on for those details and more plus catch Tuesday's earlier daytime report.
If you've got the Live Feeds (Free Trial) then you can watch all of these moments with the Flashback feature to go back and watch those important conversations or funny scenes you may have missed.
Big Brother 20 Live Feed Highlights – Tuesday, July 3, 2018:
4:35 PM BBT – JC lets Tyler know that Haleigh is already with Faysal. Tyler says he knows and encourages JC to be really nice to Kaitlyn in the meantime.

4:40 PM BBT – Kaitlyn tells Tyler she's worried about what happens if she wins HOH since she's good with both sides. Tyler suggests maybe she shouldn't win HOH then.

5:00 PM BBT – Tyler talks with Kaitlyn and lays out the numbers for the votes. He's showing how close the vote could be and maybe even shift with just one vote.

5:10 PM BBT – Tyler suggests they could side up with Sam and the other six to be a group of nine then they'd let the two sides take shots at each other while they hang out in the middle and watch. Kaitlyn says she's stuck on the idea of voting out Steve because she just can't do it.

5:15 PM BBT – Tyler wonders to Kaitlyn if Scottie could be secretly trying to get Steve voted out so he's free from working with him.

5:20 PM BBT – Tyler is now spoon feeding Kaitlyn the idea that Sam may have the power (that we know she has). Kaitlyn hadn't considered that. She says if the power was a last minute renom then she'd renom Faysal and send him out the door. (She's still upset at him.)

5:55 PM BBT – Faysal and Kaitlyn are arguing over their argument from yesterday. Faysal doesn't understand how things fell apart so quickly in their friendship. Kaitlyn points out that he didn't stand up for her or come tell her sooner what was going on. She gets angry and tells Faysal not to flatter himself because she doesn't care.

6:10 PM BBT – Swaggy C arrives and wants to contribute his take on the situation. He promises they never turned on her. Swaggy asks her to trust them again because he doesn't want her to switch over to the other side.

6:15 PM BBT – Tyler comes back to his HOH room and the conversation breaks up.

7:45 PM BBT -Kaycee asks Tyler what Kaitlyn said about the vote. Tyler tells her that she's scared of voting that way. He says if it comes down to it, he'll just tell her he knows who has the power and she'll be screwed if she doesn't vote for Sam to stay. Tyler says it looks good for Sam to stay.

8:02 PM BTT – Faysal and Swaggy talking about how they're going to survive if the other side wins HOH because they will definitely go on the  block. Swaggy says Haleigh said she'd nominated Brett and Winston. Faysal doesn't believe that.

8:23 PM BBT – Robot Sam and Scottie are having a heart-to-heart. She tells him she likes his company the most but she is realizing she isn't going to have his vote and she's upset. He tells her she should have asked him to be her ride or die. She asks if everyone in the house has a number one but her. He says he doesn't think so.

8:36 PM BBT – Everyone is noticing that something is bothering Rachel and Angela as Angela has even been crying (according to The Hollywood Reporter, producers talked to the two about some remarks they made on the Live Feeds that have offended some fans of the show).

8:44 PM BTT – Tyler tells Bayleigh he'd rather Steve stay (not true).

9:00 PM BBT – JC thinks there's another twist coming besides the App Store.

9:14 PM BBT – Swaggy asks Rachel why the producer talked to her and the camera switches.

10:45 PM BBT – Swaggy tells Scottie and Faysal that he's worried about the eviction but also confident that the other side lacks the votes. He expects the votes to be 9-4 or 8-5. Faysal doesn't get why the other side would keep Sam. Scottie points out that Steve is closer to Faysal and his side.

10:58 PM BBT – Scottie says he'd nominate JC and Kaycee then tell whoever stays they were the pawn.

11:02 PM BBT – Faysal, Scottie, and SC all agree that they like Tyler and want to keep him around. SC says he didn't like how quickly Tyler shifted to the idea of renom'ing Bayleigh and worries he might consider her a useful pawn again.

11:30 PM BBT – Tyler tells Kaitlyn he's no longer interested in Haleigh and is quite sure about that. Tyler asks her not to tell Faysal that he thinks he's coming after him (Faysal after Tyler). Kaitlyn says she's not telling Faysal anything anymore.

12:10 AM BBT – Tyler and Scottie discuss how Haleigh is doing a lot of physical flirting with the guys to try and pull them in. They both see what she's doing.

12:15 AM BBT – Brett and Winston going over the idea of keeping Steve instead of Sam. They fear Sam is too weak and it'd be better for their game to keep Steve instead. They want their group to vote as a whole and not have the ladies throw a handful of votes to Sam.

12:20 AM BBT – The Bros fear if they vote against Steve the lines will be clearly drawn but if they keep Steve then Chris will think he's in charge and not see what's really going on.

12:28 AM BBT – Brett fears that Scottie will be against them from now on if he finds out they voted against Steve. Winston agrees and thinks they'll need Scottie and Steve's vote if one of them is up next week.

12:30 AM BBT – Winston and Brett are pleased that the house thinks they're idiots and will underestimate them.

1:00 AM BBT – Haleigh and Faysal sitting in bed chatting. Faysal tries to pull Haleigh over but she gets away and switches over to sharing a bed with Angie.

2:00 AM BBT – Most HGs are asleep, but SC and Bayleigh are still hanging out in the lounge and talking.

2:30 AM BBT – Everyone is in bed for the night.
Well those were some big changes in the game plan. Tyler is working away still to sway Kaitlyn for that last vote but meanwhile the Bros have decided they're done with that plan. We'll have to see where their talks go on Wednesday, but for now it looks more solid for Steve to stay and Sam to use her Power App.
You can watch all of these Big Brother events using the archives Flashback, the DVR-like feature of this year's Live Feeds which means it's always live, even when you missed it! Sign-up now to get the free trial to watch it all live & uncensored.

Gallery: Live Feeds Highlights
click images to see full-size