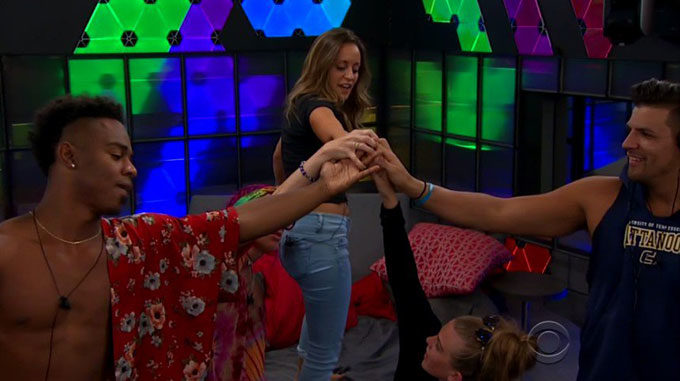 It didn't take long for the Big Brother 20 houseguests to split into alliances and start making deals with each other, so you're going to want to keep track of who is working with who.
As of now, there are two major alliances in the house, causing the ever elusive but loved house divide. And thanks once again to the remarkable @89razorskate20 on Twitter, we've got all the alliances and deals in one place to keep us up to speed.
So on the main alliance front, we've got Level 6, consisting of Brett, Winston, Tyler, Angela, Rachel and Kaycee. Within that group, we've got the bros Winston and Brett paired off and the girls Rachel and Angela, leaving Jaycee likely on the bottom. We can also add JC to that side of the house even though he is not a part of the core alliance.
Also leaning to that side of the house is Sam, as she's kind of alone aside from Tyler. The plan this week is for the Level 6 group to keep Sam over Steve, hoping to bring her to their side of the house.
On the opposite side of the house we have FOUTTE, made up of Swaggy C, Faysal, Rockstar, Haleigh and Kaitlyn. They're all working to save Steve, so you can add Steve and Scotty to that side of the house since Scotty and Steve have one of the strongest partnerships in the house. Next to that sure thing is Faysal and Kaitlyn. They have agreed to be each other's number one. But there's some jealously there with Kaitlyn over Faysal and Haleigh (who Kaitlyn also has a deal with), so who knows how that will effect their deal.
We also have Bayleigh on that side of the house as she's with Swaggy C. And crossing both lines of the house are Tyler as he has a secret deal with Swaggy and Scotty, and Haleigh as she has a thing with JC and Tyler.
So if you really look at this, Tyler has put himself into the best position in the house. Which is insane considering the was the first HOH and has seemingly made no enemies. It's kind of incredible. Good work Tyler.
It's exciting to have such a divided house. Here's to hoping the power goes back and forth for awhile so the numbers stay balanced. If it plays out like that, we could have ourselves quite the season of Big Brother.
Which Big Brother 20 alliance is your favorite, Level 6 or FOUTTE?