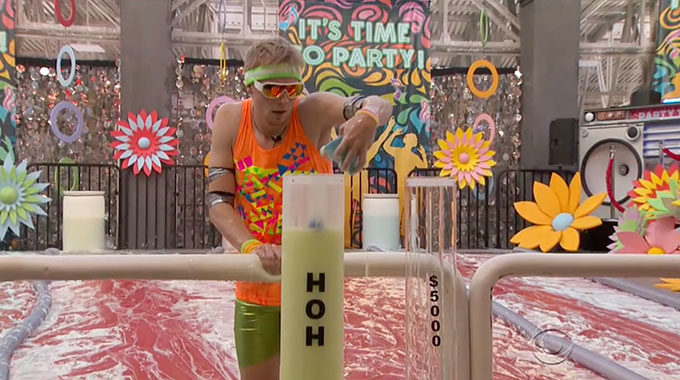 Big Brother 20 is now known for two things: blindsides and bad moves.
OK, bad moves might be the wrong term because it's all relative right? Let's go with questionable moves. And this week is no different.
Sunday night's episode picks up in the middle of the Head of Household competition that kicked off Thursday night. Haleigh and Faysal are wondering who didn't vote with their side of the house this week. So Faysal is planning to fight hard to win the HOH to find out.
It's the slip and slide/fill the contained competition, so the HGs are slipping and sliding their way back and forth. Kaycee and JC are flopping hard. But Faysal, Scottie and Tyler are neck and neck the whole time. And what you won't be able to tell in the episode is that this whole competition was over in about 20 minutes. They shortened the track and made the container smaller and didn't do a very good job testing the competition before the season, apparently. In the end, it's Faysal who fill his tube fastest and is the new Head of Household.
JC lets us know that Faysal has been listening to him all season so this is going to also be his HOH. Surely not, right? Well… Stay tuned.
Scottie and Haleigh meet up and discuss the Rockstar vote. Scottie tells her it was him who kept her and that Sam, JC and Brett lied. But JC and Tyler already made a plan that Brett would claim that vote so that Faysal and Haleigh think it was Scottie who once again flipped the vote. Surely that won't work, right? Well … Stay tuned.
Haleigh pushes for Faysal to nominate Brett and Tyler, but Faysal can't let go of the idea of Scottie using the veto on Tyler. Haleigh convinces Faysal not to touch Scottie. So surely her won't, right? Well … Stay tuned.
JC gets to work on Faysal, convincing him that Scottie voted to evict Rockstar and that it was Brett who voted to keep her. JC tells Kaycee to play along and be surprised when she finds out Scottie didn't vote to keep her. Faysal won't really fall for it, right? OK, this schtick is getting old. Of course he will.
During Faysal's HOH room, he asks who was the one vote to keep Rockstar. Scottie says it was him. After about 60 seconds later, Brett says it was him. Kaycee plays along. Scottie tells her that she's a BS actor.
JC realizes that Faysal might be easy to manipulate, but Haleigh might not be as easy. So he gets to work on her so she doesn't ruin his plans to get Scottie on the block. JC tells Haleigh that Scottie likes her and wants Faysal to go home so have her all to himself. Haleigh tells us that she's not buying anything JC says and just has to pretend she agrees with him.
But after some time with Faysal, Haleigh and JC and some wine, the deal is sealed. Faysal thinks Scottie is trying to pit Haleigh and Faysal against each other. She reminds Faysal that Scottie is the only person not coming for her, but she doesn't fight very hard to prevent what is clearly about to happen.
Scottie finally starts to think he might not be as safe as he once thought, so he decides to go talk to Faysal. Scottie still maintains his innocence with the Rockstar vote, but he doesn't push it. So needless to say, Scottie is still in danger this week when he should be totally safe.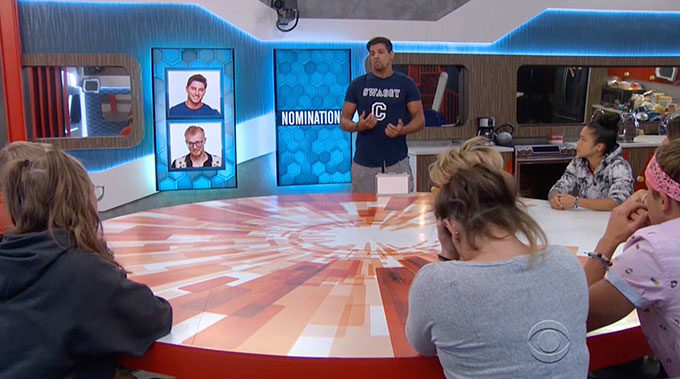 So at the nomination ceremony, JC gets what he wants as Faysal nominates Brett and Scottie for eviction. Faysal  nominated the one person other than Haleigh who was on his side. This alliance makes "questionable" move after questionable move. Bayleigh told Rachel about her power. Haleigh revealed she was the Hacker. Rockstar gave Tyler the veto answer. Rockstar went home on Haleigh's HOH. And now Scottie will go home on Faysal's. You can't make this stuff up.