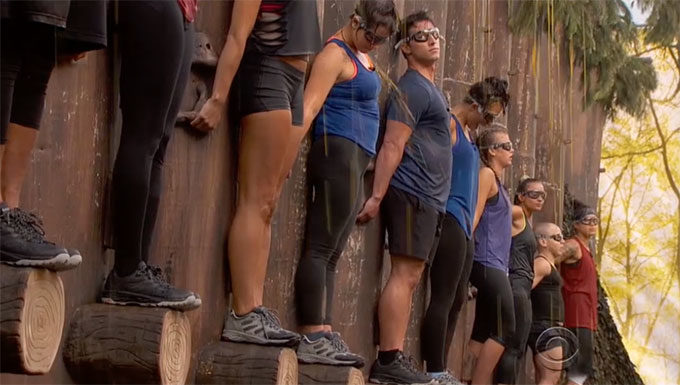 I don't even know where to begin with this Big Brother 20 recap. Usually here is where I say something anecdotal or summarize what you're about to read. In the writing/reporting/blogging world it's called a lead. But for this episode of Big Brother I'm at a loss.
Do I focus on Sam winning a competition she shouldn't have won? Or that she basically said she wants to run her HOH like a dictatorship? Or do I focus on Bayleigh and JC's conversation about derogatory words (no, definitely not that). Or I could go with Sam's nomination speech where most fans on social media dropped her like a hot potato over what can only be considered "slut-shaming" her nominees?
Basically I'd rather just not write this recap because I'm not about to touch any of these topics on a Sunday night (when I'm writing this). Let me just play it by ear. Wish me luck.
Sunday night's episode picks up as the "endurance" Head of Household competition kicks off. But first we've got to address that blindside vote, the third in a row. Faysal is the first Diary Room up and he's talking about his alliance once again getting blindsided. That alliance can't even win when they're in power.
Then we get a flashback to Brett's eviction speech causing chaos. "It's really simple why I chose to target Rockstar – I can't stand her." he tells us in the Diary Room. And Rockstar lets us know that she doesn't like Brett much either. Those two just haven't had a reason to be friends this season and I don't see a reason coming up any time soon.
Back to the HOH comp … Sam in the Diary Room tells us that she has lost her authority to offer the power app to someone. She says if she wins HOH she at least has a hand in who gets a chance to come back in the house. OK, I get that, but no. You don't want to win this HOH. You just don't. Trust me, Sam, don't win this HOH.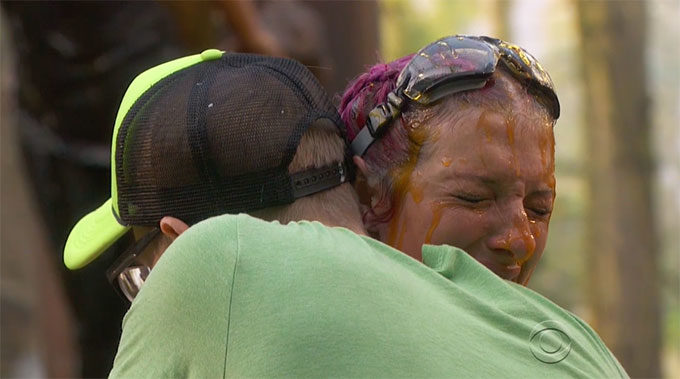 Rockstar, who has all of her energy focused on Brett, is the first to drop. She's just still really emotional from earlier. Faysal, like most big guys in this wall competition, is the next to drop. And speaking of which, Brett is the next to drop. Bayliegh and and Angela are the next to fall, followed by Rachel and Haleigh. And keep in mind, it's been only 49 minutes. That's why I put endurance in quotes earlier.  Then JC drops a few minutes later. Doh.
That means it's down to Tyler, Sam, Kaitlyn and Kaycee. And basically no one else is falling until Kaitlyn drops. And then she drops and Kaycee immediately follows. Sam and Tyler remain. Tyler pretends to want to a deal with Sam so it doesn't look like they're working together (huh?) and then he finally drops. Sam is the new HOH. Dumb. Dumb. Dumb.
After the HOH competition, Rockstar continues her meltdown over what Brett did and Bayleigh does everything she can to get her to pull herself together. It doesn't work, though, because Rockstar is really hung up on it. And I get it. But people aren't worth that kind of effort, Rockstar.
And now for the good stuff. Ugh.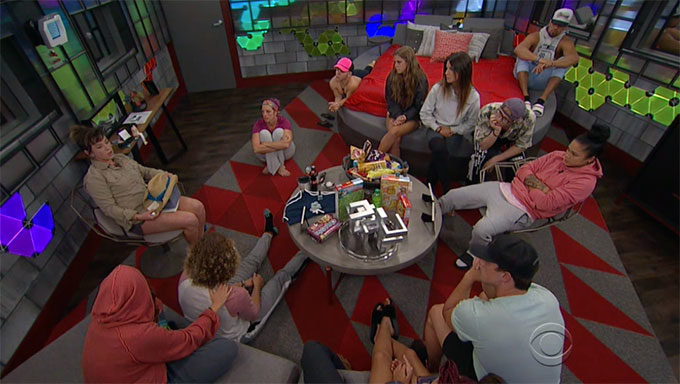 During Sam's HOH room reveal, she tells the group that she's not going to talk to people individually and she's already got an idea of who she is going to nominate so don't campaign to her. And to make things worse, she tells them that it's her HOH room and no one is allowed in there without her. She is very matter-of-fact about how the week is going to go and kind of off-putting for someone who had previously won over America as being a sweetheart.
Soon after, Kaitlin has one of her hits (that is always totally wrong) and she thinks that Sam used her power to control the votes this week and that's why Winston went over Brett. Tyler is happy that Kaitlyn is really bad at being a clairvoyant (and at this game) and is no longer questioning him on his vote
And since Rockstar is still not letting the Brett thing go, gets some pots and pans to come for him, but he's really not even bothered. But other people are getting annoyed, at least according to the edit. Rockstar is at least having some fun with it now instead of letting it drag her down.
Now it's time for the segment where JC and Bayleigh talk about the differences in derogatory words. I'm not going to recap this. If you didn't see it, it's online. I will say I don't think CBS made the right point with it, but at least it wasn't exploitive.
It's finally time to end the episode and get to more reasons why Sam shouldn't have won HOH. Sam turns her keys to reveal that she has nominated Haleigh and Kaitlyn because they "take the most from the house and contribute the least." Sam also says she doesn't like how the two of them treat the men in the house and that they should both respect themselves more.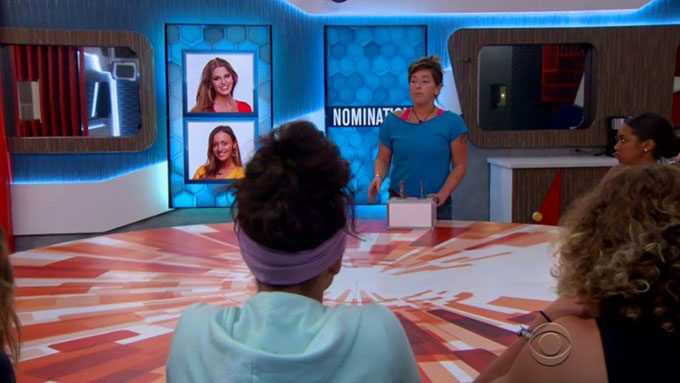 In the Diary Room Sam explains that she thinks those two are manipulating the guys by hanging all over them. "I think that sort of game play is cheap and it's the easy way," she says.
So yes, that is definitely one of the most bizarre reasons to nominate people on Big Brother. Especially during the same week you joined an all-women's alliance. But it is what it is, and Sam still knows the power is in play this week and someone has a chance at coming back.
I just think the only thing that will really stick this week is that Sam has made herself a target in the house and probably lost her shot at winning America's Favorite Player. The fandom is really confused by her words this week. All of this because she wanted to win a HOH she didn't need to win during a week that she KNEW could end up null and void.
What did you think of Sam's reasoning for nominating Haleigh and Kaitlyn?